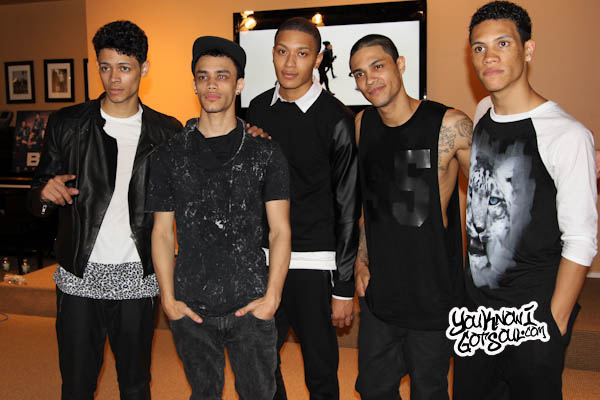 It's been quite a journey for B5 since they blew up as Bad Boy's boy band in the early to mid 2000's. Since leaving the label and undergoing a name change since their last release in 2007, here they are years later, resurfacing with a new deal on Motown Records and back as B5. The brothers are no longer teenagers and have reached the prime of their music careers. Gone are the boys you'd expect to find on Radio Disney, and here are an edgier group of young men who have carefully been honing their skills over the past few years waiting for their moment to shine again. YouKnowIGotSoul sat down with them during a recent promo performance in NYC and discussed reintroducing themselves after all of this time, differences in recording music between Motown and Bad Boy, the growth they've experienced, and what to expect with their new music.
YouKnowIGotSoul: You guys are signed with Motown now. Your last album came out in 2007, so talk about your journey since then.
All: It's been a long journey. *Laughs*
Bryan: We were with Bad Boy and we actually split from them. We took time off to reinvent ourselves.
Dustin: And really just live our lives and grow.
Bryan: We perfected our craft at the same time and we were working other deals. Then we found Motown and we signed with them. We've been signed with Motown for two years now.
Patrick: We've been working on our album now which is about done. We just put out the new single "Say Yes" which is at radio. We've just been working.
YouKnowIGotSoul: You mentioned you guys had deals with other labels. How did you know Motown was the right spot for you?
Patrick: When we had a meeting with Ethiopia Habtemariam from Motown and performed for her, you could tell she was like "I get it!"
Dustin: We wanted to go with a label that shared the same vision as us.
Carnell: It was fresh and young. It was a new team and new look. Ethiopia Habtemariam was the head of Motown, so we just thought it was a good fit.
Patrick: From what I saw, she had a fire in her too just like how we do. Anyone who has a fire, really wants to get it and understands the image and the group, that's the right team.
YouKnowIGotSoul: As part of that journey, you guys switched up names before coming back to B5. Talk about that.
Patrick: Honestly, it was just experimenting and that's all that was.
Bryan: We were just revamping everything. We were like "Oh we're doing new things so maybe we should change our name." It didn't make sense so we changed it back.
Patrick: At the end of the day, we're B5. Our fans know us as that and they grew up with us as B5.
Carnell: There's substance to B5 so we have history with that name.
Dustin: At the end of the day, that's who we are. We're not AUDIO, we're B5.
YouKnowIGotSoul: Talk about this new project that you've been working on. What's the sound like compared to your previous stuff?
Dustin: This direction is a lot more universal and you can definitely hear the growth in our voices. Everything is just a step up.
Bryan: We can definitely grasp a wider audience now with the new sound that we have.
YouKnowIGotSoul: What's been the biggest difference with being on Bad Boy and now on Motown in terms of creativity?
Patrick: Now since we're older, we have a little more creative control. We worked with the A&R and we worked with them on what songs we liked. When we were younger, we were brand new so it was more like "Okay go to New York, record these songs and then go home." We would let them pick, but now we're more hands-on and we're involved in every aspect of the project.
YouKnowIGotSoul: Have you found that your fans have stuck with you since your debut?
Bryan: It's shocking to me still just to see how our fans actually stuck with us throughout the years. To the public, it seemed like we disappeared for awhile, but to see them grinding for us day in and day out, you can't do nothing but feel love and you're appreciated by them.
Patrick: And just to see new fans listen to our old songs. It's very shocking because we felt like if we had new fans, they would listen to the new songs like "Say Yes", but it's crazy because we see them singing "U Got Me" and "All I Do".
Dustin: It's just a great feeling especially the 106 & Park thing we just did, it's just crazy for us to see the excitement from the fans and the whole energy of them. When I felt that energy, I was like "Oh man! It's great to be back." The fans didn't go anywhere, they stuck by us through thick and thin. We definitely love that and appreciate the fans for that.
YouKnowIGotSoul: Your fans have stuck with you, but to the music scene as a whole, do you look at this as a reintroduction of B5?
Patrick: Yeah, honestly with us and everyone around us, we're taking it like we're a brand new group again. We really took time to revamp ourselves and just work on our craft really.
Dustin: I think it's more like a new group because when we first came out, we were so young. Now we're all in our 20s and now we're all in our prime. For us to come out at that time, we're at a whole new place. It's just a great feeling for the fans to see that and acknowledge it. It's incredible.
YouKnowIGotSoul: You guys have managed to stick together throughout the years while other groups have broken up. What has been the key to staying together?
Kelly: We have no other choice. We're brothers. *Laughs*
Patrick: We have respect for each other at the end of the day.
Carnell: We have something to prove.
Patrick: We can argue and fight, but the respect factor means nothing else matter. At the end of the day, we all want the same thing and we love doing the same thing. That's bigger than anything else.
Dustin: Anyone can do a TV show or a solo project there, but the magic is sticking together and conquer the music in the way as a group and as B5.
YouKnowIGotSoul: What's the toughest thing about being in a group?
Kelly: It's just the timing of things. There's a lot of politics in it and some groups just don't understand that. You just have to learn how to be patient and just don't give up because you never lose until you really give up.
Dustin: To me everyone just has their own timing of things. If you stop before your time, how are you ever going to know?
Carnell: You don't want it to be like "What if I stuck with the group?"
Dustin: Plus at the end of day, we love each other.
Patrick: That's for all artists though, time is the enemy for artists.
Dustin: Our advantage is that we started out super young, so it's like a whole new group. It's cool, everything works out.
YouKnowIGotSoul: Anything you guys want to add on?
Patrick: Thank you to the fans for all the love and support. Check us out on our Twitter @B5Online.
Kelly: Make sure you go and start requesting our new single "Say Yes".