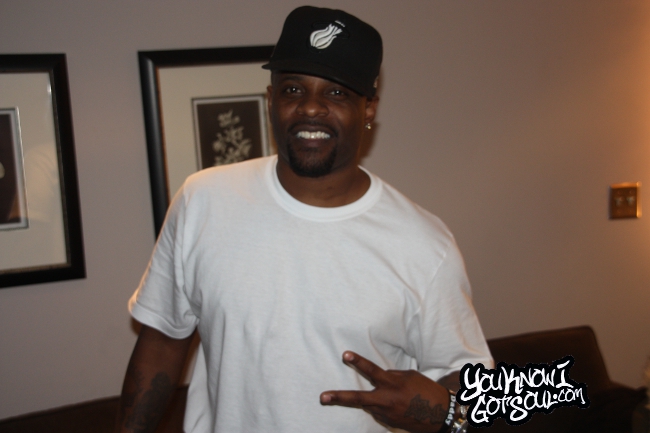 When you talk about the best male vocalists in R&B, it's incredibly difficult to leave Case out of the discussion. After all, his soulful voice made a huge mark on R&B during the late 90's with multiple hits. His song "Happily Ever After" is a popular choice at weddings and "Touch Me, Tease Me" is still a fan favorite to a lot of R&B fans. Though Case's music catalog has been able to sustain a certain longevity throughout the years, his love for the music has been rapidly due to the politics that come with the music business. Luckily for R&B fans though, Case has decided to go back into the studio to work on his first project in 5 years. YouKnowIGotSoul had a chance to speak wtih Case about his upcoming album "Heaven's Door" and his thoughts on the music business. Case also looked back at some of the most memorable moments in his career including his music video with Beyonce.
YouKnowIGotSoul: Your new album "Heaven's Door" is coming soon. How did you come up with the album name?
Case: I was putting a bunch of songs together and it was my first time getting back into music and it just kind of felt like my personal life was cool and everything was where I wanted it to be, so it was like the door of my own personal heaven.
YouKnowIGotSoul: This is your first album in 5 years. How did you know now was the right time?
Case: Well I don't know that now is the right time, but I actually started not to make a new album. The way that things are now, I get to the point where I don't want to do music anymore as a job. I still love music, but to do it as a job, sometimes it's like "Fuck it. I don't want to do it anymore." With this album, it was like "Okay this is what I've been doing. Let's go and have some fun."
YouKnowIGotSoul: We spoke to Ginuwine not too long ago and he said the same thing. He doesn't like being in the studio anymore, he enjoys performing on stage. Is just touring something you're content with? You do have a catalog of hits and you could probably just do shows for the rest of your life.
Case: I don't know if I'm content with it because I always have that itch to go and do new stuff. But the business of making music to some extent took away my joy of music. It's the music business and I didn't get into it for the music business, I got into it for the music which was probably fucked up for me. *Laughs* It just depends how I'm feeling at the time. Just like when I went a few years without going in the studio again and then I was like "I'm in the studio right now and I'm liking what's happening. Let me put this out."
YouKnowIGotSoul: Who have you had a chance to work with on this new album?
Case: We're working with Tim & Bob, Mike "Snotty" Miller, Carvin from Carvin & Ivan. I know I'm going to forget somebody, I always mess up on this. It's just a bunch of people. I love all of you guys, don't judge me. *Laughs*
YouKnowIGotSoul: You and Tim & Bob have a great chemistry and you guys have done a lot in the past. What's your chemistry like in the studio with them?
Case: Tim & Bob is the best chemistry I'll ever have with any producer out of anybody that I've worked with. I've worked with Jimmy Jam & Terry Lewis and everybody, but with them I have the best chemistry. We're about to go in and do some more stuff for potentially the next album. I have the best chemistry with them. They understand me and what I'm trying to do and they understand me. It just matches up so good.
YouKnowIGotSoul: When can we expect the new music?
Case: Hopefully in the next month or so. We actually leaked a single called "Damn Girl" and I have some other stuff for you guys. Hopefully sooner than later.
YouKnowIGotSoul: You were part of the Def Soul era. Take us back to that era. Was it a competition between you guys or was it friendly?
Case: Actually it was both, it was a friendly competition. The thing I liked about it is it reminded me of what I heard that Motown was. It was a friendly competition and it was like "We're cool and we'll hang out, but I'm going to try to outdo you." I love that shit. That's what music is to me. Even being on stage with people, it's like "I'm going to outdo you. After the show, we can hang out and all that." For me it was my version of Motown, so I loved it. We were competing with each other, but at the same time, we were all family. I loved it.
YouKnowIGotSoul: Did you ever get a chance to work with the group Playa?
Case: Actually we did a song with Kelly Price for breast cancer awareness. It was a charity song. It was me, Playa, Dru Hill, Montell Jordan, Kandice Love and a bunch of us. I can't remember the name of the song…
YouKnowIGotSoul: "Love Sets You Free"?
Case: There you go. I couldn't remember that shit for nothing. *Laughs*
YouKnowIGotSoul: Back in 2001, you had the huge single "Missing You" and the Ja Rule collaboration "Livin' It Up". I felt like that should have taken you to the next level. Looking back at that situation now, is there anything you could have done to reach your full potential?
Case: Nah. I went to the Grammy's in February and I got nominated for "Missing You" and "Livin' It Up". Right after that, I moved to Atlanta in October and I just stopped doing it. I mean, it was me doing what my heart told me to do. I've heard full potential and all that, but I've got to do what I feel.
YouKnowIGotSoul: What do you remember about recording the song "If"? It's a personal favorite of ours.
Case: "If" is a situation I think a lot of people have been in. It's like being in a relationship with somebody and you're in that in between stage. It's like "Do you like me or not like me? If so, do this and if not, do this." That was the whole concept behind "If".
YouKnowIGotSoul: What about the collaboration with Ginuwine, Tyrese and R.L.?
Case: The thing I remember most about "Best Man I Can Be" is that I was a little bitch because we did the song with Jimmy Jam & Terry Lewis. I'm like "Oh shit!". I remember when I got to the studio, they were like "That's who we wanted to put that soul and grit into the song." They told me that they respected what I did and I really respected what they did, so that made me feel really good.
YouKnowIGotSoul: And lastly "Shoulda Known Better". Talk about that song.
Case: "Shoulda Known Better" is something a lot of people have been through. My favorite artist is Michael Jackson and a lot of the influences for that song came from The Jacksons. That was my nod to The Jacksons and it was just talking about something a lot of people have been through.
YouKnowIGotSoul: Did you happen to work with The Neptunes on that song? It sounds sort of Neptunes-ish.
Case: No, I worked with The Neptunes about two weeks after that. I worked with The Neptunes on the LL Cool J song "Luv U Better". I did that song and I still have it in my iPod actually, but they ended up using the demo version of it. That part of it was politics. I ran into Pharrell a month after that and we were about to have it out and he was like "It wasn't me." I understand that it wasn't him. That's the type of thing I'm talking about that makes me not care about the music business.
YouKnowIGotSoul: You've had a lot of success in your career. What do you want people to remember about Case as an artist
Case: It's funny that you ask me that because I want them to remember the same thing that I wanted them to remember me for when I first started and someone asked me that question. What I want them to remember is that I made music that you can listen to now when I make it and hopefully you can listen to it in 20 years after. It's like you can listen to "Touch Me, Tease Me" which was made in 1996 and in 2 years, it'll be 20 years. That's always been my goal. My goal was never to make money or win Grammy's. My goal was to make money that people will appreciate. For me, I love Motown and if you look into my iPod, I'll have Black Sabbath, Led Zeppelin, Elton John, Motown, Jackson 5 and Marvin Gaye. I want to be in that category. Two more or years, I'm going to call you.
YouKnowIGotSoul: What was it like working with Beyonce on the "Happily Ever After" music video?
Case: It was cool, she was cool as hell. When we were doing the video, Kelly was there the whole time. I had just got off tour and Beyonce was like "I wish we could go on tour and we could do this and that." Right after, that's when everything just exploded. I was so happy because I know how bad she wanted it. That was fun.
YouKnowIGotSoul: Anything you'd like to add?
Case: I just want to thank everybody that's supported me all these years. "Heaven's Door" is coming and hopefully you'll like it.