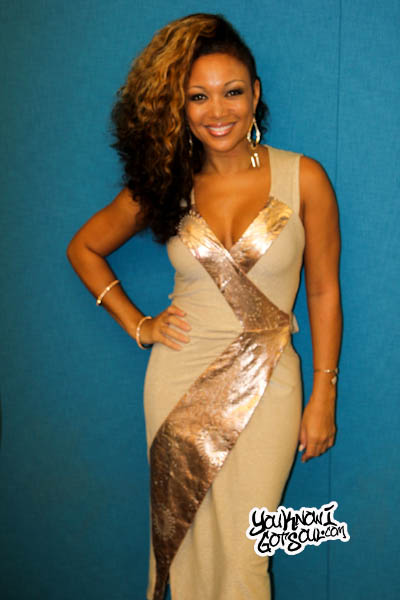 Sometimes it takes reality TV for music fans to really appreciate some of our icons from years past. Chante Moore has always had one of the most powerful voices in r&b, yet she seems to be overlooked when that discussion is brought up. Well, "R&B Divas LA" has changed that for her and also given fans a sense of who she really is outside of the music and the stage. Just like many others in her position, our favorite r&b acts are enjoying a serious boost from reality TV shows like this one. It's unfortunate that they essentially have to re-emerge via this type of format (most have never left), but we're glad that artists like Chante Moore get another chance to shine in the mainstream after many counted her out. We sat down with her during a recent promo run in NYC and discussed her new album "Moore is More", the progressive sound she went after, how "R&B Divas LA" has helped to enhance her career, her favorite part of the show, and more.
YouKnowIGotSoul: You just released your new album "Moore is More" a few months back. Talk about the strategy of the album sonically.
Chante Moore: Recording first, I wanted to go for songs that were a little different from what my regular sound would be. I wanted it to be more aggressive because I felt more aggressive in my life. I wanted to do first with what fit me as far as being more aggressive and then go for the songs that were more mellow and love songs and smooth after that because it becomes more naturally for me. I wanted to find uptempo songs with energy and things that reflected the part of me that I don't think anyone knew about just yet. I think they're getting to know me a little better now.
YouKnowIGotSoul: I noticed on this album that you were able to keep your signature sound, but you were able to adapt to the changing music landscape. How were you able to do that?
Chante Moore: I wasn't really trying to sound like myself or what was current. I'm glad that the songs fit in today, but I think there's so many broad sounds right now that are flowing through the industry from having white artists that sound black and black artists that are on white radio that sound more Caucasian in their sound. It's now, to me, a melting pot and I really appreciate that. I can just listen to the radio and not know "Okay this is black radio." The lines are more blurred and less specific.
YouKnowIGotSoul: One of our favorites is your take on "Cry Me A River". What made you decide to give that one a try and cover it?
Chante Moore: One of my favorite artists is Barbra Streisand. I absolutely love her and her movies. One of my favorite movies is "Yentl". I also like "Star is Born" and my favorite is "Funny Girl". Hearing her voice and watching her sing is just so inspiring. I love "Cry Me A River". I saw it happening at Central Park and I saw her sing it. She's amazing the way she's such an actress, but present in her song. It's real and authentic emotion. It's emoted really seriously. I've been in love with that song forever and to me, it felt with the record and the sarcasm that's part of who I am and that shows on this record.
YouKnowIGotSoul: With the success of R&B Divas, you've opened up to a whole new generation of the younger fans who have just found your music. Is there any song that you could tell them from earlier in your career that would sum up the essence of you as an artist?
Chante Moore: Wow. I believe there are so many parts of who I am. There's this song called "Easy" because it really reminded when Beyonce and Destiny's Child came out with "Cater 2 U". It reminds me of that song because it talks about how I'll run his bath and how I'll rub his back. Those kind of things is part of who I am. I think "I'm What You Need" is another song that would be a good song because again, it's boasting about how much I love a man. *Laughs* Also "This Moment is Mine" because it was really written for me. It's a song I wrote really for myself and speaking to me. I found myself wasting time and going back in my mind and saying "I wish I wouldn't have done." It really just starts talking about right now. Pick the roses from the thorn and listen to the moments that are happening now. I finally feel like I'm living this moment now. I think that song reflects who I am specifically. That's what I try to do which is gather it all in. Just take from the past, plan for the future, but live for right now.
YouKnowIGotSoul: One thing I took away from the album is how underrated you are as a vocalist. I think people have forgotten about your voice because you've been gone for so long. How have you been able to keep those vocals of yours?
Chante Moore: I think I'm getting better at doing what I do. It's like when you begin running marathons, I know you have to condition your body. You can't just be like "I feel like I'm going to do 5K." You do have to learn, condition and going through things that prepare you in different ways. I believe that in the recording process, I've learned how to deliver vocals that I really want you to hear better. Not to say I'm the best at it, but I'm better than I used to be. Also the live performances, I'm learning even more so to be free in myself and just learn to let go and try things. I also think that with being a more seasoned individual growing up and getting older, I'm better at doing what I do for a living. I think my voice has rounded out. I think I have a naturally high kind of voice and I think with age, it's rounded out and something good has happened with it.
YouKnowIGotSoul: The first season of R&B Divas LA is now complete. When you decided to be a part of the show, did you consider what it could do to boost your music career? And how have you seen it do so?
Chante Moore: I really loved doing R&B Divas LA, I really think it really has enhanced my career and broadened the audience I have. I think it's really helped people get to know me better. I think that's what reality TV does. If there is a thought or persona that they think you are, and you show them who you really are. I think knowing people under the surface and them seeing us at our strengths and our weak places; we're all human. We all have frailties and strengths. Hopefully they're learning about who I am as a person and not just who I am as an artist. When you sing, you go on the stage and do some songs, say a little bit and sing some more. Then you go "Goodnight! Thank you!". You don't get to know them, know them. You think you get to know them through their music, and yes that is who I am and I love it that I've been able to write and sing songs that really represent who I am. To see me speak and deal in situations and see people lose their temper or not, you really get to see who you really are. I think that's a blessing and what this show has done. It's been a good thing for me and my career.
YouKnowIGotSoul: We're seeing a lot of these types of shows pop up now, especially for r&b. Do you feel like that's one of best promotional tools for an r&b artist these days?
Chante Moore: It can be. If think it can be great or it can be horrible. I've seen it turn on people and not be a great thing. People love to hate you and they love to love you. It really depends on who you want to be. I appreciate the fact that I've been able to be myself and it's not scripted material, they didn't tell me what to say or do. I own who I am and I believe that anybody who is on reality TV that is not scripted, they should own who they are. I love that we all had established careers, it's not like we were trying to make a name for ourselves, we were really trying to resurface as the artists that we already are.
YouKnowIGotSoul: What's your favorite part about being on the show?
Chante Moore: Honestly, that really was it. I think I'm seen as being pristine or maybe from the outside you may think I'm very diva. That's not who I am, I really am rather goofy *Laughs* and I am the girl next door. I really am the one who likes to hang out in my sweats and be comfortable. You don't get to see that from day to day in the show, but I think you just get to see that I'm a real person and everyday kind of girl who has extraordinary things happen in my life. I get to sing for a living and that's not what every girl gets to do! *Laughs* I appreciate it and I hope they get to know me even more. There is more than meets the eye and more than what I think I look like. I believe that being a beautiful person on the inside is more valuable than being a beautiful person on the outside. I really believe that. Actions speak louder than words. You can say all day that you love me, but if you don't show me that love, you don't love me. I think seeing us be who we say we are is the best quality of the show.
YouKnowIGotSoul: Anything you'd like to add?
Chante Moore: Go buy "Moore is More" it's out right now! If you go buy my record, please come see me sing. IAmChanteMoore.com is where my website is, Twitter.com/IAmChanteMoore and Instagram.com/IAmChanteMoore. I know they have that Facebook fan page, hate it, hate it, hate it! *Laughs* But it still is me and I still want to be your friend. It really does help us be in contact with you and I'm going to get better with my website. It's just been a really busy time! *Laughs* I think each person for buying the record and watching the show and really still listening to my music. It means everything to me that I get to do everything I want to do for a living and you're out there listening and paying attention to anything I'm doing still. Please come see the live shows, that's one of my favorite things to do, sing and make those songs on the record come alive.