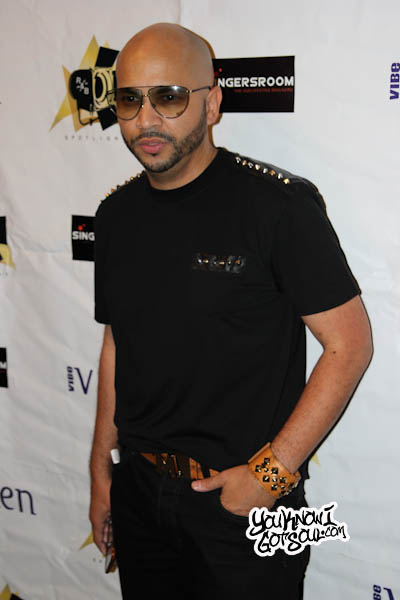 The "SWV Reunited" reality show has been on for a few weeks now and has already got quite a bit of attention. There has been no shortage of drama, and much of that in the first two weeks surrounded the group's manager Cory Taylor, who many unfairly decided to hate on. Cory is a man who was there for SWV when the group was in turmoil and led them back to respectability with a great comeback album, a Grammy nomination, and tour stops all over the world. It's only fair that he gets the proper credit he deserves for SWV's return to the spotlight. We caught up with Cory prior to a recent edition of his RnB Spotlight series and discussed his origins in becoming the group's manager, his reaction to how everything has come off in the reality show, and what he's got planned next.
YouKnowIGotSoul: You've been getting a lot of attention with your appearance on the SWV show going on. You're the manager of the group, so how did you originally link up with SWV?
Cory Taylor: I started working originally with Coko with a gospel project. I was on her first and second Gospel project. The manager of SWV at the time had kind of left and they didn't really have anyone in place, so I was just stepping in to help out and I ended up staying with them for about 6-7 years.
YouKnowIGotSoul: When you first linked up with the group, what was your role?
Cory Taylor: When I first hooked up with SWV, there really wasn't a defined role. I just took over and picked up the pieces where things were left off abruptly. I did secure a label deal for the girls and got them back on tour. We released a Grammy nominated project and so many great things happened for them. I really just helped them get back into place where they could just really take off. I know they were expecting a lot of greater things and I think those greater things are still coming, but they had to take small steps first because they were gone for so long.
YouKnowIGotSoul: How happy are you of all the things you've been able to accomplish with the group? The group had a great comeback album and like you said, it was Grammy nominated.
Cory Taylor: I'm super happy because a lot of those groups from 90's, they don't survive. You can count with one hand how many groups are really from that era that are doing well and can say they've achieved what SWV has been able to do. Being gone for 15-16 years is like eternity in the music business and a lot of things are forever changed and have really changed since their last project in 1997.
YouKnowIGotSoul: You were also involved with getting them the show. How did that come together?
Cory Taylor: I actually went to BET, TV One and Centric. I really didn't get the feedback that we were looking for. Some of them didn't even respond. I took a chance and called WeTV. It just went from there. WeTV wasn't just thrilled about the show idea, but I just convinced them to let me bring the girls to talk with them. Once I brought the girls to meet with them, they just fell in love with them and that's how that happened. I'm very excited about all the good things that are happening for them. They deserve this. SWV is like The Supremes of our time. Some people may not agree with that, but I really believe that they're the modern day Supremes. Some people may say En Vogue and some may say Destiny's Child, but SWV has been able to break down a lot of barriers. A lot of people really love them because they're like your average girls from New York.
YouKnowIGotSoul: A couple of weeks into the show and there's been some drama. How happy are you with the show so far?
Cory Taylor: It's been interesting and challenging. You have to love the good and the bad with this. I'll take everything and just chalk it up to "It's all good." Some of the stuff even surprised me because I didn't realize thing that were said or things that were done. That's what happens when you are actually involved with a reality TV show, it's a reality and those are the things that happen.
YouKnowIGotSoul: We're at your R&B Spotlight show right now. You've been doing this for a couple of years now. It doesn't get the recognition it deserves for bringing out independent artists to the spotlight.
Cory Taylor: But YouKnowIGotSoul has been here from day one. I really appreciate you. You've always been consistent and really helped us push. I have the girls here for R&B spotlight and that show is really just to help up and coming artists as well as established artists to get back out there and have a platform where they can introduce their music and gain new audiences and get familiar with audiences that may have forgotten about them. People say R&B is dead, but I really believe that R&B is really turning around. I think it's going to be an incredible year for R&B, I really believe that.
YouKnowIGotSoul: Talk about some other projects you have going on like Meelah's project.
Cory Taylor: Yes I'm working with Meelah, she's the former lead singer of 702. She's taping R&B Divas in Atlanta. I also have her in the studio with Sean Garrett, I'm excited about that. I just shot another pilot for another TV show, so you'll be seeing that soon. I'm also working with Carl Thomas and a couple of artists that I can't confirm yet. I'm super excited and I'm very excited about R&B. I'm very excited for SWV and also R&B Spotlight. We take the good with the bad and we just have to keep it going,
YouKnowIGotSoul: Anything you'd like to add?
Cory Taylor: Don't base me on a 20 minute clip of a show. Get to know me. Everybody who has worked with me knows I'll go 110%. I'm passionate about what I do and if I'm a fan of the music or the artist, I'll go even harder. I love what I do and I love who I represent and I hope to keep doing what I do.