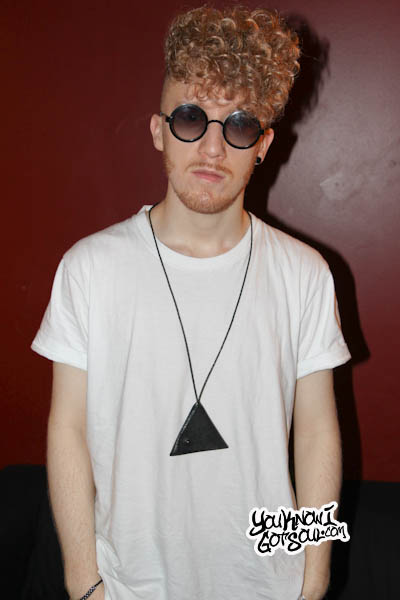 It's almost become inevitable that if an artist wants to reach their full potential, especially in the r&b/soul genres, they are going to have to spend a significant amount of time in the U.S. We've seen plenty of examples of artists permanently relocating from Canada (Tamia, Debroah Cox, Drake) and the U.K (Marsha Ambrosius) and calling the United States their home. When we first interviewed Daley a year ago, he was unsure that would become a reality for him, but fast forward to today and it looks like his mind has been made up. Daley is a special artist, a dynamic soul singer with a powerful voice, so it's only right that he be able to share his talents on a major scale. Following up the success of "Remember Me" and "Alone Together", his Pharrell produced current single "Look Up" looks to be a breakout smash and his best work yet. YouKnowIGotSoul sat down with him prior to a recent show in NYC and discussed releasing singles both in the US and the UK simultaneously, comparing his fan bases in both locations, the frustrations of the UK soul scene, the progress of his debut album "Days & Nights", and more.
YouKnowIGotSoul: Talk about your current single "Look Up" and how it was created.
Daley: "Look Up" is a song I wrote earlier this year with Pharrell Williams, which was a big thing for me because he's someone I respect a lot and I grew up with his music. We got a chance to get in the studio in L.A. and it's funny because I was a little bit worried about working with someone who I respected so much because I didn't want it to turn out like I didn't like the song or something like that. We did it and he's a really humble guy, really talented. It was just two musicians making music and yeah, I wrote the song and it turned out very special.
YouKnowIGotSoul: Around the same time, you also released "Broken". Talk about releasing the singles simultaneously.
Daley: "Broken" was actually released as the UK single and a month or two later, we released "Look Up" in the US. They felt right and they're getting love on both sides.
YouKnowIGotSoul: Give us an update on your debut album.
Daley: The album is done. It's finally 100% finished which is amazing.
YouKnowIGotSoul: Since you start working on this album, you've been evolving as an artist. How has the project evolved since you first started it?
Daley: It's evolved in a few ways like sonically and the way I've written songs. Essentially it's been a three year process getting to this point, so as a songwriter I think I've changed a lot and I've become a better songwriter. I just have a clearer vision now of what I exactly want it to be. I'll say it's evolved in that way. I know what I want to achieve now.
YouKnowIGotSoul: Who have you had a chance to work with?
Daley: A lot of amazing people are involved in the project. I kind of split it between the US and the UK. On the US side, I've done some stuff with Pharrell, Andre Harris of Dre & Vidal and Illangelo who did some stuff with The Weeknd. In the UK, I worked a lot with Bernard Butler from the band Suede. We've done some beautiful pieces for the album which I'm really proud of.
YouKnowIGotSoul: You've also been doing some tour across the US. How's that been going?
Daley: It's great. The US tour has been so incredible. I've been wanting to come out here and tour for awhile now. It was definitely overdue. We just booked all in and came out. We've had a lot of sold out shows and it's been great to find all the audiences and the people who actually been supporting my music.
YouKnowIGotSoul: How have you seen your US fan base growing over the years?
Daley: It's taken a life of its own really because I'm from the UK, but my music seems to have traveled quite naturally over to the US. It's cool to see gradually people are telling their friends about it and bringing people in into my music and my sound. It's very nice to see. It's probably just as strong here as it is in the UK.
YouKnowIGotSoul: Would you say your US fanbase has surpassed your UK fanbase?
Daley: I think I probably have more supporters in the US because it's a bigger place. I think my fans are kind of the same wherever they are. If they get it, then they get it. My fans all tend to have the same likes in terms of music. I will say that for the kind of music that I make, it's more ingrained in American culture. It kind of takes flight here a little easier versus the UK where you have to spoon-feed
people a little bit with the music I make. It's still good though.
YouKnowIGotSoul: There's definitely been an emergence of the soul scene in the UK. How do the people in the UK respond to the authentic soul music that you're making?
Daley: To be honest, I don't really understand it in the UK because there's this underlying thing that soul isn't cool. There are always soul artists involved on top of music though. It's kind of strange. It's only when it's recognized in the US where people are like "Oh yeah! He's from here."
YouKnowIGotSoul: The first time we interviewed you, we asked if you would ever consider moving to the US full-time to pursue your career because a lot of international artists have had to come here to find success. At the time you said no, but would you consider it now?
Daley: Yeah I would. *Laughs* I'm actually planning to do that in January, at least for a chunk of time. My label is here and being on this tour has made me really see how much support I've got from the fans here. I think it's only fair that I at least give them the same amount of time that I give to the UK. I definitely will be spending a lot of time here.
YouKnowIGotSoul: As a younger artist, I'd probably call you an old soul. A lot of artists your age are making a certain brand of R&B, but you've got this unique sound. How important is it for you to maintain that sound?
Daley: It's important for me to stay honest. I think it's very easy to copy what's going and trying to be a part of something, but in my experience you're never going to hold up an act that isn't you or what you do. If you're trying to be part of something else that isn't really what you do, it's not going to last that song. Regardless of sound, style or genre, it's more about honesty. I think with the music I make, honesty is a big part of it. I just give people the pure soul that is there.
YouKnowIGotSoul: Anything you'd like to add?
Daley: I can't wait to bring the album "Days & Nights" to everyone in January or February.