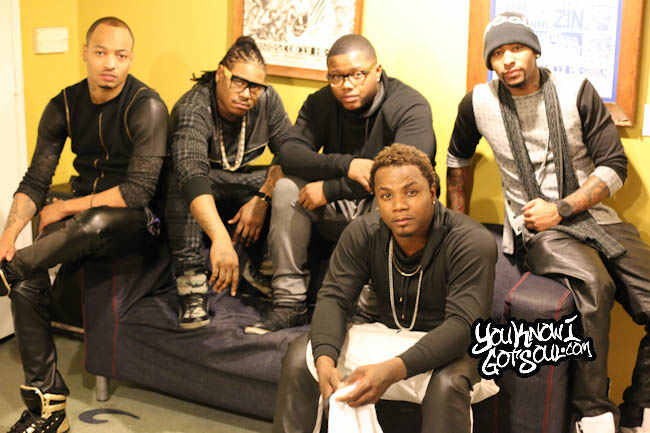 Where are the R&B groups right now? There are none. That's why the timing couldn't be anymore perfect for Day26 to reunite and return to the scene. The group, once signed to Diddy, has been through a lot as a group and there was a lot of doubt that the winners of MTV's "Making the Band 4" would be able to reach their full potential. After witnessing the group breakup more than once with different members leaving, the Day26 brand wasn't looking too good. However, with the power of their fans, the group has decided to give it another shot. YouKnowIGotSoul had a chance to talk to the group about their comeback, tour and new music.
YouKnowIGotSoul: You guys are back together as once again with all 5 original members. What made it happen?
Willie: It all happened from a phone call that was for a tour to get back together. When we got on the phone, we all agreed to do the tour and then from conversations, we decided "Yo let's get back together and make it happen." It was really easy because I personally miss being on the stage with the guys and we felt a vibe even through conversations we were having on the phone, so it locked in from there.
YouKnowIGotSoul: Did all of you guys find that you missed being in a group?
Brian: Hell naw *Laughs*
Que: Well I miss being in a group. It's been 4 years for me, so to get that phone call and to hear the guys excited to get back together, it was definitely like stress off my shoulder because I was focusing on a solo career. I was like "I can put that aside for a little bit and focus on my group." I want to make this thing the hottest thing in America.
YouKnowIGotSoul: You guys also announced an upcoming tour. Talk about that.
Robert: We can't release dates right now, but we are coming to a city near you. This will be one of the most epic reunions in the world. We've had a chance to grow as individuals and now that we're put back together, it's just musical. I can't really say much about the tour, but we are coming to a city near you. Be there or be square. This is the most epic reunion ever.
Brian: It's crazy that the fans are calling it epic.
YouKnowIGotSoul: Do you guys have plans for new music?
Willie: We definitely have a plan for some new music. We actually started getting in the studio now. We actually had a record before called "A New Day" but we scrapped a lot of that stuff because Que wasn't in it. Naturally we'll have a fresh start with it with the chemistry of us 5. It should be epic. It's always epic being in the studio with these guys. They're all amazing vocalists, so it's an honor to be in a group with these guys.
YouKnowIGotSoul: What's the label current situation?
Willie: Independent.
Brian: I mean we have a couple of offers as of right now. We know our worth so we're going to play it out and see.
YouKnowIGotSoul: What have you guys been hearing from your fans? Did they love you guys as solo artists or did they want you guys back in a group?
Brian: They just love us together. I guess seeing us all together is kind of unbelievable to them. We all released mixtapes or solo records and they definitely supported us, but having us together brings everything to a whole new level.
Robert: That's the reason for this situation, it's because of our fans. Without our fans, we wouldn't be here because everything is on their own social network. We have our own personal fanbase which loves us individually, but they always throw it in there like "When is Day26 getting back together?" Literally this is all for our fans. This whole situation is dedicated to the fans because without them, we wouldn't even be right here. I think it motivated everyone right here. I think I can say for everyone that the fans really pushed for this every time I get on Twitter, Facebook or I talk to my fans no matter where I'm at.
YouKnowIGotSoul: Did Danity Kane's reunion influence your decision at all?
Willie: Nah, not at all. We respect everything they're doing. We are proud and happy that they're getting back together again. Ours had nothing to do with theirs. Our thing was just off conversations and just talking about a tour. We are definitely happy to see them doing their thing, but ours wasn't influenced by them.
Anything you'd like to add?
Brian: We love our fans or fams. They're like my extended family. Thank you for all your support and we'll try our best to continue giving you that music. And if you want to book Day26, e-mail bookday26@gmail.com.