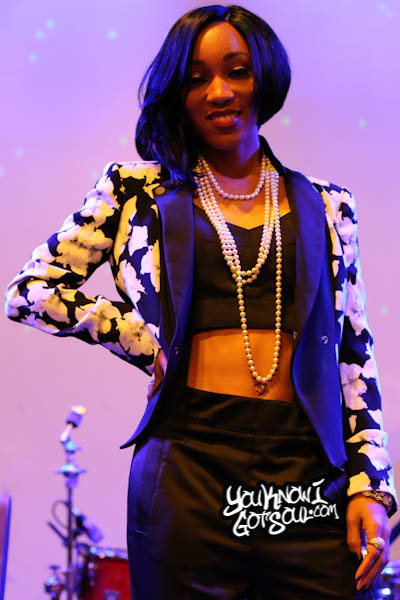 When Jermaine Dupri handpicked Dondria to join his So So Def label after discovering her and her legions of fans on YouTube, it was obvious what he saw in her. Her first album under So So Def solidified her as the Princess of the label, but now years later she's re-emerging as the Queen. As you'll see and hear from her fresh grown image and sound, the step forward she's taken is undeniable. No longer satisfied to just go with the flow, she's taking her booming vocals and artistry to the next level now; and you'll hear that on the current single "Coat Tail" and the forthcoming EP. YouKnowIGotSoul sat down with Dondria Nicole prior to her recent performance for our Sol Village show in NYC and discussed her new grown image and sound, what has sparked her growth, learning from Jermaine Dupri, details on her new EP, and much more.
YouKnowIGotSoul: You've just re-emerged with a new grown image and your first single "Coat Tail" shows that. What sparked this growth in you?
Dondria Nicole: What sparked the growth and this new Dondria Nicole is that with age comes maturity and I consider myself a grown ass woman now. I'm more mature and more outspoken. I wanted to make sure that the public knew that I was a completely different girl from phatfffat on YouTube or Dondria when I first got signed. It's all new everything.
YouKnowIGotSoul: Why was it important to show people that you've grown up since the previous era?
Dondria Nicole: I think I got stuck into this box of being a young inexperienced little girl and just going with the flow. People knew I had talent, but I don't think they took me seriously and on a business standpoint, I'm just making my mark.
YouKnowIGotSoul: Your new single "Coat Tail" is about self motivation. What does that song mean to you at this point in your career?
Dondria Nicole: "Coat Tail" means growth. It's definitely for the person that is confident in who they are and they won't take no for an answer. They don't need anybody to accomplish anything that they want to accomplish in life. It's all about them and just doing what they have to do to make it and being a boss. Just being confident, loving themselves and not taking anything from nobody. Everything is possible.
YouKnowIGotSoul: I was reading in the past, you were afraid in terms of creating music and you weren't as confident as you could have been. Do you think that held the music back?
Dondria Nicole: I feel like it may have held me back a little bit. I'm not going to say it would have been a huge difference. I think everything happens for a reason in that the time that things take, it's fate. I just think it's time for me now to be that person and to take control. Now is the time. That was my preliminary, practice or try out. *Laughs*
YouKnowIGotSoul: "Coat Tail" is very grown and soulful. Is that the direction of your music moving forward?
Dondria Nicole: You can definitely expect a lot more soul and emotion in my stuff, but I'm also going to give you the sass, attitude and swag because I want to appeal to everybody. You don't always want to feel one type of way or just listen to a ballad all the time. I'll give you a little bit of everything.
YouKnowIGotSoul: Your bio states that you went from the Princess of So So Def to the Queen of So So Def. How has Jermaine Dupri helped you progress along the way as an artist?
Dondria Nicole: He's helped me a lot just by me watching him. His business moves and his mindset to never stop working and to always be doing something no matter what it is and don't sit down for a second because there's always somebody behind you that's going to be the next big thing, so what are you going to do to create that longevity for yourself? He's taught me that over and over again.
YouKnowIGotSoul: So you've been working on an EP that is set for release this summer. How's that coming along?
Dondria Nicole: My EP is my baby. I'm so excited for it. I don't have a title for it yet, but I am in the creative process right now. I've worked with Tre Ace and Carmela. LT Moe is one of the producers. I'm excited. My expectations are just so high and the possibilities are endless for this EP. Because this is my reintroduction, it's so important to me. But it's going to be good.
YouKnowIGotSoul: You were discovered on YouTube and you have a huge following on there. Have those fans kept up with you?
Dondria Nicole: I love my YouTube fans. They've stayed with me through thick and thin. They followed me wherever and however. I love you guys for that. They jumped all over this "Coat Tail" release and I know with the video as well as the EP, they've been ready.
YouKnowIGotSoul: You were one of the first to get signed from YouTube and it sparked a lot since then. Has the journey been what you expected it to be?
Dondria Nicole: I didn't have any expectations on the journey. I was just thrown into it, so I just went with the flow. I was like a free bird. Wherever I needed to go or do, I did it. I didn't have any expectations and if I did, they were surpassed by my single "You're The One", being number one on 106 & Park and going on tour with Trey Songz and Monica. I didn't think any of that was possible.
YouKnowIGotSoul: Anything you'd like to add?
Dondria Nicole: Thank you for having me. Be on the lookout for the video of "Coat Tail" coming this month.