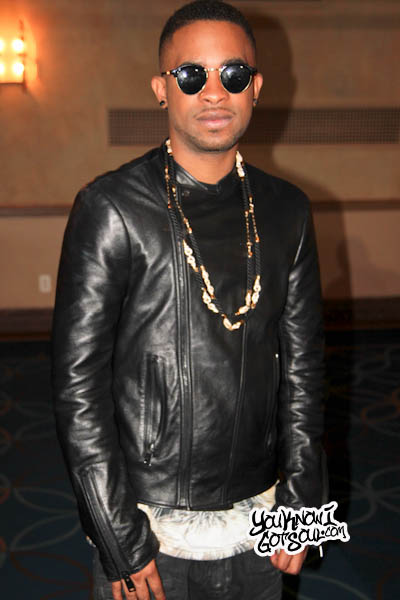 Another artist we had a chance to catch up with on the red carpet of the BMI RnB / Hip Hop Awards was Elijah Blake. If you remember, we talked to Elijah a few months back in a great introductory piece discussing how he built his fan base, got signed, wrote for Usher/Trey Songz and released his highly acclaimed "Bijoux 22" EP. Now, he shares with us that he's been hard at work on his debut and has plans to release another EP prior to that. Additionally, he's been helping Keyshia Cole craft her new album that will include a different tone from her. Take a listen about what he had to say below.
YouKnowIGotSoul: You released the "Bijoux 22" EP a little while back. Tell us about what's next with your debut album.
Elijah Blake: I didn't expect it, but the EP affected the album so much that now I got to see what my fans like and don't like. It kinda pushed the album back a little because I wanted to tweak things. I feel like as a new artist, you want to put out the album right away. This is my first body of work that I'm putting out now, it's gotta be great. We're thinking the album first quarter or second quarter. As a way to segue into that, we're gonna do the EP "Bijoux 23".
YouKnowIGotSoul: Give us a preview of "Bijoux 23", we hadn't heard about that yet.
Elijah Blake: "Bijoux 23" is pretty much live instruments, progressiveness, it's kinda like the freedom that you have when you make an EP. Of course it's gotta be commercial, so I'm calling it "Bijoux 23" to bridge that gap.
YouKnowIGotSoul: Have you had a chance to write for other artists in the meantime?
Elijah Blake: Me and Keyshia just started on her new project, that's been a lot of fun. It's kinda experimenting, she's a wife now and a mother, so it's letting her fans know "I told yall what it's like to leave, but I'm gonna tell yall how to fight for a good man." We already coming up with some great stuff for her.
YouKnowIGotSoul: On your new single with J. Cole, you switched up the tone a little bit with more of a staccato. Can we expect more of that?
Elijah Blake: I'm glad you even noticed that because most people don't even get what's really going on. I can't even take all of the credit, that's a lot of J. Cole. He's like "Everybody knows you can sing, let's just talk that shit this time around. I want you to flow on this as a rapper." As opposed to when I work with Keyshia Cole or Usher and I'm behind the boards vocal producing, it's kinda weird to me because there's a rapper in the control room vocal producing. As a rapper, he kinda helped my flow on that and a lot of people don't even know that.
YouKnowIGotSoul: You're known as "Sir" Elijah Blake on Twitter. Can you explain the meaning behind the "Sir"?
Elijah Blake: Honesty, I wish I had a clever thing but some idiot took @ElijahBlake and don't even tweet from it! *Laughs* I wish it was a brilliant thing I could say!