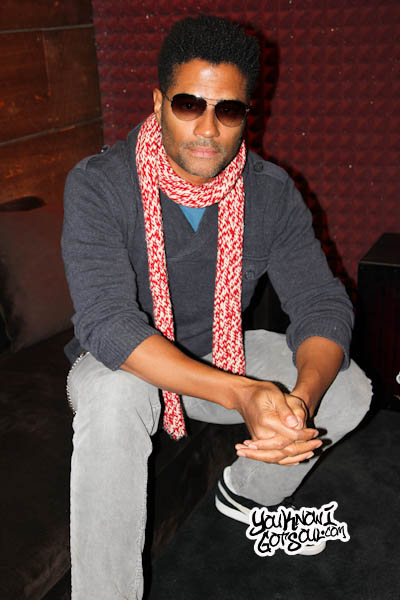 Despite the fact that Eric Benet has been in the music industry for over two decades now, it's arguable that he's now at the height of his career. Going independent and starting his own label was the best thing he could have done for his artistry and it's showing in the success he's been having with "The One". This success has led to the expansion of his label and allowed him to sign unheralded artists like Calvin Richardson and Goapele who he can now help win. He'll also be taking his search for talent to the subways with his newly launched Sub Stars TV show to find artists who many take for granted on a daily basis. All of that, and he's also finding time to do a European tour and also work on a new album. Exciting times are ahead for Eric Benet and his fans! YouKnowIGotSoul sat down with him recently in NY and he gave us the scoop on his new signings, Sub Stars TV, his new music, the tour and, more.
YouKnowIGotSoul: Your latest album "The One" has been out for more than a year now and it's still going strong. What's been the key to the longevity of the album?
Eric Benet: Really, it's just for the first time being in control of my career and having that kind of autonomy where had I still been at a major label, you're lucky if you get one single with a decent release. It's just now being in a position where I have a great family behind me, so that if I want to do something crazy like have three or four singles on a project, it can happen. I look at the whole thing like I've spent twenty years of my career in the system of major labels. It's almost like my college and graduate school so that I can evolve and get to the point where as long I am able to make sure that my creative statement is strong and I know exactly who I want to be as an artist, then I just had to pick up a little bit more knowledge of the actual promoting and marketing of art. Being able to do it now is just an incredible feeling. And yeah, "The One" was a very successful first release for Jordan House and it's really put us in a position where we felt like we could sign a couple of other artists like me who have a very clear vision of who they are creatively and they just need a strong family behind them to get that statement out there.
YouKnowIGotSoul: You announced that you signed Calvin Richardson and Goapele to your label. Talk about those signings and what it means to you.
Eric Benet: Both artists are artists who I really respect and I love their creative statement. I remember when Calvin first came out, he just has one of those voices where for me, it's the perfect combination of vintage soul meets artists that have those vocal acrobatics and certain little ear candy things that today's audience are going to listen in to and make them relevant for today, but also he has very bit of soulful and musical authenticity in his voice. Honestly he was one of those artists where it was like "If I ever have my own label or situation, he's that kind of artist that I would want." You hear a voice like Calvin's and as a songwriter and producer, it's like an artist like Michelangelo painting and going "These particular paints look amazing." When I heard Calvin's voice, I was like "Damn, I would love to get this cat in the studio." The songs I hear with his voice are going to be amazing. Goapele is this dope combination of a eclectic soulful and artsy vibe. It's the same kind of excitement that I had for Calvin, but in a different way. She's so sure of who she is creatively and what she does and doesn't want to do. I really respect who she is as an artist and what's done with her career. People just love her and how left of center she is. It's just really exciting to be working with her as well. I think with Jordan House, that's what it's going to excite everyone because it's artists who have a clear definition of who they are and they're just looking for a little help to get that creative message out there. I love the fact that with each artist, they're going to be a little different and it's going to give me a chance to, I think creatively in my arsenal I've done a lot of things from country, to rock to obviously R&B and soul. I get off on knowing that with each artist, I'm going to be able to pull a little from my arsenal to help to make sure each artist makes their statement come to fruition. That's really exciting.
YouKnowIGotSoul: Another thing you have going on is the "Sub Stars" TV project. Tell us about that.
Eric Benet: "Sub Stars" is just a dope idea. I can't take credit for the idea. A friend of mine, Phil Viardo, who is actually part of a very successful television production company called Natural 9. They've actually won a few Emmys for some other reality based shows that they've done over the years. He had a concept for a show and basically came up with the idea by walking through subways and we all know that people who perform at subways are usually incredible. "Sub Stars" is an opportunity for these artists to have a platform and to have a competition show like no other. When I think of music competition shows today, I think they're very glamorous and shiny, but it starts to feel like glorified karaoke shows where people are like "Hey let me audition for the karaoke show." Our show is very much not that. We're going to what these people call their stage and these are people who didn't decide "Hey let me audition for a competition show." These are people who wake up every day and this is their life. This is how they survive or maybe it's not how they survive. Maybe they are healthy, but this is their passion and I think that's what's going to make it so interesting. For whatever reason you've chosen, this is your life. Just staying on a street corner or staying in the subway and just giving it your all. I think that's fascinating and that's what I came from as an artist. I cut the ties from a day job and college years ago and I was just doing that. I was performing in some of the shittiest places you ever want to imagine, but music was my passion. I really respect that and I think these people just need to be seen, so it's a really exciting concept. We have a kick-starter campaign because not only do we want the fans to be a part of finding the talent, we're going to have a "Sub Stars" app for smartphones where people can just film ten minutes and send it back to us. Also we love the idea that the fans can be part of making the show actually happen. Everyone on some level is going to be a producer of the show via the kick-starter. http://www.substarstv.com is a way for people to find out more.
YouKnowIGotSoul: Do you have any new music planned for yourself?
Eric Benet: Yeah, it's going to be a busy year for Jordan House. We pretty much finished the Calvin Richardson record. I'm just getting into the Goapele record now. I'm starting the next Eric Benet record by the end of this month and hopefully I'll be finished with it before the end of the first quarter. It's going to be crazy busy.
YouKnowIGotSoul: You're also going on tour with Brian McKnight tour in Europe soon. Talk about that.
Eric Benet: We've never done a full-fledged promotional campaign of the new album "The One" in Europe until now. I can think of no doper, sexier and prolific artist than Brian McKnight to do this with. The man has written some of the most beautiful songs in R&B over the years and it's just going to be a crazy show. Go to my website http://www.ericbenet.net to find out more information. This will be the first time that Brian and I have toured in years. Right after my first album came out, Brian and I did a tour way back in the day. This is the first time since then, so that'll be exciting.
YouKnowIGotSoul: Anything you'd like to add?
Eric Benet: Thanks to everyone for the support over the years. Follow me on Twitter @EBenet.