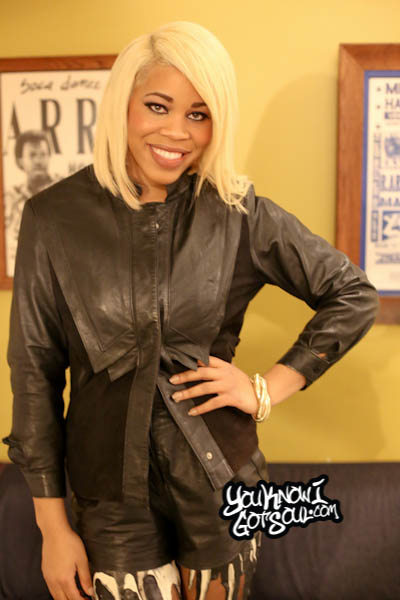 We've had our eyes on GoGo Morrow for awhile now; she's a buzzing artist out of Philly who we recently featured in our Sol Village showcase. Although she goes against the grain of the typical soulful sound Philly has made a name for, her pop/r&b mixture is not something you'd want to overlook. Unique for being one of the few artists in the industry with a business degree, she got her break when an audition to do background vocals for Kelly Rowland got her a spot on Lady GaGa's tour last year. Now she'll look to make her own mark as she prepares to release her debut project later this year. We sat down with GoGo prior to her Sol Village performance and discussed her origins in music, what she's been doing to build her buzz, how she got picked to tour with Lady Gaga, and much more.
YouKnowIGotSoul: Coming up, when did you realize that you wanted to be a singer for a career?
GoGo Morrow: Well, that's a hard question because I can't really recall making a conscious decision of wanting to do music. It was always deep down in me. My father and uncle sing, so because I come from a very musical family, it was a natural thing for me. I've been wanting to be a singer since a little girl. I veered off and tried other things, but it eventually always brought me back to music.
YouKnowIGotSoul: Being from Philly, what kind of influence does that have on your sound? There have a group of artists from Philly with a certain sound.
GoGo Morrow: Being an R&B/Pop artist from Philly is a catch 22 because we're known for our Soul artists like Jill Scott, The Roots and we're known for producing these great Soul artists. When I go to new places, I'm constantly having to define myself as an artist because I'm not in that Soul category, but I get put in it a lot which is not a bad thing because we've produced some of the best artists in that genre. I take it with a grain of salt. I love being from Philly and being associated with the talent, but I think it's time for someone to show a new side of music coming from that same area. I'm just viewing myself as a pioneer to open up the world to Pop music from Philadelphia and R&B music from Philadelphia.
YouKnowIGotSoul: One of your big breaks was you had a chance to work with Lady Gaga and support her on her tour. How did that opportunity come about?
GoGo Morrow: That's a real funny story. I was out here for a Kelly Rowland audition and I decided to go last minute. One of my friends told me I should go, so I went. Long story short, I went through the audition process and I didn't get called and maybe a week later, I got a phone call. I ignored the phone call because I thought it was a bill collector for my tuition fees, but I listened to the voice mail and it was someone named Joe Wilson. He's Lady Gaga's music director. Long story short, he saw me at the Kelly Rowland audition and he thought I would be perfect for the Lady Gaga tour. Three days later, I took a flight to LA and my first show was the Staples Center. It happened so quickly.
YouKnowIGotSoul: I read in your bio that you have a business degree. It's interesting because a lot of artists don't get a chance to complete school. How has that helped you in the music industry?
GoGo Morrow: It's difficult because I have very negative thoughts towards college when I first graduated because there weren't a lot of opportunities for music business students. They didn't give you a path to take. I kind of had to find my own path. I think that's helped me become tougher, but I think now students have better education as far as the music business goes. When I graduated three years ago, they really didn't. I think there's a lack in education and it's hard because the music is very abstract and it's a very abstract business. It's ever changing, so it's hard to put anything in a textbook because it's constantly evolving and changing. The law is changing because the culture is changing. It's hard, but I think we have to do a better job of keeping our kids who want to do this motivated because it's a really difficult path and it's even more difficult when you have to figure everything out on your own. I love the fact that I have a background in it and it gave me a heads up on what to expect when it comes to contracts and things. It definitely prepared me and I was able to do some internships. I have some behind the scenes experience, but I just wish there were more opportunities for music business students. I keep saying that until it is better.
YouKnowIGotSoul: Your music has been building a lot of buzz lately. What is the key to building the buzz?
GoGo Morrow: The main thing is doing shows. I think I shine more as an artist during performances. I love being in the studio and writing, but I think the thing that fuels my fire and passion is the stage. I think the people see that too. When they see me performing, usually something else comes out of it like I'll get invited to do another show. I think that's what has helped build my buzz. I have had great opportunities that I don't think I'm worthy of. I had a chance to headline my own Live Nation show in Philly and it sold out. That was unbelievable. It's certain things that I don't even understand how it has happened, but the buzz is building and I'm just thankful to anybody who supports me.
YouKnowIGotSoul: You've got the new video that you released last month. What can we expect next?
GoGo Morrow: An EP is in the works. We're just trying to take the proper steps, so everybody who has ever heard of GoGo Morrow will hear the sonics from who I am. The more I record is the more I'm finding out exactly who I am as an artist and especially since the music I started recording is completely different from the music I've recorded as of lately. I'm just trying to find a medium and balancing it. I'm just trying to find exactly what I want to say or what I want people to think. This is my first full project, so I definitely want it to be effective and make a mark on history. We're taking our time, but I'm working on it.
YouKnowIGotSoul: You've described yourself as a Pop/R&B artist, so what artists or sounds influence you sonically?
GoGo Morrow: There are so many things that influence me sonically. It's not just artists. It's art, my experiences as a child in musical theater, my stories or my friends' stories. It's not just musically, but of course I definitely had my musical influences growing up. Brandy was number one, so I was super stoked that I even had the chance to share the stage with her. Of course you had Gospel artists like Kim Burrell. Of course there's Beyonce and also rappers like Kendrick Lamar. It's not even about a particular genre, I just love people who are passionate about their craft and who I can look at and know "They would do this if they didn't have anything the world." That's what inspires me. It's so many things. That's why it's so hard to put me in a genre because I'm inspired by so many things.
YouKnowIGotSoul: Anything you'd like to add?
GoGo Morrow: Support GoGo Morrow and download my new song "Breaking The Rules" on iTunes and watch the video. Follow me on Twitter @GoGoMorrow