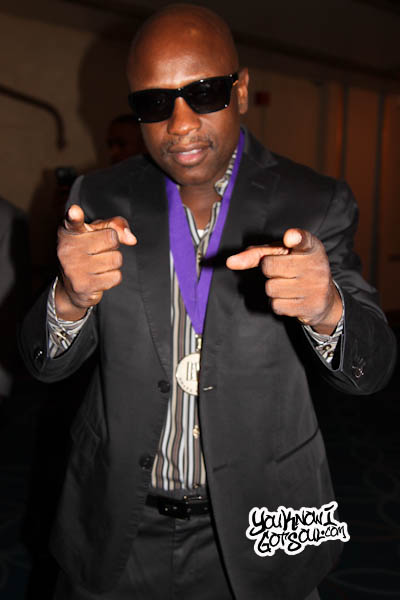 It's no secret that 2012 was a huge year for Jerry Wonda. Just as soon as you had a chance to get into one of the hits he helped create, he was already churning another one out. That's why it was no surprise he was being honored at the BMI RnB / Hip Hop Awards this year for his production. YouKnowIGotSoul caught up with him on the red carpet and asked about his work at his studio Platinum Sounds, carrying the momentum of 2012 over to 2013, and what's next for his Wonda Music Label. Check out what he had to say below.
YouKnowIGotSoul: You've got big things going on with your studio Platinum Sounds. Talk about your team and creating the music
Jerry Wonda: Man, I created this movement called "Wonda Music". It's all about content and it's all about creating great sonics and great songs. We just have fun, that's why we're like "Attack!" all the time. Right now we're in the studio, we just put out a video with Estelle and Raekwon. We're doing Ledisi, Jennifer Hudson and I have an artist named Viviane Ndour from Senegal. I love culture, I don't believe in just one spot. I travel everywhere. Anywhere there's music, you're going to see Jerry. Then I come to Platinum and work with the Justin Biebers. I love to connect everything. That's what I'm doing, that's Platinum Sound!
YouKnowIGotSoul: In 2012, you killed it in R&B. You were pretty much the producer of the year. How have you been able to carry the momentum over in 2013?
Jerry Wonda: I always say "Forget what I did last year, it's what I'm dong today." I always look for something fresh. I did "Out Of My Head" with Trey Songz and Lupe Fiasco. Then I come back and do Estelle's "Thank You". Now I'm working with this new artist named Mali Music. I'm very excited about him. There's a lot of great things that I'm doing.
YouKnowIGotSoul: What else do you have going on with your label?
Jerry Wonda: We have Olivia, Destiny, YFame and a couple more. It's a great vibe going right now. Everybody in the studio is like an army. Everybody is just working, but when they come out, I want them not to just come out for one song, I want them to have a longevity like i have from 1997 and I'm still here. That's what I'm creating.