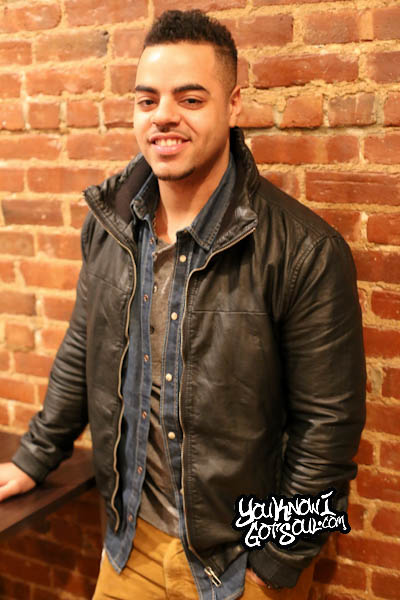 The grind of an independent artist is never easy, and in most cases does not yield the results the artist desires. However, every once in awhile we have a special artist like John Michael who comes along and beats the odds, getting his music in rotation at radio and TV, and reminds us all that independent artists can have an impact. After receiving critical acclaim for his debut album "Sophisticated" in 2013, John will be looking to carry that momentum to the next level in 2014 which starts with his "New Jack Thing" mixtape. It's important for the r&b genre for real artists like this to be successful, and we're proud to be supporters of his movement from day one. Tom of YouKnowIGotSoul sat down with John and discussed what to expect on the mixtape, the struggles of being independent, opening for big name r&b acts, attracting the attention of major labels, and much more.
YouKnowIGotSoul: Introduce us to the new mixtape "New Jack Thing".
John Michael: It's the mixtape that I've done so far that I'm most excited about because it's a lot of original music. There's a couple of remixes on there, but if anyone is familiar with my two previous mixtapes, it was a lot of remixes. It's always fun to do mixtapes, but those were more fun types of mixtapes. Everybody enjoyed them and I'm glad they did, but this one is almost like an album. Even though I got the "Sophisticated" album in stores out right now, I just wanted to show people my broad arrangements of musical talents in R&B.
YouKnowIGotSoul: What made you decide to put out a mixtape after releasing your album "Sophisticated" not too long ago?
John Michael: Because there's so much competition out there. It's not just because of competition, but there's always so much new music coming out. I feel like as a songwriter and a studio engineer, I have the ability to constantly make music so why not put them out? Half of this mixtape, I could probably save to put on the album down the road and two or three years later you would hear them, but I'm just putting them out right now. I recently recorded them, so that's exciting for me.
YouKnowIGotSoul: Where did the title "New Jack Thing" come from?
John Michael: It was originally going to be "New Jack Swing" because I think that was one of the most exciting times in modern R&B. The late 80's and early 90's with Teddy Riley and like Jodeci and Dru Hill, those people got me into R&B music. That type of sound, I wanted to allude to it and I'm not saying this mixtape sounds exactly like that, but I'm just paying homage to it. I switched it to "New Jack Thing" because I didn't want to use up the whole phrase. I just wanted to allude to it a little bit. I'm really adamant about keeping R&B out there because people for whatever reason slack off on listening to it. As an R&B artist, I wanted to make sure they know that I know the history of it.
YouKnowIGotSoul: How was your debut album received by fans and R&B listeners?
John Michael: It's always cool when people tweet or hit me up about a song that's not a single or I'll see lyrics pop up. It's been a great response. With the new single "Arrive", I've seen a lot of people put that up. I've been hearing it in New York, XM Radio and a lot of other places. It's been doing really well.
YouKnowIGotSoul: You've been going on tour and opening up for some big names. How has that experience been?
John Michael: It's been great. It's always a learning experience because when you open up for established artists, you get to watch how they operate. I did 4 shows with Dwele and it was just cool. He was just telling stories about his family and J Dilla. And Bilal, he's so quiet before he gets on stage and then he just explodes. Just all the artists like Eric Benet, he was really cool. I like to learn from them.
YouKnowIGotSoul: You put out your album independently. What's the hardest part about being independent?
John Michael: The toughest part is just competing with the big labels because they can ram music down your throat. I can make a song and I'm like "This is the greatest song I Ever Made" and I really have to prove it to people. The majors can just snap their fingers and if it's a great song and it's well received, then in two or three weeks it's going to be a big hit.
YouKnowIGotSoul: Is signing with a major label the ultimate goal for you or are you happy being independent?
John Michael: I'm happy. The ultimate goal for me is to be able to do music as a means of sustaining my family for the rest of my life. You can do that without a major, but at the same time, majors definitely keep an eye on me. I learned a long time ago that the best thing to do is not pay attention to the major situation.
YouKnowIGotSoul: 2013 was a big year for you as far as getting your name out there. What's 2014 going to look like for you?
John Michael: To be honest, I think this year is going to be better than last year. Even though I've been making music since I was 16, I didn't really get my foot in the industry until a year and a half ago. Starting in 2012 up until now and then having my single hit the top 20 on the Billboard for radio play in Urban AC, that was really boosting me to be able to do these shows and what's coming next with more exposure. You'll see my "Arrive" video TV right now on Centric. There's more VH1 programming and bigger shows. I'm just taking it to another level.
YouKnowIGotSoul: Do you remember the first time your song was played on radio?
John Michael: I have it recorded on YouTube. I was in the car recording myself. It was surreal because a year before that moment, I was sitting in the car on the way home from work thinking "Why am I still doing music? How do I get myself on the radio?" It was impossible. Once I heard it, I was like "I can't believe it. I crossed over that barrier."
YouKnowIGotSoul: How did you originally start in music?
John Michael: I used my computer networking skills. I've always been with computers since I was a kid. My dad got me one of those floppy disk drive computers. Through the years, I just got good with computers. I learned how to mix vocals on my studio programs and by doing that, I could record stuff. I would reach out to producers and be like "Do you need someone to write a hook?" I had a business running and at least every other day, I would get home from work and I would have some studio work and it was paid work. That really kept me motivated to do my solo stuff.
YouKnowIGotSoul: That's all we have for you. Anything you'd like to add?
John Michael: I'm just excited for everyone to hear the new mixtape "New Jack Thing". I've never felt this excited to give people music as fresh out of the studio. In the music industry, you'll hear things that are three years ago, but I just started this in December. This is exciting.