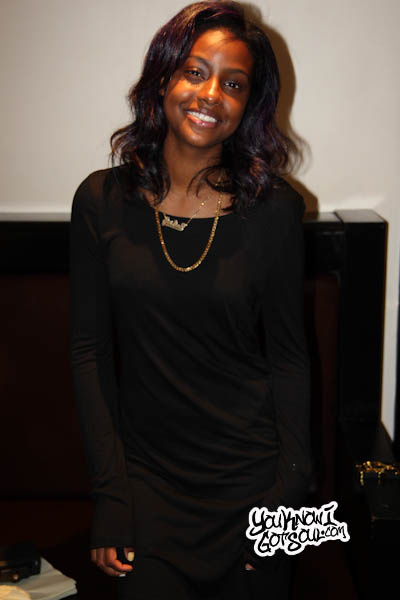 After years of being neglected, there's no doubt that slowly but surely r&b is making it's return to the mainstream. Atlantic Records is surely doing it's part, recently releasing albums from TGT and Jaheim, and also signing new acts like Netta Brielle and the subject of this feature, Justine Skye. Though still just a teenager, Justine was raised on 90's r&b and that can clearly be heard in her music. On her debut project "Everyday Living", she was able to successfully mix new school r&b sounds with the 90's vibe to give us a fresh take on where r&b should evolve to in the future. She even took on the bold task of covering Aaliyah, one of her major influences, and was able to pull it off. Only time will tell where she goes from here, but the talent is there, so it's important to support these types of artists who represent the changing sound of music. YouKnowIGotSoul sat down with her recently at her EP release event in NYC and discussed how she was discovered by Atlantic, how she developed her sound, working with her primary producer Eric Hudson, motivation for covering Aaliyah, and more.
YouKnowIGotSoul: Talk about your EP "Everyday Living" and what we can expect.
Justine Skye: It's my first project coming out from the label, so I want to just give them that natural organic feeling of who I am, what I'm about and what this teenage life is about. It's very R&B based. I'm very inspired by that late 90's/early 2000's R&B, so that's basically the vibe you get from me mixed with the new school 2013 R&B.
YouKnowIGotSoul: As an Aaliyah fan, I noticed you covered one of Aaliyah's songs. How was it like recreating one of her hits?
Justine Skye: It was an honor that people actually like it because it's a sensitive topic. I'm really glad people liked it and didn't take offense to it, but Aaliyah has been one of my inspirations ever since I was a baby. I basically grew up listening to her and I felt like I had to do that because she was such a big inspiration to me.
YouKnowIGotSoul: We just spoke to Eric Hudson last week and he told us to look out for you. What was it like working with him?
Justine Skye: Eric is like a big brother to me. I've known him for the majority of my life. My mom is his manager. When we really got into the studio and started working on this EP, the vibe was just there. It just naturally happened and something clicked. Everything going forth, that's my main person. I'm always looking to work with other people, but he's my main guy.
YouKnowIGotSoul: You wrote on this whole project. When did you develop the writing?
Justine Skye: In middle school, I started writing by myself, but I didn't know what I was doing. I was just writing. Then I started getting in the studio with August Rigo who is an amazing songwriter. He's worked with Justin Bieber, One Direction and many others. He's basically my songwriting mentor, so I've learned a lot from him just being in the studio and co-writing with him. He co-wrote a lot of the songs on this EP too. It's a group effort with us. The way we go about it is that we start every session with "How are you feeling today?" and then we build up a story.
YouKnowIGotSoul: You generated a huge following by putting up videos on YouTube. How were you able to develop such a huge following through that?
Justine Skye: I'm not even sure, it just happened. Like one day I would wake up and there would be people re-blogging my videos and I'm getting views. I was like "Wow people are really interested in what I'm doing. I'm doing something right." My following started to grow and it's all organic too. It's a blessing to have all these people so interested in what I'm doing.
YouKnowIGotSoul: How did you take it from there to being signed to Atlantic now?
Justine Skye: Well I put out a mixtape last year called "Skye High" and basically that started to get the attention of labels. They started keying into what I was doing and I started getting into the studio with Eric Hudson. We started writing songs and labels were like "Oh snap there's this girl named Justine Skye. What is up with that?" We started to get deals on the table and it happened.
YouKnowIGotSoul: You've mentioned you want to be a role model, as a brown skin girl, to others and make them feel comfortable in their own skin. Talk about wanting to be a role model to young girls.
Justine Skye: Well on Tumblr, they have the option to ask you questions. So I was getting a lot of questions from girls like "Do you think you're going to make it because you're dark skinned?" I started to realize that "Wow I need to be the voice for these young girls because there's no one telling them that they're beautiful and that they're no different than anyone else." I had to do that.
YouKnowIGotSoul: Anything you'd like to add?
Justine Skye: Make sure you check out the EP "Everyday Living" and follow me on @JustineSkye.