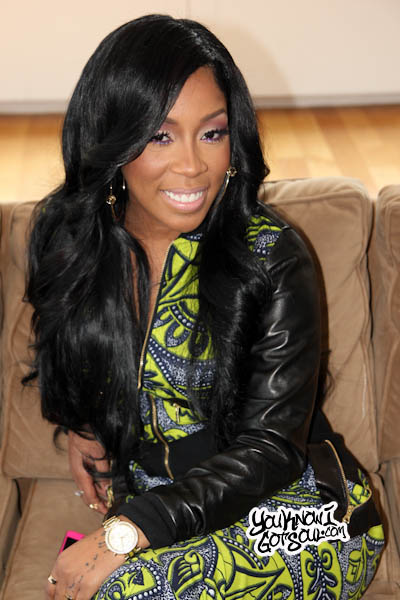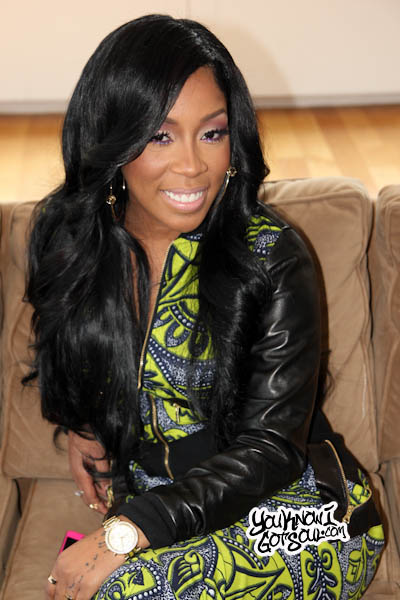 Coming off of her successful appearance on "Love & Hip Hop Atlanta" and subsequent signing to Warner Bros. Records, the expectations were extremely high for K. Michelle. The way her debut album "Rebellious Soul" has been received, you couldn't have asked for much better. A solid contender for r&b album of the year in 2013, she's been able to connect with her fans like many artists dream they could. She's known for always being real and the way she pours out her soul on the album gives the listener just that. As she heads out on tour next month, you don't want to miss how she gives her all on stage. YouKnowIGotSoul sat down with K. Michelle once again and this time discussed how she's been able to successfully connect with her fans, what made "Rebellious Soul" such a success, what you'll get if you come out to see her on tour, plans for her new reality show, and much more.
YouKnowIGotSoul: Your debut album "Rebellious Soul" has been a huge success and you've been able to connect with so many different people. What do you think made it such a huge success?
K. Michelle: I just think people got to know the good and bad in me and they're still learning me. They're still watching my growth and they're invested in me because I give them exactly who I am and I feel like people can relate to that. I don't hold anything back and people are invested in the growth and they want K. Michelle to win. That's the reason the album has done so well besides the fact that I took a lot of time to musically make sure that it was all on point.
YouKnowIGotSoul: What's the feedback that you get from fans and music lovers and how it has helped them?
K. Michelle: I get a lot of tweets and letters. I've been on the road so much that I get to see a lot of my fans and they say "Oh my god, this saved my life!" That lets me know that my motto of writing the truth and saying things how it really is. It is working for me and people are understanding me.
YouKnowIGotSoul: Do you enjoy being a role model in that sense and helping people through their situations?
K. Michelle: I don't know if I want to call it a role model because I still do things that I don't want my own daughter or son doing. I definitely will say that it is an experience that I give so much of me that they can say "Okay she did this wrong so I need to do this another way" or "Okay she did this right and I need to follow that." Role model is a big word, but I know there are a lot of women that are looking up to me right now.
YouKnowIGotSoul: The single "V.S.O.P." is having a lot of success on the charts right now. Why did you decide to release that song first?
K. Michelle: That record is very urgent and I wanted a record like that. I didn't want a record where I was crying and bashing a man. It was this old school feel to it, but it still had that urgency that you need for today's radio. It still had soul, but it wasn't so soulful that it just had to go to Urban AC. It was right there in the middle, a Hip Hop track with soul. I just love the record, it feels good.
YouKnowIGotSoul: We've got a couple of favorite songs on the album besides the choices you picked as singles. Talk about "When I Get A Man".
K. Michelle: When you're a single woman, you always wonder where your man is or when you get your man, this is what's going to happen. You have everything laid down in your head about what's it supposed to be like when you get a man. That's what "When I Get A Man" is about. A lot of times it doesn't always work like that, but that's what we would hope when getting in a relationship.
YouKnowIGotSoul: We also love "Ride Out".
K. Michelle: That's one of my favorites on the album!
YouKnowIGotSoul: You have this partnership with MBK and Jeff Robinson is helping manage you. What has he done and how has he helped you?
K. Michelle: He's really now helped me keep my finances in order, so I can have my wealth and not just money. He's big at keeping me calm and saying "Don't let your attitude or your anger towards somebody or emotions get in the way of your business." He's very much helping me to be a business woman.
YouKnowIGotSoul: One thing we took away from the album is that you use your music as an outlet and you're expressing yourself through it. Talk about using music as an outlet.
K. Michelle: My music is that. It's where I go and anything that happens to me, I have to write and sing. It's me and it really is my outlet and how I function.
YouKnowIGotSoul: Now you have the "Rebellious Soul" touring coming up. What can people expect from you?
K. Michelle: From this tour they can just expect fun. It's not going to be a snoozefest and it's really fun and young. All topics will be touched on, so they're really going to laugh or cry. Just get some drinks and have a good time.
YouKnowIGotSoul: You've been through a lot of highs and lows in your career. Do you feel like you're on one of those huge highs right now?
K. Michelle: No because I still have my regular issues. I feel like my career is moving quickly, but I feel like there's higher than this high.
YouKnowIGotSoul: You were on Jive before and when things didn't work out there, was there ever a point where you almost wanted to give up and move on from music?
K. Michelle: Sometimes I felt like I wanted to give up, but something always brought me right back to music. No matter how hard I tried to walk away from music, there was always something that would bring me back.
YouKnowIGotSoul: I've read that you have a new reality TV show in the works. Talk about that.
K. Michelle: I'm executive producer of it with Mona Scott. The show is just about my life as a business woman. If you pay attention to Love & Hip Hop: New York, I was very funny about other than main topic first season, I was very big on not putting my immediate family on TV and things like that. I didn't think that was the proper ethic for your family. It's a lot of things that people don't know about me. This show is about that. Those shows you get to see the funny and pop off side, but there's other sides of me as a mother, artist and business woman. You'll get to see other ventures and you'll get to see my real friends.
YouKnowIGotSoul: Anything you'd like to add?
K. Michelle: Thank you for the continuous support and I appreciate you guys for being fans of my music.