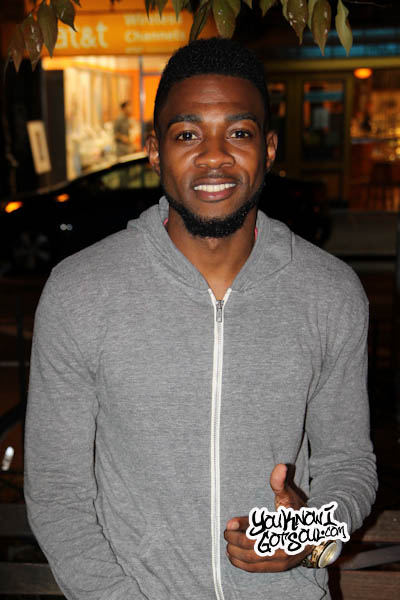 When childhood star Sammie decided to introduce his new persona Leigh Bush, it was a step forward for his brand to represent the growth he's experienced through the years. With the release of his Leigh Bush Project EP last week, he certainly came out with a flourish, charting in the iTunes top 10 charts as an independent artist; no small feat. The music is more open and honest than anything we've heard from Sammie in the past so it's obvious that the Leigh Bush brand is already headed in the right direction. In fact the project has made so much of an impact so far that he hinted last week he was already getting calls from major labels anxious to speak with him. In speaking with him, the success is no surprise because it's obvious him and his team have mastered how to navigate the industry as an indie artist in 2013. YouKnowIGotSoul sat down with him in a park in NYC prior to his headlining appearance at Sol Village and discussed his new persona, what fans can expect to feel when listening to his EP, what he's got coming next, and much more.
YouKnowIGotSoul: Introduce us to Leigh Bush and what the whole movement is about.
Leigh Bush: First of all, Leigh is my middle name and Bush is my last name. People just know me as Sammie. Leigh Bush is just a man of selflessness and vulnerability and passion particularly in music. I feel like we're a dying breed as far as the genre of R&B goes, so I wanted to do my part to continue doing real music that's everlasting and timeless. The "Leigh Bush Project" consists of different emotions that are very transparent. I'm very excited about the project. It's just an expansion of who Sammie was and where I left off.
YouKnowIGotSoul: Tell us about the EP and what artists inspired you on this project.
Leigh Bush: I watched a documentary on Marvin Gaye. I've always been a fan, but I really got to dig into his life story and I think it's so amazing how he was spiritually conflicted with the flesh and I can relate. He was a ladies man, but he was very articulate and timid at times. The only comfortable time was when he was on stage or when he was creating his work in his darkest hour outside of the limelight. I channeled a lot of Marvin Gaye and Maxwell. Of course I put my Sammie or Leigh Bush sauce in it just to make a concoction of this gumbo of greatness. I'm very excited about the material and I went in with no rules. I wasn't thinking about radio or DJs. I was just trying to create great music for the people to enjoy.
YouKnowIGotSoul: Is this Leigh Bush name only for this project?
Leigh Bush: It's here to stay, Leigh Bush is here. I don't want to confuse my fans, because I put so much time into creating a brand which is Sammie, and my fans grew up with me. I'm forever grateful for not just the loyalty, but to be able to have the freedom to expand my brand and not just be this child star. I'm 26 years young now, so I'm just starting to let that out. Leigh Bush is definitely here to stay.
YouKnowIGotSoul: Troy Taylor was the executive producer for this EP. What did he bring to this project?
Leigh Bush: Troy Taylor is an amazing man. Not just as a producer, but that's my pops. He's like a father figure. He's somebody that takes you and caters to that talent. I've known him for 4 years and I'm blessed that my first project as Leigh Bush was executive produced by him. Troy is a genius man. He worked with Tyrese and Trey Songz. He's the creative genius behind Trey. You really have to respect someone like Troy Taylor when he decides to take you in and nurture you, so I'm so blessed to have him a part of my career.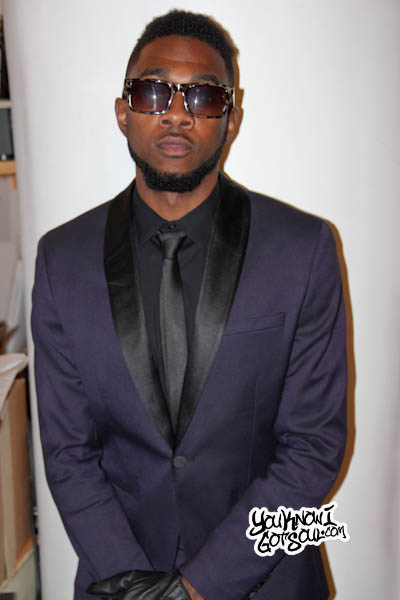 YouKnowIGotSoul: I've read where you mentioned this project was therapy for you. Can you expand on that a little?
Leigh Bush: I think music is supposed to be therapeutic. It's like working out at the gym or things of that nature. "Ms. Bartender" particularly, I've ruined a relationship, of course being a man I was not faithful. So I wrote about it, it was just good to get it out. It was a terrible situation and I never intend to break a heart but it feels good to write thoughts. When you can see it touch so many people, it lets me know that I'm not alone. I know other females can relate to having their hate broken and I know men can relate to being the cause to that. It's not something that I take pride in, I just like honest music. It's 2013 and I think it's time we be as transparent and open as we can while still keeping that sense of mystique about yourself also.
YouKnowIGotSoul: You told us about what influenced you sonically, but what do you want people to feel when they hear your music?
Leigh Bush: Passion, that's how I'd sum it up in one word. With "Free Falling", it's about a man falling in love first which is rare in our generation. A lot of ladies have been telling me since we released it that they love it a lot. It's very honest, you're putting yourself out there, it's a deep concept. When they hear the Leigh Bush project, I want them to say it was very passionate with every note and even the instrumentation.
YouKnowIGotSoul: Following the EP, what do you have coming next?
Leigh Bush: Leigh Bush part 2 is coming out at the top of the year, probably around my birthday in March; then the album. We're in a generation where you have to feed them the music and then let the fans demand the album. I understand that. Right before I did the Leigh Bush project I did a mixtape which was my last effort as Sammie entitled "Insomnia" and it reached over 500,000 people in a year, and that's amazing. I'm really just giving them quality music to marinate on until the album.
YouKnowIGotSoul: As Sammie, you were known as a childhood star. Did you feel that you had to undergo a change to show people you were grown and mature?
Leigh Bush: I think that's the worst thing to try to do. Just be grown, just be 26. I just talk about what 26 year olds do; I party, I drink a little bit, I have a good time, I love love, I love my crew and my fans. I put all of my life experiences into one project and this is what you get, the Leigh Bush project. I think when you force yourself on fans to try to say "I'm grown", it kind of pushes them away. I think just being honest and being my 26 year old self is enough. As far as my accolades from a young age, I'm very proud of everything I did as Sammie.
YouKnowIGotSoul: You started out in the industry in the late 90's. What major changes have you seen over the years in the industry?
Leigh Bush: The internet! That's the biggest one. If you utilize it the right way, like I'm independent, and to be on the top 10 on iTunes today is a big thing. You've got TLC number one and John Legend and Tamar Braxton, and then Leigh Bush is somewhere in that mix, that's amazing. If you utilize the Twitter and Facebook and Instagram the right way to stay connected to the fans, it's a great source. I don't think you should cry about it. I know a lot of the executives and the old school people feel a certain type of way about the new genre and the new wave of how music is distributed. I think you just have to utilize it and evolve or evaporate. I'm happy with the game, I'm not gonna lie. Everything I'm doing is strategic and well thought out and I just have the best fans in the whole wide world. I'm grateful.
YouKnowIGotSoul: Anything you'd like to add?
Leigh Bush: Make sure you follow me on Twitter and Instagram @MrLeighBush. LeighBush.com. Make sure you go get the Leigh Bush project on iTunes right now. I'm just happy to my fans for allowing me to grow and do what I love to do and thank you to God for giving me the gift of song.