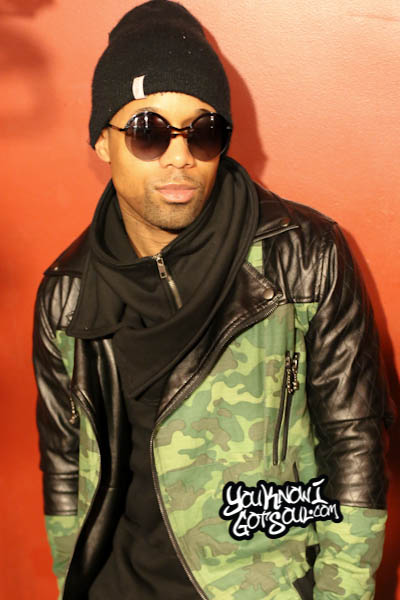 Is there any better validation for your career as an artist than being hand picked by the legendary Teddy Riley to carry on the legacy of Blackstreet? That situation is a reality for Lenny Harold, a supremely talented vocalist from New Jersey who is bringing a youthful edge to Blackstreet (BS2). Although his credentials were already solidified with a stunning win at The Apollo Theater years before, joining the group will allow him to showcase his talents on a larger scale. YouKnowIGotSoul sat down with him prior to his performance for our Sol Village showcase in NYC and discussed his origins in music, originally linked up with Teddy Riley, pressure to carry on Blackstreet's legacy, what's next for the group, and more.
YouKnowIGotSoul: You're part of the new Blackstreet now, BS2. How did you originally join the group?
Lenny Harold: I was actually working with Teddy Riley quite some time ago. I used to go under another stage name and Ted was actually working on my project and even then he was asking me to be a part of Blackstreet because he was remaking and changing some things. That deal didn't go through, it kind of went to the side and I started working on my own project. Later on, about maybe two years ago, I got a call from Teddy and he asked me to be a part of the group and I said "Yea, let's do it."
YouKnowIGotSoul: Is there pressure on you to carry on that legacy?
Lenny Harold: It's a lot of pressure. I take Mark Middleton's parts, so right then and there; it's a lot of pressure, because that guy can sing his behind off! Just to fill those shoes is a big feat. I do my own thing. I take what he's done already and the mark that he's put on the group and do my own thing. Being that this is now BS2, I don't have to worry so much about Mark's shoes and just making a good impression.
YouKnowIGotSoul: You've been all over the world touring. What's the response been from fans seeing the new group?
Lenny Harold: Yea it's pretty cool. It's been both, because everybody has been trying to figure out what's going on with Blackstreet and what is BS2. As soon as we explain what it is and that this is the 2nd generation of Blackstreet, people are like "Oh, this is interesting". Usually if they are not convinced, by the time we get off the stage at the end of the night, they are convinced.
YouKnowIGotSoul: Do you have new music planned with the group?
Lenny Harold: We have a new single coming out soon. Hopefully it will be this Summer. The album will be out early Fall. The music is absolutely incredible.
YouKnowIGotSoul: Will the album be released independently?
Lenny Harold: Yea it will. We have some situations on the table right now, but right now it's independent.
YouKnowIGotSoul: You're a solo artist first, so what does it mean for your solo career?
Lenny Harold: Well, it just means I'm able to broaden my audience a little bit more. I'm able to reach a lot more people, and right now, I do things here and there. My main focus is BS2.
YouKnowIGotSoul: Talk about your come up as an artist. How did you originally meet Teddy Riley?
Lenny Harold: That was through the record label I was signed to at that point. I was working alongside Jamie Foxx and Alistair Records. We were getting a lot of things going on and we actually stumbled across Chauncey (from Blackstreet) and he thought it would be dope if we could get something with Teddy Riley. So I met with him and it was so funny because we met at his house and we literally had a meeting in his driveway! It was so funny. They played the "Say Yes" performance from The Apollo, he loved it, and literally within two days I was in the studio with him. It was crazy and unbelievable. I was nervous as hell and shaking. I barely said anything. Look at it now, I'm truly good friends with this guy.
YouKnowIGotSoul: How did you originally get signed by the label you were at?
Lenny Harold: It was actually after The Apollo. After I won, that was in 2008, I got signed by Alistair Records. It was an indie label in California.
YouKnowIGotSoul: What was the experience like winning on The Apollo?
Lenny Harold: It was nerve wracking, but it was an incredible feeling. There's something about the energy on The Apollo stage. You walk onto that stage and you can automatically feel everyone that has come before you. It's such a great feeling. I really enjoyed myself, but it was nerve wracking. You know that audience comes there just to boo! They look forward to booing, so to win over that crowd was crazy.
YouKnowIGotSoul: Getting back to the BS2 project, what is your contribution to the creation of the music?
Lenny Harold: My contribution to it is just creative direction. We have a bunch of writers, I've written some things for the album which is so cool. Never thought I'd actually have the opportunity. I give the group a more youthful vibe. I'm always like "No Teddy, we can't do that, we need to do this, this is cooler than that!" I'm giving a little edge.
YouKnowIGotSoul: What are your hopes as a solo artist for the future?
Lenny Harold: I'm expecting to release some really, really incredible music. I know Teddy will definitely be a part of that project and I'm really looking forward to creating. The great thing about BS2 is that we're all solo artists. It's just coming together and forming a unit to branch out to be our best. It's a really, really cool unit. My solo project is going to be great. I still have a couple of more videos from the "Yesterday Morning" project that I'm going to release. So that's going to be a little surprise. I know "City Lights" and "I Did It" are going to be two other videos that are going to come out. It's kinda just filling the gap before the BS2 era comes and smashes the industry! *Laughs*
YouKnowIGotSoul: Anything you'd like to add?
Lenny Harold: Definitely follow Lenny Harold on LennyHarold.com. Please follow @BS2_Official on every social network. The movement begins; it's going to be so epic!