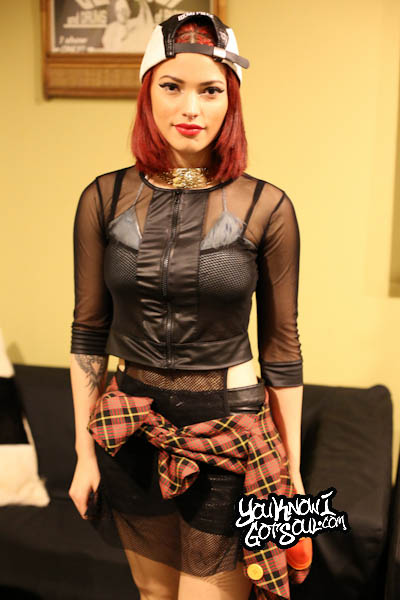 Every now and again a new artist will come across our radar and we have no doubt that it's only a matter of time before they reach stardom. Maxine Ashley is one of those artists. In fact, her infectious personality and powerhouse vocals already caught the ear of Pharrell early on, and was enough to get her signed to Krucial's Krucial Noise label before she even had a project out. Her "Mood Swings" EP only served to further cement her limitless potential. We recently showcased her in our Sol Village showcase in NYC and she came away impressing most everyone in the room. Oh, and you may have also caught her making an appearance in Pharrell's recent Beats Pill commercial. Mark it down folks, Maxine Ashley is about to be huge. We sat down with her prior to the Sol Village performance and discussed originally being found by Pharrell, her chemistry with Krucial, her debut "Mood Swings" project, plans to sign with a major label, and more.
YouKnowIGotSoul: You're signed to Krucial Noise. Talk about how you first met Krucial and how you guys came together.
Maxine Ashley: My publishing person put that together. We worked together and the first song we did was "Between You & I".
YouKnowIGotSoul: What's your chemistry with him like in the studio?
Maxine Ashley: He's like family, it works well.
YouKnowIGotSoul: Talk about your EP "Mood Swings" and what you were looking to accomplish when you put that out.
Maxine Ashley: Just to have people hear my music from me. That's literally the first body of music I've ever put out that I wrote. I just wanted to show people that I'm alive, I write and this is the type of music I like.
YouKnowIGotSoul: Your sound is so unique and I hear so many different influences. Talk about some of the influences that inspired you.
Maxine Ashley: I get inspired by everything I see, everyone I meet and how people vibe to music. Mostly what I'm into and what I love, I learned to just say "Fuck It" and if I like it, then just go with it. You can keep trying to be something, but at the end of the day you're just not going to be happy. What really influenced me the most is Lauryn Hill's real attitude, M.I.A. and Santogold's artistry and Beyonce's powerhouse voice.
YouKnowIGotSoul: It's so hard to put you in a box. What genres would you call yourself?
Maxine Ashley: World music.
YouKnowIGotSoul: Originally you caught Pharrell's attention. How much do you get to work with him?
Maxine Ashley: I used to work for him. He signed me, so I used to work with him all the time.
YouKnowIGotSoul: Are we going to hear more of the music you did with him?
Maxine Ashley: Oh yeah.
YouKnowIGotSoul: So what's coming next for you musically?
Maxine Ashley: I'm doing a lot of music videos at the moment and I'm going to put out a lot of visuals. As the visuals come out, I'll be working on music at the same time. I'm just going to make another body of music.
YouKnowIGotSoul: Will there be a visual for "Perpetual Nights?"
Maxine Ashley: Yeah that one is next. I'm doing that in LA.
YouKnowIGotSoul: You have such an infectious personality and a rebellious type of attitude. People seem to cling to that and appreciate it. Talk about the reaction from fans when they talk to you.
Maxine Ashley: Well online, it's a different world. It's just talking to people and the fact that people support so much and believe, I'm a fan of them for even liking it. It's cool and it's a bunch of people that like the same thing you do. Then there's people who don't even like it, but respect it and they're showing it, so it's cool as hell.
YouKnowIGotSoul: I love that you're being yourself, how important is it to be yourself?
Maxine Ashley: It's important not only for yourself, but for people too because when you're trying to sell something, you want to give it your all. You want to be yourself in anything. It's a better way to live life, you don't want to die being somebody else. That's just weird.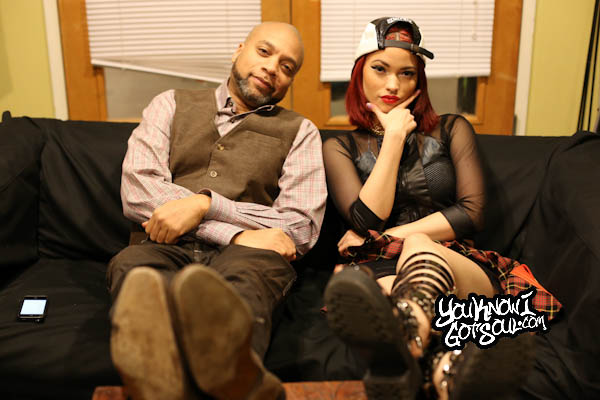 YouKnowIGotSoul: You're signed to Krucial now. Are you looking to pursue a major label?
Maxine Ashley: I'm opened to anything. I'm going around and I'm doing music. Whatever happens will happen. There's a plan obviously, but it's always big. The plan is always for big things, so whatever we do moving forward is going to be big.
YouKnowIGotSoul: Anything you'd like to add?
Maxine Ashley: Follow me on Twitter at @MaxineAshley and check out the EP "Mood Swings".