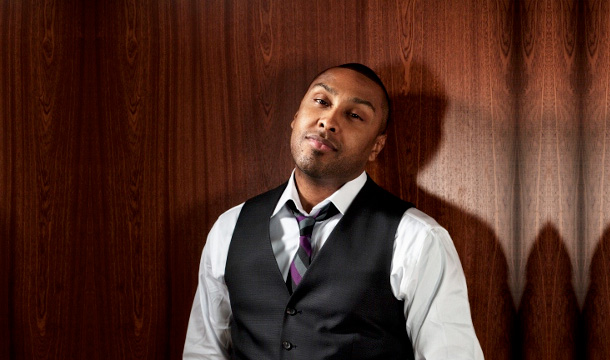 If you've kept up with our site over the past few years, then you'd have known how much of a fan we were of Noel Gourdin's 2011 "Fresh: The Definition" album. We ranked it in the top albums of the year, and noted at the time that not only did the album have classic potential, but Noel had a bright future in r&b/soul music. Well, the future is here is Noel Gourdin is still staying true to the course. After teasing us with his potential on the buzz single "Foxxy", you can hear him discuss in this interview how his plan is to still organically stay true to soul music. His authenticity has recently paid off as after releasing his last album on eOne Music, he's in talks with another major label to release the upcoming "City Heart Southern Soul" project. YouKnowIGotSoul sat down with him after a recent performance in NYC and discussed what to expect on his new album, getting exposure as an independent artist, his growth as an artist, lessons learned in the industry, and more.
YouKnowIGotSoul: Your last album "Fresh: The Definition" came out in 2011. Catch us up on what you've been up to since then.
Noel Gourdin: Since then I've just been writing, getting myself together as far as soul searching as far as what I want to do and the concepts I want to delve into on this album. I came up with pretty much just getting into what everybody else goes through in their everyday lives and relationships. This new album "City Heart Southern Soul" has come together in a beautiful way. My man Marcellus Dawson aka Hands Down in Atlanta. I've done a lot with him on this album. We pretty much did the whole album together. It has such a great feel. It's more of that feel that I had on "Fresh: The Definition". It has the turmoil stuff on there. The first single coming out is called "Heaven Knows". It has that turmoil stuff that happens in relationships. A lot of it is that upbeat love and life type of feel. I've just been writing and staying on the road and staying in front of people. In this industry you've gotta stay in front of people, especially in the soul genre. I've just been keeping busy.
YouKnowIGotSoul: "Fresh: The Definition" was one of our favorite albums of 2011. Talk about that album.
Noel Gourdin: That was very special to me because coming and getting away from Sony, when we split our ways, it was tough for me. I went into a depression and I was out for 8 months or so. Like I say on stage a lot of times, anybody that knows me know that I'm close with my family and always in touch and praying to the man upstairs. I fell out of touch with both. The very first record that I did on that album was "Brand New". That's pretty much the title for the whole album. That album was me to be able to express myself creatively and vision it and make it happen. It was with a very tight knit group of producers and writers. It was like a family project that album. We had so much fun doing that with Alvin Garrett, my man Cornbread from Birmingham, Alabama, Ryan Toby on "Beautiful", which is a genius in the industry. I worked with Kevin Ross. It was a very tight knit few amount of people. It felt so good. It got back to the basics and it was fun again. That's the way that album felt. That album is my favorite. I'll never forget my first release with Sony, but "Fresh: The Definition" is definitely my album.
YouKnowIGotSoul: Coming from Sony on your debut to eOne for your 2nd album, did you find it hard trying to get exposure for the album?
Noel Gourdin: It was. The album was released through Mass Appeal/eOne. It seemed like some things fell apart in between certain people there. Did it get the love that I thought it deserved? No it didn't. I'm quite disappointed in that because I thought it was one of the best albums released that year. I say it on Twitter and Facebook. I don't do this just for fun, I do it because I love to make music, that's what this is about. I have a tremendous amount of integrity instilled in me that I put into this music. I put my albums up song for song with anybody in the industry. Just because I'm independent, the way a lot of great artists are going, I don't think I should be viewed as lesser than anybody else. That album was special because right from start to finish we put a tremendous amount of care into each record before we released it.
YouKnowIGotSoul: Coming from someone who heard all of the 2011 releases, "Fresh: The Definition" was one of the best.
Noel Gourdin: Thank you, I appreciate that. It definitely makes me feel good.
YouKnowIGotSoul: What's your current label situation for the new album?
Noel Gourdin: For the new album "City Heart Southern Soul", we're in the midst of red lining. We've got negotiations going on with a label. I can't disclose who it is right now, but we're excited. We were prepared to make the full independent push, but the label heard a couple of the records and told us to hold on. We didn't want to jump the gun seeing that there's a deal on the table and this is a reputable label. It was great to hear that news given that the timeline kinda got pushed back. It's all good because good music is timeless. It could come out 3rd quarter or 1st quarter. We're looking at this quarter here if we can get everything wrapped up in time. I got my fingers crossed.
YouKnowIGotSoul: This being your third album now, what type of growth will we hear from you on this one?
Noel Gourdin: Compared to the first album, it's definitely going to be that organic sound, that authentic instrumentation. I have to have that like on my last album. I'm stretching my concepts a little bit, I'm getting more into the sorrow type of stuff because love, relationships and going through everyday life has its ups and downs. Hopefully there are more ups than downs. We definitely gotta focus and I feel like I have some kind of responsibility to bring you the good as well as the bad. There's some downs in relationships but there's always a bright light at the end of my records. There's always that hope at the end of it. It's a to be continued type of thing. We're just bringing that real authentic soul back, I listen to nothing but old music.
YouKnowIGotSoul: What have you learned in your years in the industry that will help you along the way now?
Noel Gourdin: It's beneficial to have a great team behind you; people that believe in you and that you can delegate and trust them with the delegation. It's nearly impossible to do this by yourself. The industry is very small. We live by the fact that relationships are so very important. You treat people the way you want to be treated; I was raised that way by my moms and pops. I'm just a regular dude that's been blessed to sing and write a little bit and perform. It's all about just being true to yourself, don't sell out, have that integrity of the music you want to make that's on your heart and soul. There are so many conveyor belt artists out there right now, and these major labels are pushing them through. God bless the artists that are coming out and are blessed with the light. The artists in my genre, I call it Soul-n-B, I think this genre is the genre that's going to keep the music industry going. It's not microwave music by any means. It's going to be here and we're just trying to make the best music possible. We have all of these supporters, I don't call them fans, I call them supporters. Without them we don't have any legs to lean on. I really appreciate you all for standing behind me and every other artist in this genre. We're just trying to keep it true.
YouKnowIGotSoul: Anything you'd like to add?
Noel Gourdin: Keep an eye out for the new album "City Heart Southern Soul" and look out for the new single "Heaven Knows". I appreciate y'all for being there for me from the gate and y'all have! Hit me up on Facebook and Twitter.