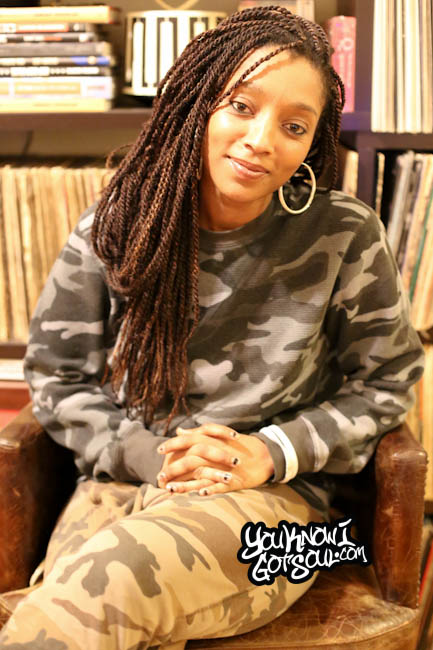 When Res decided to release a Fleetwood Mac cover album last year, it wasn't a surprise to anyone who's familiar with her music that she'd take on such a difficult task. No matter how hard people have tried to put her in a box genre wise, there's no way you could just get away with simply calling her an r&b/soul artist. Her music through the years has reflected countless artists from different genres and that's what's made her so unique and special. Although things haven't always been easy for her after her debut "How I Do", linking up with Talib Kweli for constant collaborations has proven to be very fruitful to her career. It will definitely be interesting to hear what she's got in store next for her next solo release, and it promises to have a totally different sound than the "Refried Mac" album she's just released. YouKnowIGotSoul sat down with her and discussed her decision to do a cover album, linking up with Talib Kweli, her origins in music, the next chapter of her career, and more.
YouKnowIGotSoul: A few months ago you released the Fleetwood Mac cover album "Refried Mac". What has people's response been to your renditions of the songs?
Res: Where I was nervous first of all to hear people's opinion because it's such a coveted group, it's the best classic Rock group ever. I really love those songs and I just felt like if I do it, and I do it with the carefulness, then people will like it. And people do like it. I thought it was important for me to keep the melodies of the songs pretty tight and close to what they do and the harmonies to what Fleetwood Mac does; but I wanted to change everything else. I've been hitting up different groups on Twitter like "Hey if you're Stevie Nicks' biggest fan" and I'd send them a link. They're promoting it. The real diehard fans that usually do not like you messing with their group are open and they like it.
YouKnowIGotSoul: What led you to want to do a cover album like this?
Res: Well to be honest, from the very beginning, I didn't know who Stevie Nicks was. I couldn't put the song and the name together; I just heard the music over the loud speakers in places like supermarkets and everywhere. After I put out "They Say Vision", people would say I sounded like Stevie Nicks, and I listened to her stuff and I didn't think so. Then I finally listened to the 1970 version of her stuff and I was like "Ok, I get it." That led to me research more of her music. Then a producer that I worked with was like "Yea, you should do this!" Me and him never did it. He talked a good game but we never did it. I ended up doing it eventually.
YouKnowIGotSoul: You've also got a new album coming this year of original material. How's it coming along?
Res: It's been forever since I had a solo album out. It's time! We decided to put "Refried Mac" out first to get people to know I'm back to doing what I'm doing. The album is not going to sound like the Fleetwood Mac stuff, it's totally different. The album is tentatively titled "RES-et" and is basically just a bunch of songs from now and songs I've written in the past that I feel are so good I can't let go of and we're producing them now. So the album is going to be partly stuff I did in the past and most of what I'm doing now. It's with all new producers, no one that I worked with in the past, except maybe one person. It's scary and exciting at the same time. The great thing is that all of the people who are working on the first album are fans of my first album.
YouKnowIGotSoul: Last year you were doing a lot of shows collaborating with Talib Kweli. How was the experience?
Res: Great! I've gotten so much better because of being able to perform with Kweli as often as he performs. It's like being able to tag along and get better at your craft. We're just friends and always have been because we have the same management. It's fun. Secretly I've always wanted to be a hype girl for a rapper, and it's sort of coming to fruition now! *Laughs* I don't know if Kweli likes it so much, but I'm totally feeling that whole position. It's like an unofficial thing, it's cool. I get to sing, so it's fun. I get to rock shows that are super packed and I realized that in any capacity if I'm on stage, that's where I want to be. Whether it's my headlining show or I'm singing backgrounds for someone or the chorus. I realized performing is the thing that I love to do. Having a new album coming, that's what I'm looking forward to most.
YouKnowIGotSoul: You've collaborated with Talib Kewli frequently over the years. How did you guys first link up?
Res: We linked up because we had the same management in the past. My first manager was Cory Smith and he had a company called Blacksmith. Talib was a part of that company, at one point Mos Def was, a lot of different people were as well. I think Talib and I were there the longest and that's how we always would see each other and then eventually starting collaborating. We both switched management but both remained friends and still peers and that good stuff. It's been cool, it's a pleasure. It's funny because I forgot sometimes how much of an honor it is; he's my friend! We're sitting in his house right now! He's kind of a big deal in a sense. It kind of validates you and a sense and makes you feel great because he's very generous in letting you know why you're here. It's not because you're wack, it's because you add to what he does. It's constant support which is great too. Sometimes it's great to be recognized by someone who is great at their craft and it's something completely different because they don't have to like it. I've had a lot of great opportunities. I was able to go on the road for two months with Talib opening for Macklemore & Ryan Lewis. For me, the only payback is coming out with "RES-et" and it doing great. I'm looking forward to having the opportunity to say "You helped me out so much and this is what I'm doing."
YouKnowIGotSoul: Your music is not something you can put in a box genre wise. It's so many different influences, but people in music always like to fit artists into genres. What types of fans do you find drawn to your music?
Res: It's almost like I see different pockets of different types of people. Over the years in general, it's kind of like a Prince show, it's everybody. The person that looks like you, and the college girls that just like alternative music and they just like girl power songs. Then there's guys who like r&b. Then there's people who just like good music, it's not a certain demographic or age. I have people who are 60 years old coming to my shows and then I've had kids who are trying to get into the shows who are 14. Someone who loves hip-hop but they kinda like what I do or they listen to neo-soul and they love me and Algebra Blessett and Jill Scott and Bilal. It's all different types of people. It's not just like one demographic.
YouKnowIGotSoul: Let's discuss your origins in music. You originally were offered to join the group Groove Theory. Is that true?
Res: That's totally true. I was making a demo in Brooklyn in like 1990 something, and I got a demo deal at Epic. They gave me literally $7000 and asked me to do 5 or 6 songs. So we did. It's interesting because those 5 or 6 songs are on my debut "How I Do." So it's crazy that what we did first resonated with people and we were able to keep those same songs. "Sittin Back" was one of those songs, "The Hustler" was one of those songs. Then they said "Ok we like what you did, but why don't you go back in the studio and we'll give you $32,000 to make two songs, and we'll see if we like those." I decided to just keep the 6 songs and try to shop those and get a deal and tell them to keep the money. It made me realize that it was really that good. So we shopped it and that's kinda how it came about. The Groove Theory thing, I did all of these demos with Sony and they were signed to Epic at the time and they were looking for someone to replace Amel Larrieux, and it's like you cannot replace Amel! Maybe with her daughter who is just as an amazing singer, but still that's different. She has the most beautiful sounding feminine voice. So I just declined because at the time I wanted to do my own thing and do a solo thing. I loved the songs that I had done and they were doing something completely different. They liked me enough to give me money to do more songs, but not enough to put the project out.
YouKnowIGotSoul: When you were shopping the demo around, is that what led you to sign with MCA?
Res: I took those songs from that demo and after a certain amount of time, I had to wait 6 months because of the contract, they wanted to do decide what they wanted to do. They said I could either do this or not. I said not and took those songs and shopped them around to other places. I got a manager at the time who was Cory Smith who was the guy that Talib and I met through. I was also working with Santigold. Those two definitely were my champions and a bunch of labels liked it. It was around the time D'Angelo had just got signed. Out of all of them, MCA gave me the best deal financially.
YouKnowIGotSoul: Looking back at the "How I Do" album over a decade later, I feel like that album is so overlooked by people and it's a hidden gem for people who still discover it today. How do you look back and view that body of work?
Res: I think it's really good and I look back and it's like "Wow we really did a great album." How we did it was everyday when we went into the studio, if someone did something musically that sounded anything like something we heard before, we all looked at them and said "That's wack! That sounds like this person". That's how we made that album. That was the discerning point. Looking back, it's like that was really our thing. Our reference point was Outkast's "Stankonia" and it was like "We have to make it better than that album and it can't sound like nobody else's music." We just had great people and everybody was at the beginning of their career. Nobody had any success. Some had more of an ego than others, but separately none of us had success, so if someone tried to diss what I've said, I would be like "You never did it before either." We were all in the same boat in a sense. We constantly challenged each other and when I mean challenge people, you have arguments, you kick people out of the studio and let them come back, you chill and write great songs. It wasn't the most fun I've had, but I didn't know any better because I never did it before. Before that I was going to like Intellectual Heritage 51. We were all like "That's wack" with the attitude. It was kind of a crazy chemistry and I definitely don't want to do that again, but I definitely enjoyed the experience working with Doc at that time was great and Santi was great. We came up with something that was incredible and we really didn't know that at the time. I know I was the least because I was like "Whatever I sing, hey this sounds good so it's cool." It didn't sound like anything else. I had nothing to throw it up against and no one really cared because no one knew who I was at the time. No one knew what it was going to sound like. We were just fortunate enough to have a great budget to do what we wanted to do and we did. Now it seems almost impossible to do that again with the way budgets are now and the way the industry has changed. It's way less room for error. Making that first album, we had days in the studio where we did stuff that didn't make the album or didn't work. Now we don't, so that sucks. It's very much different for me. I never made albums like this before under these constraints, but it might me work harder and make me be more efficient for the next time.
YouKnowIGotSoul: After MCA disbanded and you weren't able to put out your second album, was it a struggle for you to continue your career as an artist? What was that time like for you?
Res: MCA went under and decided to dissolve into Geffen Records. They took about 100 artists including myself, The Roots, U2, Common and Floetry. They brought us over to Geffen and we made up the new Geffen. I made the second album there. By the time we got there, they didn't have a president or anything. I went through 4 presidents, but I had a budget opened making my albums. None of them felt connected to it because they didn't work on it. It's like "Do I care about if this cake sells if I didn't make it and bake it?" Looking back at it, it makes sense on why my situation went down the way it did. But it was really interesting because the whole MO of the music industry was like they're this big haunting label that can make or break your life and kick you under the curb or blacklist you. For years I did this album and I was sitting on it. I was trying to do the right thing of getting a new management. I had cleaned the house and was like "Let me get a new management and this new deal." It wasn't working out that way. Years after, I was like "I just have to let people hear this." And that was "Black.Girls.Rock!" I just put up a new cover and I was like "I'm giving this away". I did and it felt really good because people had been wanting to hear that album for so long, but it's crazy because the album that I made, I made that album with knowing that I was with a major label. I don't think I would have made that same album if the music industry is the way it is now because the type of the music it was, it needs to be supported and put in movies and TV shows. It's not music that looking back, it's just different. I made different things, but this time being indie, I'm making music that I feel like people are going to like, but it's definitely a different vibe. Visually I'm making a shift from being glossy and major label-ish and I'm kind of going to a more "This is really what I want to wear right now". I did everything a certain way because I had a certain amount of support and I knew it was going to be pushed in certain arenas. Now that I'm indie, I know that the only people that really matter are the fans and not the person that's going to need to see it look a certain way to put me on the road with them. Now it's like "All of that is cool, but the only reason I'm doing it is because I like to sing and people like to hear me singing." All that glossy stuff is cool, but I can't really afford it and I'm not trying to fake it like I can. I just want to do good music and focus on that and leave the great legacy music-wise. People are going to have to get used to that visual shift. I'm older too, so I want to show myself in a different light too. I'm older and I care about other things. I want to represent a certain type of black women especially in this era of all the horrible TV shows and stuff. Even the way certain people that are musicians act when they're doing television. Especially women, we're kind of like not really looking great anymore. There are still some of us that want to shine and want the "Bad Bitch Era" to be out of here. I want it to go back to the "I got some damn sense and I'm talented, so that's why you're listening" and not because I've injected something in my ass to look like animal or a fetish. It's like "Okay I'm going to strip things away and kind of just get back to the essence of a dignified woman and put that out there and one that happens to sing. Just women and music that's not all about the tight outfits and the body banging, it's like they just come in how they are. I really respect that and I'm really attracted to that.
YouKnowIGotSoul: Anything you'd like to add?
Res: Thanks for the interview and check out my music that's coming out. I have a lot of new random projects that I'm just doing. I'm just hooking up with different people and experimenting more with different genres. I just want to tell you guys to listen, be open minded and don't get it confused. You'll hear House songs and Rock songs from me, but just remember that we all like to eat different foods. Just take it all in and if you like it then that's cool, but just know that I'm definitely not confused.