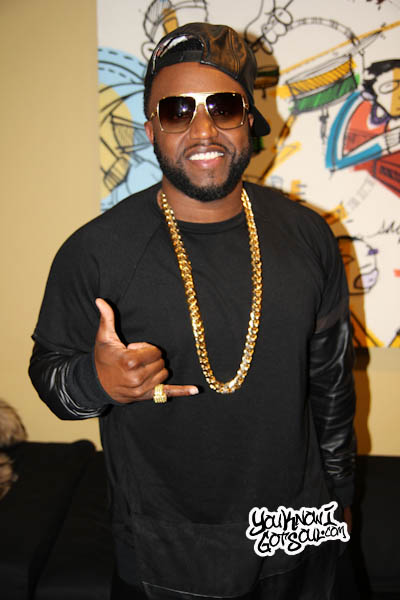 With multiple hit records under his belt, Rico Love's infamous "Turn The Lights On" has become one of the more popular tags in R&B within the last couple of the years. Now, as he makes the transition from producer to solo artist, the bright lights are finally on and they're focused on him and his Divison 1 label. Make no mistake about it though, the former artist turned super producer turned artist again knows what he's doing. Rico's current single "They Don't Know" is blowing up on Urban radio and his mixtape "El Presidente" is doing the same on the internet. YouKnowIGotSoul sat down with Rico Love to talk about his new label situation with Interscope, his solo project "El Presidente" and his artist Tiara Thomas.
YouKnowIGotSoul: Introduce us to the new mixtape.
Rico Love: I just dropped the mixtape, it's called "El Presidente". You know what it is with me? I dropped a single called "They Don't Know" and a lot of people got it confused. They were like "R&B sensation Rico Love!" I'm like "Yeah, I sing" but I didn't want it to be a thing where they confused me. I wanted people to understand that I'm an artist. I produce, write, rap and I just make music. I don't really feel like music should be put in a box. I feel like if you can express yourself in multiple ways, you should go for it. Years ago, I made a mixtape called "The Inauguration" and these nobodies put out a song out dissing me called "The Impeachment". They're not even worth mentioning, but it really stuck with me because I knew these guys and you know how haters are. That stuck with me throughout the years and it's one of those things that fuel you and when I started back as an artist, I would always trigger back to that. "El Presidente" is like my re-emergence like "You couldn't impeach me, I'm still the president." I had a record deal back in the day, it fell through, people expected me to fall and then I ended up being one of the most sought after songwriters in the world. I became successful, made millions and all of that cool stuff, but the passion for the love and art is what drove me and I feel like El Presidente. I feel like they couldn't get me out of the office, I'm still here!
YouKnowIGotSoul: I know you started out as an artist and then backed away from that to focus on producing songs. Now you're back in the spotlight, so what made you kind of re-emerge in that way?
Rico Love: The music just started being real to me. I wrote "Heart Attack" for Trey Songz, "4 AM" for Melanie Fiona and "Mr. Wrong" by Mary J. Blige. I realized I was going through the exact same situation. I was the guy from "4 AM", I was "Mr. Wrong" and I was going through a heart attack situation. I never wrote songs that had to do with me. I could really just sit down with you, have a conversation and I could write the biggest song about your life, but the music really started speaking to me. I feel like that was the beginning of it. By the way, I did a label deal with Interscope without having any artists signed. They trusted me that much to say "We're going to a 50/50 joint venture deal." Not an imprint or a production deal, but a true label deal without any artists. So when I did the deal, I ended up signing Tiara Thomas and I randomly started getting offers from other companies to sign as an artist. I went out to L.A. and I was like at Jimmy Iovine's house and he was like "What's this about labels wanting to sign you?" and I was like "Yeah, a few people are offering some stuff." He was like "Are you fucking stupid? You own your own record company. Why wouldn't you sign yourself? You'd be your own boss." I really cared more about Tiara, I had just signed her. I didn't want to sign her and then make her feel like "It's one of those executives who wants to be an artist and take all the attention." But she was like "Yo do your shit, I love it." She was in the studio with me working on records and it was dope. When I felt like she was riding with me, I was like "Let's do it!" The music came out and the people just loved it. We're here!
YouKnowIGotSoul: As a writer and producer, you always put your stamp on songs and people became aware of you. Has that made it easier for you to transition into being an artist?
Rico Love: Absolutely! What I did was I did a tour before I dropped the music. I didn't talk about the records like "Okay, next month I'm dropping a single!" I didn't even let anyone know that I was doing the artist thing. I just put out the EP, single and video all on the same day. I was doing all of these different walkthroughs, going through different cities and meeting with different program directors. They were excited and when they heard the résumé, they were already familiar with me. Obviously when you play them my records and people can say "By the way Rico Love wrote this!" People were looking like "Wow!" It's a story that definitely goes with that, but more than anything you get the attention, but it's up to you to deliver. Everybody is like "Okay, this is the guy who wrote these songs." It's like "We know homeboy tried it and it worked a little bit. Homeboy tried it and it didn't work. What is he going to do?" I think I got out here and I still have so much to prove. It's just the beginning. Even with a hit record at radio, you still have to prove yourself and they still want to know who you are and consistently are you going to be able to deliver as an artist? That's the key and I feel like I'm going to meet that challenge.
YouKnowIGotSoul: The single is definitely doing some big things on radio.
Rico Love: Yeah man, it's top 10 already after only 8 weeks. It's really a big look and it's really going strong even during the holidays. A lot of records fall off during this time, but this record has a lot of spins. It's a positive and like I said, that's the reason why I dropped "El Presidente". The record is working, so let's keep giving them content because now they're interested. Now when they say "Who is this Rico Love guy?", it'll be like "Oh by the way, he just dropped a mixtape, another single and shot a video for 'Strip Club' so put that out". It's just about being consistent and relevant. I've been in the game a long time. I'm 31 years old, but I feel way older than that because I've been in the game for so long and I've been a student studying the greatest.
YouKnowIGotSoul: Talk about your label and what the roster is looking like.
Rico Love: Right now it's just myself and Tiara Thomas signed to the company. I'm developing an artist by the name of MJ. I'm looking to sign a few artists. I've been having my eye on a few people. I have an artist named MJ, he's an R&B singer. Right now I'm in the holding process and kind of developing him until I upstream it to Interscope.
YouKnowIGotSoul: How are things going with Tiara Thomas?
Rico Love: Her project is amazing. She's one of the dopest writers and artists ever. She just finished the tour with K. Michelle and she did amazing on that. I'm going to put her out on a few things on the road and keep her on the road. The process is to make people believe and understand who she is as an artist. A lot of people don't know who she is. They see a dark skin girl with a guitar and assume she's neo soul. Her EP "Dear Sallie Mae" is out on iTunes right now and it's doing amazing. People are really understanding who she is as an artist and I think that's the process. After "Bad", people were like "Hurry and put out a single!" That was never what I wanted to do. At the end of the day, I offered her a deal before that song was even on Wale's project. I knew what I wanted to do with her and I wanted people to believe her. One song isn't going to do it. We see how many people put out records every day and then their shit flops because people don't give a fuck about who they are. I want people to believe who she is and I want people to love her, so when she has a hit at radio, they want to buy it. Not because they want to buy the song, but because they want to buy the brand that is Tiara Thomas.
YouKnowIGotSoul: All of this time you're spending on yourself and the label, do you still have time to write for other artists?
Rico Love: Oh yeah, I'm doing a lot of stuff. I've really been focused on the brand and moving around, but at the end of the day I love producing and doing records for other people. I think that's more of an incentive for me to get out here, but to have success obviously the phone is ringing off the hook now. To have that success opens up the doors to make myself more accessible and not just writing a song for you. It's an opportunity for me to be part of that record as well. I'm using that as a marketing scheme. We've got a bunch of records coming out with people in the future. I did some projects that people wouldn't even guess. I did most of Waka Flocka's album, I did the whole Plies album. I did projects with people that I really like and I believe they just needed another hit. That's what I want to be in always. I just linked back up with Monica, we had some differences and we just spoke the other day. We're going to be doing some stuff together. That's like my big sister. Me and Mary J. Blige are going to get back in. I just talked to Usher, so I'm looking forward to just getting back in and doing that. At the end of the day, it's about being well-rounded and being a complete act.
YouKnowIGotSoul: Do you ever look back at any of the songs you wrote for anyone and go "Damn, that could have been mine"?
Rico Love: Not at all. I think as an artist, if you really listen to the EP and the mixtape, it's all unique. You haven't heard any of these records that I've done for myself on anyone else. I think I'm a really unique brand. I'm developing a sound and style that's a melting pot of all the things I've learned and developed as an artist and a man. I've learned and I feel I'm putting it all in one person which is me. It's my turn to spill it out to the world.
YouKnowIGotSoul: Anything you'd like to add?
Rico Love: I really want people to get into the music and the mixtape. Understand that I'm self-made. I don't have a co-sign or someone putting their arm around me saying "Introducing Rico!" I really have to get out here and do this and I want people to understand the grind. If you believe in the dream, the hustling, being the professional and respecting the art and music, I feel like Division 1 is the team to ride with. This company is the team because it's all about the music first and foremost and when we're doing it, it's just us with no help. I feel like that is what's going to make it appreciated in the long run.