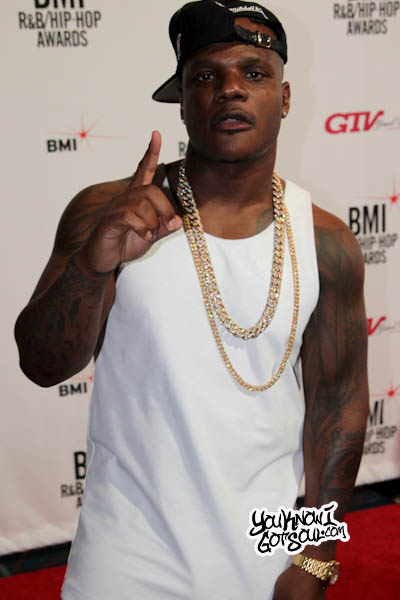 Live from the red carpet of the BMI RnB/Hip Hop Awards in NYC last week, we caught up with Sean "The Pen" Garrett. Already one of the most accomplished songwriters/producers that r&b has ever seen, he's looking to take things to the next level with his artist Reign, his new work with Usher, and his upcoming mixtape. Watch our interview to hear him tell you about them himself .
YouKnowIGotSoul: Talk about your new artist Reign and what you've been building with her.
Sean Garrett: I'm so excited about her. She's got it all; she's beautiful, voice is nuts, and most of all she can perform. Artists like that, I love creating records that I think are going to resonate to the urban community all the way overseas. We're just kinda bringing back that real, we're just having fun and I'm excited. I just love Reign, she's amazing!
YouKnowIGotSoul: You're also on Usher's new project. You've had a lot of success with him in the past. What type of sound are you helping him create this time around?
Sean Garrett: The greatest thing about Usher is that he tells amazing stories so it's always very interesting working with him. That's my brother. I'm just getting into his world trying to figure out how intriguing we can make a song. He's an incredible artist who can paint pictures with his voice, his voice is just nuts. He's one of the most amazing artists I ever worked with and whatever the song is, he's going to pull it off. We've already got some incredible stuff.
YouKnowIGotSoul: You've got a project of your own coming. Tell us about that.
Sean Garrett: My new single is called "Anytime" featuring the Migos. I like the urban community and I love having a conversation. When I say the urban community I mean whether you live in the suburbs or whether the hood of all hoods. I just like to write records and each record speak to everyday life and everyday people. When people are driving home after a long day of work, they can put on that record and they can feel like they relate to it. Conversation is something that's always intriguing. Also, if it can work in the strip clubs and on radio and the clubs. I just like to make records that work on all formats.