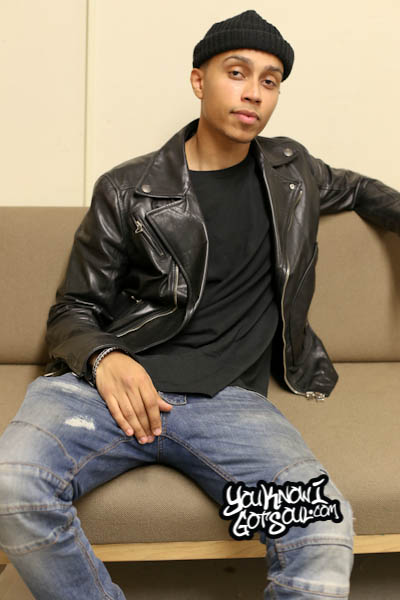 We're at the point where it's impossible for r&b fans to ignore Sebastian Mikael. His debut video for "Beautiful Life" put him on the radar, and he's followed that up with the impactful singles "Last Night" and "Forever". The last two singles are of extra significance for the fact that they've done very well on Urban Radio in a time when those charts are dominated by hip hop and r&b is virtually non-existent. And to think, this probably would never have been possible if he didn't take the risk in relocating from Sweden to the U.S. after high school. With his debut album "Speechless" later this year, he'll look to solidify his name amongst r&b's rising stars. YouKnowIGotSoul sat down with him after a recent performance in NYC and discussed the need to come to the U.S. for his music, originally signing with Epic Records and Slip-N-Slide, finding success with his r&b music in the mainstream, what to expect on his debut album, and much more.
YouKnowIGotSoul: Coming out of Sweden, talk about how it was a necessity for you to come to the United States to reach the heights you wanted to in music?
Sebastian Mikael: Moving to the States, my dream was always to make music and be an artist, so I kinda just took the risk. I feel like if I didn't take a shot and try it, then I'd never know. I just decided to move over there and just see what would happen. I was blessed to meet the right people. The same people I work with today, I met when I first started making music, so they've been around since the beginning. It's definitely a blessing being able to do it, especially coming from another country.
YouKnowIGotSoul: Were you nervous at all making that big move?
Sebastian Mikael: Definitely. It was scary because I had just graduated high school when I first moved and I didn't know anybody. I moved to L.A. so I kinda went straight to the mecca of music. I just realized that the competition is crazy and the game is really hard and it's also dirty in a lot of ways. You've gotta know who you are rocking with and be around good people. So that was really important.
YouKnowIGotSoul: After you were here for awhile, you put out the "Beautiful Life" video which eventually caught the attention of Sylvia Rhone who signed you to Epic. What do you think really caught her attention?
Sebastian Mikael: I think it was the realness. I think it was the fact that it wasn't anything staged, it wasn't following a trend at the time. It was very pure and just stripped down. It was an acoustic song. When I was in Boston, we'd just do street performances and people would stop and watch, and we just filmed it and made it into a video. I think that it was what she saw, just natural talent.
YouKnowIGotSoul: Originally your artist name was De-Lor. What made you change it up?
Sebastian Mikael: I felt like with the music I was making, it didn't make sense having a different artist name that didn't have anything really to do with me. It started where that was my production name, I was in a production duo, and we called it De-Lor and I carried the name on when I started doing my artist thing. I felt like it was time to go back to my real name. I feel like if you use your real name, you can't really regret that. If you keep using an artist name, down the road you might feel like it's corny. *Laughs* It's just harder to switch your whole brand. It just made sense going with my real name.
YouKnowIGotSoul: You've been with Slip-N-Slide for some years now. How did you originally link up with them?
Sebastian Mikael: I've been with them for two years now. They actually found the YouTube video of "Beautiful Life" and flew us down to Miami. We started collaborating on music and ideas. They have really the same vision that we have with where I wanted to go with the music. I felt like they wanted to go the same direction. It worked out, the collaboration worked really naturally. In 2012 we actually signed with Slip-N-Slide, and literally like two weeks after, we signed with Epic. Everything kinda happened really fast.
YouKnowIGotSoul: Something I noticed about your music, especially on your first single "Last Night" and your new single "Forever", you're really making an impact on Urban Radio. R&B has been absent from Urban Radio for awhile, so how does it feel to be part of the resurgence of r&b in the mainstream?
Sebastian Mikael: The music that I'm making right now is really what I've wanted to make from the beginning. It was a long journey because we really had to go through a lot of different things and it was a lot of work finding the right direction and finding the right opportunity to go that direction. Literally, me and Slip-N-Slide just sat down and said "We've got great music, we all love this music, it makes us feel good," so we just decided to go with it. We got on the road, started doing a promo tour, and from there it started to roll. It was a blessing. Slip-N-Slide is a small family and we were just on the road together, you don't see that too often with labels.
YouKnowIGotSoul: "Forever" is a traditional r&b ballad, "Last Night" is traditional r&b mixed with a current sound. What's your lane as an artist?
Sebastian Mikael: That's exactly what I'm trying to do. I'm trying to use something that's soulful. Every song that I do, I start off by playing guitar or writing a song with my guitar. It starts off just being chords and melodies and lyrics, and then I just mix it in with a different element. "Last Night" had a trap beat but the music itself was very soulful and old school. "Forever" is all the way soulful and traditional. With the album, that's the direction I wanted to go with. Use something that's very soulful and mix in other elements to make it interesting. I listen to so many different genres so it only makes sense for me to use other elements and mix it in. That's really showing who I am and showing my sound.
YouKnowIGotSoul: How is your debut album "Speechless" coming along?
Sebastian Mikael: Great. We actually just finished it a couple of days ago. It's a great feeling. The last song we did for the album is one of my favorite songs. I'm really excited for it to come out, it definitely has the sound and the vision that I had in mind for the album. I've been working on this since for about 2 years now. Now finally I feel like I have the right direction and the right sound and right body of work that's going to tell my story and show my sound. I'm excited about it.
YouKnowIGotSoul: Who did you work with on this album?
Sebastian Mikael: I worked with Bigg D and Lamb, the producers that did "Last Night". They also did "Forever" and my next single as well. I have Rico Love on here as well. We worked for two years together so we did a lot of different tracks together. We have two producers from Sweden. They actually got Grammy nominated. We're keeping it kind of small, those are really the only producers on the album. It's all good chemistry. I have another record called "Made for Me" with Teyana Taylor. We don't have too many features, it's really natural and everybody on there is like family.
YouKnowIGotSoul: The critically acclaimed mixtape you had was in 2011, you signed to Slip-N-Slide around that time as well with Epic. Here we are now in 2014. Is this the journey you expected when you came to the U.S. and got signed?
Sebastian Mikael: I definitely didn't expect it to go the way that it went. At the same time, I feel like it went better than my expectations. Even though I had different expectations, I'm not mad; there are just certain things I had to learn along the way. I'm thankful that certain things took longer because I had to take time to develop and learn the industry and learn how to be an artist. Now I feel like for the first time we are starting, this is the beginning foreal, I'm just excited to see what the future holds.
YouKnowIGotSoul: Anything you'd like to add?
Sebastian Mikael: Honestly, I just really appreciate the support. I love all of my fans. I just appreciate the love.