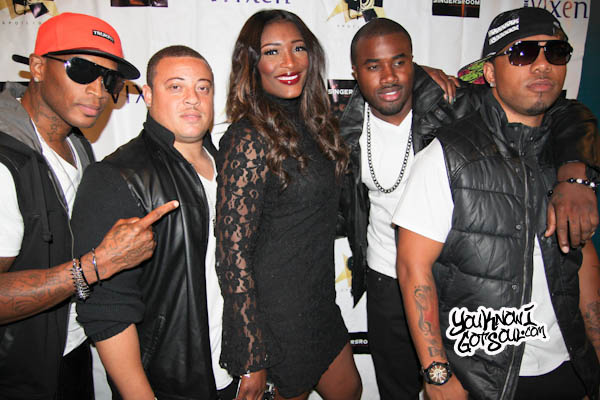 We caught up with Taj Johnson-George, one of the founding members of SWV, last month during an appearance at R&B Spotlight in NYC. After having decades of success with her group SWV, she introduced us to the group Pure Sky she'd be managing to hopefully find some of the same results. In addition to the group, she also filled us in on the upcoming SWV reality show she recently finished filming for. Of course, now that the group is back off of hiatus, we wanted to know details about the next upcoming album. Check out what Taj had to say.
YouKnowIGotSoul: We're here at R&B Spotlight and you're here to introduce your new group. Introduce us to them.
Taj: I'm bringing to you my new group Pure Sky out of Philadelphia. They're four young men with incredible harmonies, great eye candy, you're really going to enjoy them and I'm really proud to introduce them to the crowd here at R&B Spotlight.
YouKnowIGotSoul: How did you originally discover them?
Taj: I originally discovered them through my cousin who is really good friends with the guys and they were looking for a manager. She reached out to me to see if I'd be interested in managing them. After listening to them, it wasn't even a second thought!
YouKnowIGotSoul: What type of sound can we expect from the group?
Taj: The group has a very harmonic sound, they're a cross between Shai and Boyz II Men; they really have great harmonies and can drop them in an instant. They have a deep bass in the group which is so rare nowadays, baritone is really ridiculous. I think that's what will set them apart in the next few years as they grow their brand and their music.
YouKnowIGotSoul: You released the album "I Missed Us" with SWV last year after the long hiatus. How was it received by fans?
Taj: "I Missed Us" was an incredible album that I would have laid by life down for. I think it was received very well for how it was promoted. For me, it wasn't promoted well because even though it received a Soul Train nomination and Grammy nomination, many people didn't know about it which drives me crazy. Songs like "I Missed Us", "The Best Years", all of those songs are just so sick and just not many people know about them.
YouKnowIGotSoul: Do you feel that having the new reality show that you guys have got coming out with help you guys with promoting your music in the future?
Taj: Absolutely. Every reality show now is the new marketing and promotional vehicle. Now that we have one, people will be forced to look at our catalog, and it will be great for us.
YouKnowIGotSoul: How's the reality show been coming along?
Taj: Reality shows are definitely a whole new ballgame. It has been a process. We took about six months filming, and it was one of the hardest things I ever did in my life. I ate so much during that whole taping! *Laughs* It can be stressful. I hope that we put together a really good product and people will really enjoy it.
YouKnowIGotSoul: What's your favorite part of the reality process?
Taj: My favorite part is finishing! *Laughs*
YouKnowIGotSoul: What's next with new music from SWV?
Taj: Right now SWV is gearing up to go back into the studio to do an album. We're working out the logistics with our label Mass Appeal Records. Once we get that all worked out we'll be able to hopefully go back in and put together an amazing album just like "I Missed Us" and spread it to the masses.