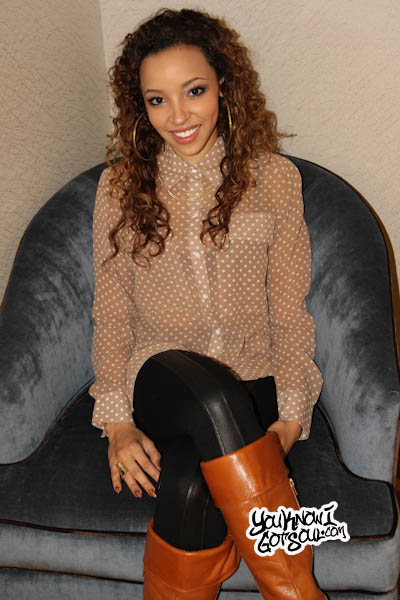 As a music lover, there's nothing better than watching an artist progress and blossom over the years into the superstar you know they'd grow into. In early 2012, we tabbed Tinashe as one of the next superstars in r&b based on her debut mixtape "In Case We Die". She furthered those sentiments with the release of her next effort "Reverie" in late 2012, a project that really gave Tinashe her own lane. Then a few weeks back, she released her latest mixtape "Black Water", and it's clear to see that she's come into her own. This paves way for the highly anticipated debut on RCA Records which should be coming at some point in 2014; look out r&b world! YouKnowIGotSoul sat down with her recently in NYC while she was doing promo for the mixtape and discussed the meaning behind "Black Water", the eerie and angelic tones in her music, what influences her dark sound, the progress of her debut album, and more.
YouKnowIGotSoul: Talk about your new mixtape "Black Water" and the meaning behind it.
Tinashe: "Black Water" really represents a period of time where it's at night, water is very still, when it looks like glass and you can't see. That's sort of a metaphor for saying "The storm is coming, so take advantage of this time when everything is all calm and peaceful." That obviously is another metaphor meaning for other things.
YouKnowIGotSoul: We've heard some growth since your last mixtape "Reverie". This mixtape isn't as dark as your previous work aside from "Vulnerable", is that what you were going for?
Tinashe: Yeah, I definitely wanted with this current project to show a progression from where I was with my previously released projects because my debut album that is supposed to come out next year is a progression and I want people to get in the mind state of me being a creative person. I like to experiment and my creative inspiration comes from different places at different points in my life, so maybe the sound I was making for "Black Water" is a little bit more progressive and a little bit higher energy than "Reverie" and then hopefully the album will hopefully be a progression from that. This is kind of like the stepping stone.
YouKnowIGotSoul: Talk about the single "Vulnerable" and the inspiration behind that song.
Tinashe: "Vulnerable" is produced by Boi-1da and he's from Toronto. Last year I went to Toronto and spent a few days in the studio with him. We really vibed out and made a few songs. I don't think those songs were going to make the album, so we wanted to keep making some records. He ended up emailing me the beat one day and I listened to it and I was like "Yes!" I loved the bass, the feel and that grittiness and it really brought out this character or this side within me that I kind of wanted to write from that stand point. I put myself in that position mentally and I just wrote a sexy, dark and seductive type song. I sent it to RCA to check it out and they flipped over it. They were like "We should get a feature on this! How about Travi$ Scott?" I was like "Let's see what he's got" because he's obviously super quirky in a way, so I thought he would add an element of interest to the song and another layer of depth. I heard his verse and I thought it was interesting and cool, so we put it out there and people have really responded to it well.
YouKnowIGotSoul: "Vulnerable" is an example of something you do very well. Your vocals are almost evil, but in the background you have these angelic tones and that's a really cool contrast. The combination has a really eerie feeling. Is that something you do consciously?
Tinashe: I definitely try to do that consciously. I think the interesting thing about my music and my voice is that it can come across as very soft, gentle and sweet. In my music, if I made very sweet songs or pretty beats, my music would be so cute. *Laughs* I try to do the opposite of that and find very dark and heavy beats and then put these softer vocals on top of it. I think the contrast is what makes it interesting. I definitely do that on purpose.
YouKnowIGotSoul: What influenced the sound overall on this project?
Tinashe: I really wanted it to be an introduction to the progression that my music is kind of taking and where it's going to go with my album. From that point of view, I wanted the songs to have tempo and I wanted them to feel new. At the same time, I wanted to bring elements of 90's R&B and some throwback feels just because I feel like people relate to that and I also have some of those vibes on my new album. That was my inspiration for that. I used a lot of new age techniques with the instrumentation and the production and the lyricism, then I took some vibes from the 90's.
YouKnowIGotSoul: In the past, you've said that you're attracted to darker vibes. Is that a lifestyle for you?
Tinashe: As an artist, I don't want to come across too sweet or too cute because there are definitely different sides to me and I don't think I'm Disney sweet. I don't want to make those kinds of songs like Katy Perry for example. I love Katy Perry though. I really try to bring in that level of darkness and eeriness into my music. I just find it interesting and intriguing. Even in my visuals, I like to have a layer of "That was kind of creepy." *Laughs*
YouKnowIGotSoul: There's a song on this mixtape that stuck out which is "Stunt". What was the inspiration for that?
Tinashe: !llmind sent me that beat, shout out to him. I really wanted to write a song that wasn't a relationship song and I think it covers a broad spectrum of topics. It goes from just being in a position where a guy is trying to get at you and he's coming at you foul or a little disrespectful because he's a little bit too cocky. I think it's also a message to people who have just doubted me over the years and maybe didn't expect me to achieve the things I achieved. I really just wanted a song that people could relate to and fit it into any category of their life that portrays to their own experiences, but comes from the stand point of "I don't need you, I can do this on my own."
YouKnowIGotSoul: With this being your third mixtape, how has the mixtape route helped to build up your fanbase?
Tinashe: I think the first two mixtapes that I put out really established who I sort of was as an artist and I really was able to find fans that really gravitated towards what I was offering at the time and the fact that I was making my own music and that I really was the creative mind behind all the stuff that I was putting out there. I think that was really the core of where my fanbase grew, which was people that really respected me as a person and artist. As I continued to my music, I think I garnered more fans because my sound can be versatile in a way. I think more people are realizing that it's not just boxed into one category and maybe more people are gravitating towards it because it's not so specific. I think that's the biggest thing and I think especially this year, I really wanted to put out a project for my fans because I know they had been waiting all year since I've been doing work on my debut album since 2013 began. "Black Water" was a gift from me to my fans because I don't want to go back on my word and not release something this year. Luckily, it received great responses from the internet and really solidified in my brain that "Okay people are really going to start looking for this stuff." It's exciting and it's a good feeling to know that when I put out my next project, people will hopefully have some sort of sense of who I am and it doesn't just come out of the sky. *Laughs*
YouKnowIGotSoul: Talk about your debut album.
Tinashe: My debut album is supposed to come out in 2014. The first single will be out in January. I have a few features on this album, but I can't tell you who they are right now. You should definitely know that there are people on the album. The album is almost completed. We've recorded nearly 100 songs for the album at this point. We really are at the final stages of picking and choosing the key songs and finding the ones that will fill in the gaps. We're getting there, but it's going to be awesome. Trust me, I'm a perfectionist, so I'm not going to put out the album until I'm 100% confident that it's where I'm going to be, especially because you only get one debut album. I want it to be right.