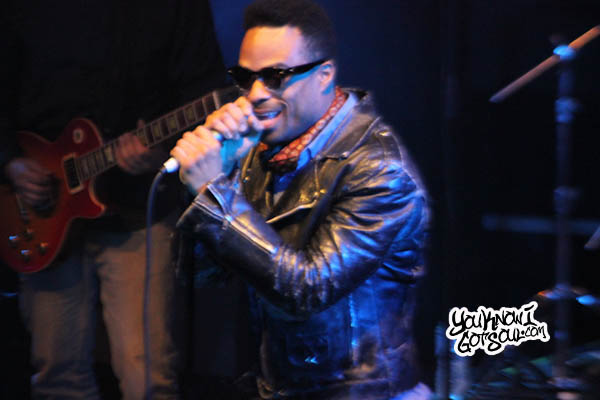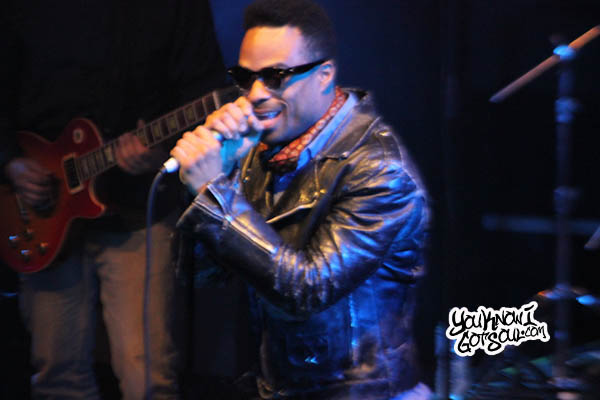 YouKnowIGotSoul caught up with Grammy nominated soul singer Bilal for this interview to discuss how his album "Airtight's Revenge" has been received by fans, if his fans were still waiting for him after the large gap between albums, memories from his debut album "1st Born Second", his collaborations with Common, his favorite artist to work with and much more.
YouKnowIGotSoul: Let's talk about your album that you released last year "Airtight's Revenge". It's been almost a year since the release, how has the reception been?
Bilal: The people love it. I perform a lot of the songs and the people are enjoying it.
YKIGS: You've had a lot of guest appearances over the years, but that was only your second official releases since you debut album back in 2001. Did you find a lot of your fans were still waiting for you after all of that time?
Bilal: Yeah, which is really cool. I've been getting asked the same questions for years from people randomly on the street like "when are you coming out again?" so it's really cool.
YKIGS: What is it frustrating for you as an artist to have to wait so long between albums?
Bilal: Well you know, for it to be this long it was kind of frustrating. I had to deal with a lot of things behind the scenes.
YKIGS: Yea I mean I was reading that your solo deal with Interscope was kind of turbulent at times, would you say you are in a much better situation to release music going forward?
Bilal: Yeah. Right now I'm just putting out stuff through independent companies. With the whole Interscope situation, it was good in the beginning. Towards the end with the company, I wasn't signed direct, but the company I signed with, we started to have creative differences. The independent route and the route I'm on now, I'm putting out music that I want to put out and I'm signing the people that creatively understand what it is that I want to do. So I would say it is a better situation for me creatively.
YKIGS: How frequently do you plan to release music under this new label situation?
Bilal: I plan on putting music out every year to a year and a half. I don't think it's going to be a nine year wait or anything.
YKIGS: I'm a fan of the history behind the music, so I was hoping to touch on your debut album "1st Born Second" and just get from you what you remember most about recording that album.
Bilal: I remember working with an array of producers and the fact that the whole album was done in analog. We were at the studio using tapes and stuff. Completely different now.
YKIGS: I know you've had over 10 collaborations with Common over the years. How did you guys originally link up and what's your relationship been like through the years?
Bilal: I met Common in like 1999 and it was still a demo tape that I had then a friend of mine gave him a tape.
YKIGS: I was also reading that you were part of the Soulquarians collective early on in your career out in Philly. What was that whole experience like?
Bilal: It was cool. Working and surrounded and being a part of some really dope cats. And I was the youngest, so it was really dope.
YKIGS: Did you learn a lot during that period?
Bilal: Yea I learned a whole lot, for sure.
YKIGS: There were a few collaborations that you've had over the years that I was hoping to get some background from you on because they are some personal favorites so I was hoping to hear the history.
YKIGS: The first is the song "Certified" with Guru and J. Dilla.
Bilal: Oh man that was a dope collaboration. Both of those cats are really talented, we did the whole song in one day. Pretty much linked up in Detroit in and went to Dilla's house and while we were talking about what we were going to do, Dilla made the beat right there on the spot in about 10 minutes. And then we kept talking and jammed into the song and then went over to a bigger studio and laid everything down. When you work with cats on that kind of level, everything just seems so easy.
YKIGS: Another one is Tweet's "Best Friend".
Bilal: I remember I did that out in L.A., and I think about the same day I met Tweet. We went over to the studio and just plugged in a 57 mic in the console room and I just sang along to the track and that's what they kept. I didn't write anything down, I just kinda vibed. So it was fun.
YKIGS: The one you did with Musiq Soulchild called "Don't Stop".
Bilal: That was a track produced by a good friend of mine named 88 Keys. I got this song, I think Musiq wrote the song and I pretty much just learned the song and sang it down and put my own stamp on it, did some backgrounds on it and that's what it was.
YKIGS: Has there been an artist for you that's been a favorite to collaborate with throughout the years or an artist you've had the best experience with?
Bilal: I think I would say J Dilla because he was always doing something new and something creative that I took away and learned from him. I can say I've used that technique on songs that I've written since then, so he kind of affected me.
YKIGS: So you had the album last year, I know you've also been touring, tell us what's next for Bilal?
Bilal: Well what's next for me is making music and I'm getting ready to do a live DVD for this album "Love for Sale" that I was working on back in 2006. It's in popular demand. A lot of people that I talk to have asked me about that album. So I think the best thing for me to do to stop all of the questions is to put out a live DVD and put out a live recording of the album.
YKIGS: I was reading when you were getting ready to release the "Love for Sale" album it kinda got bootlegged and a lot of people got a chance to hear it and the people who've heard it loved the album. How much did it hurt you that you weren't able to officially release it, but the people who have heard it loved it?
Bilal: It sucked. *Laughs* I really kinda got over it when I started getting all of the feedback from the people saying that they loved it and enjoyed it and it kind of made an impression without it coming out.