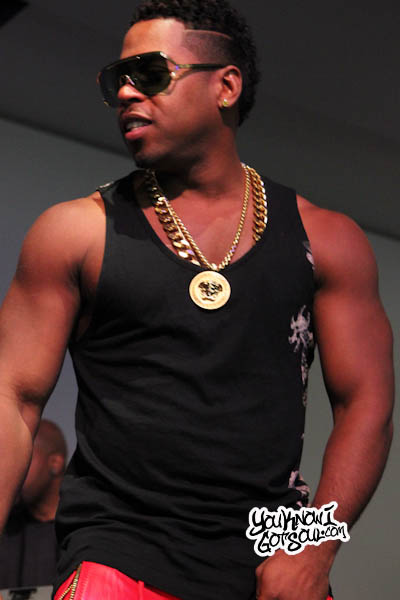 When we were first introduced to Bobby V., it was back in 1996 when he was only 15 years old as part of the r&b group Mista as they took the r&b world by storm with their hit "Blackberry Molasses". After the group failed to release a follow up effort, Bobby was handpicked from the group by production duo Tim & Bob who groomed him into the singer he is today. One thing that's always stood out to me about Bobby during that his solo career is he has released primarily commercial first singles, "Anonymous" on Special Occasion, "Beep" on The Rebirth, and "Phone Number" on Fly on the Wall, yet when you listen to the rest of the album it's just some good r&b music. I think because of that, many have overlooked Bobby V's albums and in the process missed out on some good quality r&b; so make sure you don't make the same mistake with the new album "Fly on the Wall." In this interview, we discuss what to expect on the new album, how he chose the album title "Fly on the Wall", how the album will compare to his previous work, why his singles are usually more commercial to the rest of the album, Bobby Brown's reaction to his remake of "Rock Wit Cha", his relationship with Tim & Bob, and much more.
YouKnowIGotSoul: You're preparing to release your fourth solo album "Fly on the Wall" in a couple of weeks. How are you feeling right now?
Bobby V: I'm feeling real good. I'm confident in my work so I know that this album is going to be a collector's item; I look at this like a classic. I put my heart into it and I put my all into it and I really deep down inside believe that my fans are not going to be disappointed by the music. So from that standpoint I'm definitely happy.
YKIGS: Tell me how you chose the title "Fly on the Wall".
Bobby V: I chose that because I've been in the industry a long time, I used to be in the group Mista back in the 90's, I was with Ludacris for two albums, and now I'm on my own label Blu Kolla Dreamz/Capitol Records. I've seen it all and done it all, I've experienced a lot and had an opportunity travel the world so I feel like I've been a "Fly on the Wall" in the industry. Also I'm giving all of my fans the opportunity, like through this interview I'm doing now, just to be a fly on the wall and be a part of the process because they're used to being on the outside looking in.
YKIGS: Talk about who you worked with on this album.
Bobby V: Well with Tim & Bob of course who had produced "Slow Down" and "Tell Me" and pretty much my whole first album, they've got about five or six tracks on this album. I worked with Los Da Mystro who does a lot with The Dream, he produced on my last album as well. I worked with Bryan-Michael Cox, I worked with The Underdogs, who produced my first single "Words" on this album. A lot of strong r&b producers, all of the people I named, that's what they do, they don't even do rap tracks. Like Bryan-Michael Cox, he could do a rap track, but he doesn't even do them, he's an r&b guy, and Los Da Mystro is the same way and so are Tim & Bob. So all of the producers I worked with, they know how to play the piano, they know how to play the guitar, and I'm big on that because I love, and this is not a knock to producers, but I love producers that are also musicians. Those are the kinda guys I like to work with who are producers as well as musicians.
YKIGS: Yea you definitely chose the cream of the crop in terms of r&b producers to work with here.
YKIGS: I know you've done a lot of writing on your previous albums. Is that the case with this album as well?
Bobby V: Yes sir. I wrote every song on this album except maybe one or two like the remake of "Rock Wit Cha" of course I didn't write that, LA Reid and Babyface wrote that. Other than that, I think I pretty much wrote on every song. For artists like myself, I think that's important because I just believe that you've got to be able to feel your music. If somebody gives you a song it could be really hot because there are like five or six records on my album that I heard the record first and it was really hot, but I've got to go in there and I've got to put the Bobby V. on there. I tell them I love the hook and the beat, but I tell them I've got to change up the first verse or the bridge or something like that, just to kinda make it my own. That's why I definitely try to write on all of my songs, I don't do it from a standpoint of I know everything, but it's a standpoint of I've got to put a little bit of me into the song and some soul into the song that way I'm really feeling it.
YKIGS: Comparing this album to your previous albums, would you say this album is going to be comparable to what we've heard from you before?
Bobby V: Yep. I'd say comparing them to all of my albums, this is more comparable to the first album. A lot of people classify my first album as a classic. My second album, due to the success of my first album, my second album kinda opened more doors for me to work with more people. So I worked with Timbaland on that album, I worked with a lot of producers, so honestly, "Special Occasion" was definitely a great album but I think it was all over the place. Tim & Bob did my full first album, it was just one producer on that album. Since that was so successful, everybody wanted to work with me, and I didn't want to turn anyone down, so I kinda spread my wings and I worked with Timbaland, I worked with a lot of different producers; so that album was kinda all over the place production wise. Then my third album "The Rebirth", it kinda went back to trying to work with my core set of favorite producers, and this album is just kinda even more of that. So just to answer your question, it's more comparable to my first album on a production side because it's a lot of producers and it has a distinctive sound throughout the album. I'm really trying to captivate true r&b. Me personally, I kinda feel like the world and the industry is more hip hop driven, I think rap and hip hop and even pop are kinda big right now. Like when you go to Vegas and you go to the clubs, they aren't playing r&b, they are playing *mimics dance beat* they are playing a lot of that. I'm not trying to knock anybody, when I'm in the club I jam to that too, it's just making an r&b album it's just kinda like a different vibe and I don't wanna stray away from good r&b. A lot of people conform and kinda sell themselves out to what everybody else is doing. I'm not going to lie, I've been the victim of that too, I've tried to make those pop records and those hip hop driven records, but that's not really me, I'm a crooner, I'm an r&b guy. So with this album I tried my best to stick to doing what my fans are going to love and what I know I'm going to love and play in my car when I hop in the car, and that's the true r&b stuff.
YKIGS: Just to speak on what you're talking about right here, I was at your listening session in New York a couple of months back. When you were talking about the album, you mentioned that sometimes your singles will be a little more commercial than the rest of the album, but if people gave the album a full listen they'd definitely find that real r&b that they like. Can you speak on that a little bit?
Bobby V: Definitely. See the thing is the music industry is very political and a lot of the fans don't know the politics in it, but it is what it is, every job has politics, there's even politics in teaching and being a doctor. I say that to say, if it was up to me, I would release more song like "Words", more songs like that's just sitting on the album that are extra hot, but due to the politics of radio it's hard for those records to make it at mainstream radio. When you put out those real r&b records, they're automatically trying to bump you up to adult contemporary and I'm not an adult contemporary artist, I'm a mainstream urban artist. There's artists that I really like, I'm a fan of Joe, I like him a lot, and I buy Joe albums, I like Tank a lot, I bought Tank's album when it came out, I like Marsha Ambrosius, she just came out with an album last week and I bought that! I like them as a consumer and as a fan, but you rarely hear those three artists on the radio. You hear the mainstream artists, and this isn't a knock to the mainstream artists, but that's what you hear over and over again. It's like they don't really give artists like Joe, Tank, Marsha Ambrosius a fair shot at being a mainstream artists. It's always the same group of people, if you turn on the radio right now, Hot97 is playing….I'm in the car right now, let me see what they are playing, we're in Atlanta right now. Listen to that, they're playing old school right now, they're doing mixes, but they're doing rap though. So it is what it is, I'm not going to be a complainer, I'm trying to help bring r&b back.
YKIGS: I definitely respect you speaking on that because I feel like a lot of artists are in the same boat as you and we need to bring that to light to kinda to get things to change eventually.
Bobby V: Exactly. Like Marsha's album is jamming, I bought it the other day, it's really jammin! She's just as good an any other artist that's on the radio right now and I look at her like I look at myself, one of the underdogs of r&b, someone that's really hot but they just don't get that mainstream slot which eventually turns to the big looks.
YKIGS: You mentioned earlier the Bobby Brown cover you did "Rock Wit Cha", what made you choose to pick that song to cover?
Bobby V: We were in the studio and for every album I do a cover and The Underdogs actually produced that one, so we were talking and they came up with the idea, they thought I should do a Bobby Brown song. So at first we were talking about "My Perogative" and we just threw a couple out there and then I said "Rock Wit Cha" and they thought it might be dope because it's a mid tempo and we really didn't want to do a ballad record, we wanted to do something with a little tempo. So The Underdogs got on the keys and the guitar and just started remaking the beat right there, and the rest is history.
YKIGS: I know you performed that one live on Lopez Tonight with Bobby Brown a few weeks ago. What was his reaction to your version of the song?
Bobby V: He was happy. It was cool because a lot of folks thought he was going to try and outshine me, people were trying to make it seem like he was a negative person. But when I saw him, he was like "Bobby V.!" and I was like "Bobby B.!" and we kicked it. He let me get my shine on, and I let him get his shine on, it was like we had performed together before. He was cool, he was humble, it was cool. I just let him know how much I grew up on him and how much I appreciated him for doing the Lopez show because honestly I couldn't have done the show without him. But honestly he appreciated me because he felt it was a big look for him as well. So it kinda worked out for the both of us.
YKIGS: Is there a song on this album besides the singles that you think when people hear it, they are immediately going to love it?
Bobby V: A lot of them, a lot of them.
YKIGS: Is there one that comes to mind?
Bobby V: A Tim & Bob track called "Would You Be", another Tim & Bob track called "If I Can't Have You", I've got this track called "Sweetness" on there, that record's crazy, it kinda has got an old school 90's vibe to it. I'm telling you the album, I know you heard it at the listening session, but since then I've done maybe one or two new cuts, it's solid overall.
YKIGS: Do you appreciate getting fan feedback especially if fans are not feeling some of yours songs? How do you react to say fans maybe not liking a particular song?
Bobby V: I appreciate them being real. I know on Twitter and stuff my real fans I appreciate, the haters, I don't appreciate. I get Tweets from haters, like people that never Tweet me, and I could tell it's hate mail. Then I've got a lot of Bobby V fan club people that are on Twitter every day, I respect their opinion because I know they're being honest and they're true Bobby V. fans. So I appreciate those, but the people that just never hit me on Twitter, I never see, and they are just into hating stuff, I don't pay them any mind.
YKIGS: What do you think is the best song you've made so far and why?
Bobby V: Woooo, that's a hard question. Honestly, I don't really have a best song because I really put my all into each song. For this album, I recorded over 50 songs, and maybe only 15 made the cut. So each of these songs are special to me in different ways. Like I love "Words", when I listen to that now it just makes me feel so good and it makes me feel a certain way. But at the same time, "Slow Down" would have to be one of my favorite records because it got me hot. So there are a lot of songs out there. When I record there are some songs that are better than others but the ones that I put on my albums I feel they are my best. The ones that I might leak or something like that, they are the ones I might be 50/50 on.
YKIGS: One last question. You mentioned Tim & Bob all through this interview and you also talked about them in the listening session. Can you just talk about your relationship with them and how they brought you into a solo career?
Bobby V: They are like brothers to me. Tim & Bob are my all time favorite producers and I'm going to work with them forever. To me they are like Jimmy Jam & Terry Lewis are to Janet Jackson. They know how I feel musically, I can't get with a better producer because they know me and they know what I like. I look at them as being under the radar producers as well, they're not the producers that are talking on the tracks and all that type of stuff. They are just core real r&b fanatics and that's what they love and I appreciate them for that. I hooked up with them because when I was in Mista we had put out our debut album, and then the second album never came out but we recorded it and had a chance to work with Tim & Bob back when they were in their prime. For people that don't know Tim & Bob, they used to produce for Boyz II Men, they did the "Thong Song" for Sisqo, Michael Jackson, and they were in their pime in the late 90's. So they worked on the Mista album that never came out and they helped me develop my voice because it was four of us in the group and they handpicked me to sing all of the leads because they thought I had the most distinctive voice. They really kind of pulled me to the side out of everybody else in the group because I couldn't even really sing that good back then, I was only like 15! I could hold a note, but I wasn't seasoned. That's what they did for me, they showed me how to harmonize and they seasoned me and that's why I'm so good now, not to toot my own horn, but when it comes to singing I don't think there are too many people out there that could touch me. I've had vocal lessons, and people like Tim & Bob really took me under their wings to teach me how to really be a great singer. I'll always work with them and even when I'm 50 years old I'll still be putting out albums with all of their tracks on it.
YKIGS: Anything you'd like to add?
Bobby V: The new album is out March 22nd, please support me. I understand that spending your $10 is tough when there are other things you can buy, but I really need everybody to support me so I can continue to be Bobby V. It's a business at the end of the day and if you don't perform then you won't be around, and I want to be around, and I want to be around for another ten years to come. So I just ask that all of the people support r&b and get my album and support other r&b artists that are doing r&b because that's the only way we are going to be around.