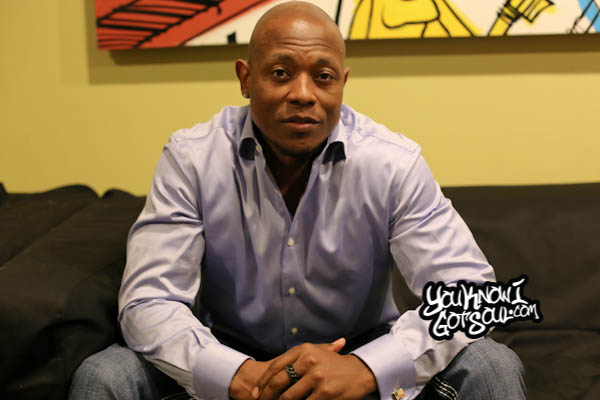 What really drives us as journalists to continue to do what we do is artists like Calvin Richardson who make amazing music but don't always have the major backing to promote their projects. We could probably sit here a list off another fifty or so artists who fall into the same category and truly deserve more attention than they are currently getting. These days, having an amazing singing voice no longer seems to be enough to appeal to the masses; you have to have an image or "swag" to go along with it. We may no longer be in the majority, but I'm from the belief that true talent should be recognized regardless of if an artist has "swag," and that's why we support true musicians like Calvin. In this interview, we discuss his origins growing up with K-Ci & Jo-Jo and how that led to his first deal, how he responds to those who call him "underrated," making a cover album of Bobby Womack songs, his Grammy nominations, being under promoted on Universal in favor of Nelly, and much more!
YouKnowIGotSoul: Take me back to early in your career when you were the lead singer of the group Undacova. How did you guys form the group and how did you eventually get a deal with Tommy Boy Records?
Calvin Richardson: Well basically I got together with K-Ci and Jo-Jo, we were in a group together early on before they went on to Jodeci. So after that I decided to put a group together of my own and we did a demo. I knew this guy who was a producer based out of New York, and we did a demo and sent it to him and he asked us to come up because he had connections with the labels. So we went to his house up in New York, we drove up there and got in his studio and recorded a demo and he presented it to Atlantic Records, Tommy Boy, Dreamworks, and all of them gave us a meeting, but we took the one with Tommy Boy.
YKIGS: I read in your bio that you are the cousin of K-Ci and Jo-Jo. What type of impact have they had on your career and throughout?
CR: Well what K-Ci and Jo-Jo did was really make it a reality based on the talent that I had and being a singer from the same place and the same time, they made me feel I could really do it in the music business on a professional level. It was really good for me to see them have that type of success that they had with us being the type of friends that we were, we were really close growing up. So it really inspired me to want to be in the music business. I know that the sound that we brought to the business, there wasn't really anybody else doing the sound that we had.
YKIGS: On you debut album "Country Boy" which you released in the late 90's on Universal, what do you remember most about recording this album and do you remember what you were looking to accomplish with the album?
CR: I was looking to accomplish what anybody would on their first album, I was hoping to have the same type of success that my friends had had. That didn't happen, I got on the label and the support for the album wasn't there. So at that particular time, by the time I got moved over to Universal, I first signed with Heavy D over at Uptown Records, and then they pulled the plug on the label, and Universal Records kept whatever artists off of that label that they wanted. Nelly was the big act over there at the time, and if your name wasn't Nelly, they weren't really putting anything into the project. So I got kinda caught up in that and it was disappointing, and it happens, but that wasn't what I was expecting.
YKIGS: Fast forward a couple of years to your second album "2:35 PM." I felt that was a very solid album and it got great reviews. Do you feel it might have been overlooked a bit by fans? Do you feel the album deserved more attention than it got?
CR: I don't think it was overlooked by the fans, I think a lot of fans didn't know it was there. The fans that I've got, they had the record, I had fans from the first album, they've got the record and I got some new fans on that album. But it just was really one of those albums that wasn't promoted that well and once again the record wasn't out there, people couldn't get it, they went looking for it and just couldn't find it. That's just the nature of being in the business when the major label controls what's out there and how it's out there.
YKIGS: On the album you got a chance to work with some big names like The Underdogs and Raphael Saadiq. What was it like working with them?
CR: The Underdogs, it was good, they were hot at that particular time, and when you're on the major labels, those are the types of producers that they look to pair you up with to try to get the same sound that other artists that they had worked with had to get the same response. But it was good, it was a good experience, they were good producers. Raphael Saadiq, you know I wrote some stuff for him on his "Instant Vintage" album and recorded some stuff with him. He's a great writer and a great producer so I learned a lot from him and formed a cool relationship.
YKIGS: When it comes to your music, I often hear from fans the term "underrated" used pretty often to describe you. How do you respond to that?
CR: I just think it's under promoted. I don't think people underrate what I do, especially the people that know what I do, but like I said it's all about promotions. If people don't know about you, if you've got a product out there that people don't know about, you're not going to be able to sell it. I hear people tell me all the time and they say people sleep on me, but if they don't know, they just don't know.
YKIGS: As a fan, I've always wondered about the collaboration you had with Angie Stone on "More Than a Woman," and why eventually she recorded a new version with Joe. I always wondered why that happened, can you shed some light?
CR: When I did "More Than a Woman," I did that song originally by myself. When it came out on my "2:35 PM" album, that was the original version. Before I put it out, Angie had heard it, I was with Universal at that time, it was on my second album and we decided not to do that album over there, and she wanted to put it on her album. So we put a verse down and she got on it and did her vocals, and then I started working with her. But the business with me and her kinda went to the left, and Clive Davis wanted to put that song out as the second single, so she took me off of it. At the end of the day, it didn't matter much, because the version with me on it is still on the album. Plus, I was the writer of the song so business wise it didn't really affect me. Sometimes women let their emotions take over on the business side of it. So that's what happened basically.
YKIGS: It took nearly five years for you to release your third album "When Love Comes" in 2009. What were you doing in that time period between the second and third album?
CR: To be honest I kept on making music and I bought a studio and basically I had friends and producers just hanging out in that studio and it was a big party house, we just party and bullshitted, but just kept on making records. That's just what I love to do and that's just what I know to do so basically the time came when I was supposed to do another album so I went on with it and got back in the game.
YKIGS: Talk to me about the tribute album you recorded "Facts of Life: The Soul of Bobby Womack." How were you chosen to record it and what did it mean to you?
CR: Well when I came with "When Love Comes," the same guy who I worked on with that album reached out and asked me to do that particular album. Also, the label Shanachie is known for doing remake and cover albums, they'll get an artist who has a fan base to come in and record an album of cover tunes. So the first album I did with them was an original, and then they approached me about doing the second album which was a Bobby Womack tribute. In the beginning I was a little reluctant to do that because Bobby Womack was such a great singer/song writer as far as I'm concerned. But I thought about it and Bobby was one of those people who was always underrated as far as I'm concerned, he never got the just do that he deserved for being a singer/song writer. I grew up listening to Bobby Womack and on my very first album I re-did a song called "I Wish You Didn't Trust Me So Much," and then ten years later I got an opportunity to redo an entire album, so it was a no brainer for me.
YKIGS: Have you had a chance to talk to Bobby about the album and did he like it?
CR: I haven't had a chance to talk to him about it but he reached out to the label and he gave his consent on it and he was blown away by it when he heard it. I saw a write up in another interview he did where he was talking about the job that I'd done remaking the music and how impressed he was and he felt I was a great singer because I did my own things with his songs, so he was very impressed. So that was enough for me but I got to even go further then that when I got the Grammy nomination for the album, so that means I must have done something right.
YKIGS: Also in 2009 you contributed your writing to Charlie Wilson's hit "There Goes My Baby." Tell me about how that song came together.
CR: Well basically that song wasn't for Charlie, I wrote that song with Babyface for my third album that was supposed to be released on Hollywood Records. So we did it for that but before that album came out they decided for whatever reason that they weren't going to put that second album out on Hollywood Records so it was just sitting there. So the producer, the guy that worked with Babyface on the record, he played it for Charlie when Charlie was looking for a song for his album. So the story goes, Charlie heard the song and he loved it and that was easy enough to make it happen so he did it and the record became a number one hit. We all knew when I recorded that record and wrote it that it felt like it had the hit potential. So that just solidified it.
YKIGS: Being that it was meant for your album but then it turned into a hit for someone else, do you have any reservations or do you wish you could have had it back?
CR: Nah I don't have any reservations about it because Charlie Wilson is Charlie Wilson, who knows if I had put that song out if it would have been a number one record. As far as I'm concerned, I've done a number of hit records but if it doesn't have the right support behind it and that record doesn't have the right machine behind it, it won't hit the way it did for Charlie. It could have not had the same impact.
YKIGS: You released your fifth album "Americas Most Wanted" last year. How happy have you been with the way the album has been received by your fans?
CR: I'm completely happy with it. I was coming off of the "Facts of Life" album and all of the songs that I chose to do that Bobby Womack had done were all great songs; he's a great writer and they had great melodies. I just wanted people not to get lost in the fact that I was singing Bobby's stuff and he's a great writer, but at the same time, I'm a great writer and I do sing as well, so I just wanted to put me back out there and let people understand coming behind that, I'm that type of quality writer myself and I'm nominated for another Grammy off of this one. So I just wanted to solidify that with my fans and let them understand, which they do all of the time with the quality work that I do. So they're really embracing the record.
YKIGS: You mentioned the Grammy nomination. What does it mean to you to be nominated for another Grammy?
CR: Well to be recognized by your peers on that level, the Grammy's is what everyone wants to do. The Soul Train and the other ones are good, but being on the Grammy's is the big one. So just being recognized on that level after being slept on in the world for so long and then all of the sudden two years back to back, three Grammy nominations, that's quite an accomplishment for me.
YKIGS: So tell me about your plans for the future. What do you have lined up in terms of music or a new album?
CR: I'm going to keep making records and keep putting them out. Just try to keep good music in the air while people are starting to pay more attention and it's a great time to be putting music out because people are starting to be more receptive to it. The people that came to it early on or before now, they're more apt to go and check out my music. So that's what I do and that's what I'm going to continue to do and try to help somebody else out there that has the same type of goals and same type of quality of music that I do.
YKIGS: Who are some of your favorite singers out right now and who do you listen to?
CR: To be honest about it, I don't really listen to too many people since I stay so busy. I stay in my own lane, I listen to the old school guys so I don't really get jaded by what's going on.
YKIGS: There's a song I heard by you called "Do It All" and I've also heard the same song by Donell Jones. Can you give me some background on where that came from?
CR: Yea that was just a demo. When I first heard it, Donell Jones had demoed the record and the producers I was working with on Hollywood Records, which would have been my third album, they brought me that record and thought it would be a good record to add to what I was doing. So it was basically just a demo.