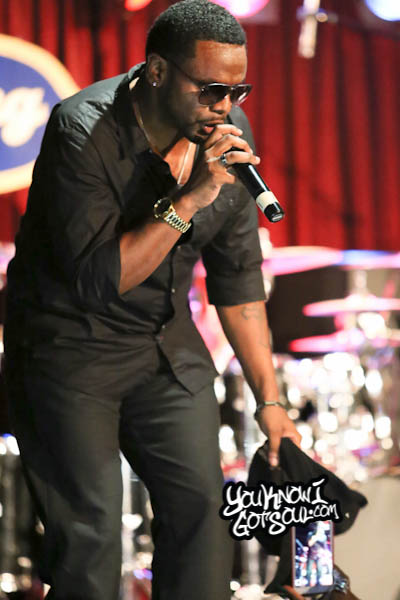 Man this interview has been a long time coming and overdue! Since I was first introduced to Carl Thomas as an artist back on the remix to Puff Daddy's "Been Around the World," I've been a fan of his soulful voice. Only years later would I come to find he actually got his start as an artist as part of the group 4Mula which originated out of New Haven, CT, although an album never surfaced. When you think about his three amazing albums coupled with the countless features and duets he's done over the past decade, there is no doubting that Carl Thomas is one of the premier voices of our generation. Although in the past he hasn't been the type of artist to put out an album ever year, (he usually waits a few years between releases) all of that is about to change starting with the release of his new album this year. In this interview, we talked about what type of sound to expect on the new album including what producers he's working with, the surprise guest features he will be including that he feels are outside the box, the history behind the group 4Mula, the conversation he looks to start in making music, his favorite collaboration, the Bad Boy era, and much more!
YKIGS: I've spoken to a lot of your fans who always ask where you are and what you've been up to since your "So Much Better" album in 2007. Can you quickly catch us up on what you've been up to?
Carl Thomas: Well first of all I've kinda stepped out of the recording arena for a minute. I did a project in 2007 that was actually supposed to be just some monogamous music that I was putting out online and for a mixtape. There was a growing demand for my music so we just needed a greater vehicle. I put the album out independently and we sold 350,000 units with absolutely no promotion at all, with just my name and face on the cover of the project. It really helped me get back in line and after that project I took the time to really, really, really get back into touring because the foundation of everything I do is that live show. So I got really, really, really heavily into touring and then I found the right vehicle last year in the form of Verve/Universal. The environment and landscape of r&b really changed and there were certain things that I wasn't really interested in entertaining, mainly in the form of 360 deals and things of that nature. Don't get me wrong because I don't think that 360 deals are necessarily bad when you pay for them. I'm really, really, really grateful and thankful to God for this opportunity because I've always kinda viewed my music as just me sharing my ideas. I've always kinda viewed my songs as kinda like me starting a conversation. So the conversation with this man and woman thing kinda goes in line with the lifestyle that I'm selling. That's just really young, urban successful balanced lifestyle.
YKIGS: So you mentioned you're on Verve/Universal now. Of course the next question would be, when can we expect the new album?
Carl Thomas: Well I'm going to turn the album in soon and then you can definitely expect something by May. I've really, really, really been grinding hard and busting my butt to get it done. Verve is an international vehicle and it's just kinda took some getting used to actually being that free! *Laughs*
Carl Thomas: So listen, I heard from a little bird, that you know about the 4Mula! *Laughs*
YKIGS: Yes I do and I had some questions lined up for you about that! *Laughs*
Carl Thomas: Ooohhh you are killing me Tom! *Laughs*
YKIGS: We're going to take it all the way back to New Haven, Connecticut! *Laughs*
Carl Thomas: All the way back to New Haven!
YKIGS: I was at a concert you did a couple of months back in Hartford, CT where you talked about the group. Tell me about 4Mula because I've heard a couple of songs, but was there ever a full album?
Carl Thomas: There was a full 4Mula album, might I add that the 4Mula was put together by Troy Taylor and we recorded a whole album for Epic Records, the album just never came into fruition. It was just one of those things when you're young and learning along the way. But it was a really good album, we learned a lot as artists writing and producing that album and I'm really, really proud and shocked and surprised when I see the 4Mula pops up every now and then like a ghost! *Laughs* It pops up every now and then, like I was in Japan and somebody handed me a "Pass It Over" cd. So I'm really proud to say that it was one of the founding bricks of my foundation.
YKIGS: That's what I love to hear about the history behind the artists and everything they've done throughout their career.
Carl Thomas: You know I actually lived in New Haven for awhile. Actually it was West Haven, let me not mess the story up. *Laughs* Me and my group members, who were from New Haven, and of course Troy Taylor who was from New Haven, they were just commuting back and forth and I as the only one in New York. So I kinda wanted to try something different and I went out there for awhile and I actually became a Connecticut native baby!
YKIGS: As someone myself who has has lived in Connecticut for about ten years before coming to NYC, how did you find your time in Connecticut?
Carl Thomas: It's really different, it's like a really difference pace. Me being from Chicago, it's still the east coast, but the pace and flavor is completely different. When I first went up there, I kinda had to get to know the r&b lineage of New Haven, groups like Surface. I was unaware when I got there that Michael Bolton was from New Haven and I went to his house and talked with him and it was a really cool experience. Just to even know that New Haven had lineage was interesting.

YKIGS: During the concert I was at of yours Hartford, between some of your songs you spoke a little bit about how you're not the type of artist to release an album every year. I know some of your fans would love to hear an album from you ever year. How do you keep those fans happy?
Carl Thomas: Well first of all I'm a supply and demand type of dude, so the slightest request and I'm in your town. *Laughs* And I live my life by my live shows. Not to say that I'm not the kind of artist that can't put out an album every year, as a matter of fact, for the next four to five years, that will be what I'm doing. I'm just saying that hasn't been what I've been doing to date. So it's one of those things where as of yet I haven't been one of those artists, for one reason or the other.
YKIGS: But you will be going in that direction?
Carl Thomas: Absolutely.
YKIGS: Ok great! In your time off between albums I always hear the questions from fans about where you are and when we could all hear another Carl Thomas album.
Carl Thomas: As a matter of fact I'm on my way to L.A. to finish a bulk of the project. I plan to work with The Interns, Jimmy Jam & Terry Lewis, Bryan-Michael Cox, as well as DJ Quik. Of course, my staple Mike City.
YKIGS: Yep, I was hoping you were going to say him!
Carl Thomas: Of course! I can't do an album without Mike City. Correction, I can't do an album without Mike City and Mario Winans.
YKIGS: I had a chance to speak to Mike a few months ago in an interview and I talked to him about working with you and I know he's on all of your albums. You guys seem to work well together.
Carl Thomas: Absolutely, that's my brother.
YKIGS: In terms of the sound on this album are you kinda just sticking to the same formula that's worked for you in the past?
Carl Thomas: On this album there are a lot of things that will sound reminiscent but you will definitely be able to tell the distinct difference in the growth of the music, and that's my goal. My goal for this album is for everybody to just be able to tell the growth.
YKIGS: Do you have a title picked out for the album?
Carl Thomas: Nope, do you want to help me pick one? *Laughs*
YKIGS:*Laughs* Give me some time to think and maybe I could come up with something!
Carl Thomas: Hey man, any suggestions you have let my publicist know!
YKIGS: Hey let me hear some of the music and then I could definitely help you out!
Carl Thomas: I can do that for you!
YKIGS: I want to now ask you some questions from throughout your career, and start out with a little bit of a tough question. I know you've had tons and tons of collaborations over the years. Is there any that is most memorable or maybe comes to mind immediately or stands out?
Carl Thomas: "I Love My Life" with Noreaga.

YKIGS: Wow! Why would you pick that one?
Carl Thomas: "I Love My Life" is just something that it just made a really good connection for me with that record. That record is kinda an example to me of how powerful the partnership between lyric and melody is in music.
YKIGS: Interesting, I like that song a lot actually.
Carl Thomas: Yea, it's a powerful record.
YKIGS: A collaboration I wanted to ask you about is a collaboration you did that I don't think was ever released but it was with Big Pun and Cuban Link and the song was called "Cheat On Her." How did that collaboration come about?
Carl Thomas: Oooooh that's right, and yea it was never released. It came about because Big Pun was a friend of mine and Big Pun and Fat Joe, Fat Joe is still a very good friend of mine, at the time they were working on Cuban Link's project and for internal reasons *Laughs* the project didn't come out. But that was something I hadn't anticipated.
YKIGS: I like that song a lot too. Tell me about your collaboration with Amerie on "Can We Go Back." How did that song come together?
Carl Thomas: Amerie reached out to me when she was doing her second album and she let me know how much she appreciated the "Emotional" project and how much the project inspired her and her direction. So it was just something I was really glad and honored to do. Sometimes if people ask me question about music and r&b I'm still very, very honored because sometimes I'm just in awe that anybody would want to know what I think. *Laughs*
YKIGS: That one came out really good, I like that one too.
Carl Thomas: Thanks man.
YKIGS: Speaking of collaborations, do you expect to have any on your upcoming album or would you like to?
Carl Thomas: Yea, I'm going them but they are definitely surprises because they are out of the box collaborations.
YKIGS: So they're going to be a surprise?
Carl Thomas: Definitely because they are out of the box collaborations, people you would not expect me to be with. It's kinda like if you were watching cartoons on Saturday morning and you saw the Superfriends and Rickety Rocket in the same cartoon you'd go "What the Hell?" *Laughs*
YKIGS: Even though they are out of the box, you still think they work?
Carl Thomas: Will this is going to be a definite surprise and I'm going to appreciate people's response.
YKIGS: Who are some artists you enjoy listening to in your free time? Are there any current artists?
Carl Thomas: I'm always trying to resurrect something or reinterpret something so most of the time I listen to older music and music from different eras other than the one we're in now. I'm trying to pull out elements for the purpose of my own musical gumbo. For one reason or another I'm pulling elements from different forms of music from different times and eras.
YKIGS: Do you have a personal favorite song that you've ever recorded?
Carl Thomas: I don't think I have one no, I don't think I have one of those.
YKIGS: Yea I know that's tough to answer. As someone who was prominently there through the whole height of the Bad Boy era, what do you take away or remember most about that whole period you spent there?
Carl Thomas: Well you've got to understand in my opinion we were just a bunch of kids who knew that Puff knew how to make stars and we were just really dependant on him to mold us into what we knew we could be. I hope they just remember us as kids who just wanted to make you dance and wanted to make you feel good through black music.
YKIGS: Your debut album "Emotional" is considered a classic by most fans. What was your goal with the album and what were you trying to accomplish?
Carl Thomas: Well I was just trying to accomplish just starting a conversation and I really think I did achieve that goal of just kinda redirecting the conversation to even the playing field between men and women. We're used to hearing such a one sided view and we're used to the women always talking because they're so not afraid to do that and because of that they're doing most of the talking. A lot of times we forget that if we're going to have a conversation then we're going to need to hear both sides of the issue.
YKIGS: When you talk about this is makes me think of the title of your second album "Let's Talk About It." Is that why you named it that?
Carl Thomas: Absolutely, just trying to continue the conversation.
YKIGS: That's all of the questions I had for you is there anything you'd like to add?
Carl Thomas: Well I would definitely like to add that the funny thing is when I look on YouKnowIGotSoul, it's kinda like the website is dedicated to the same thing, dedicated to the conversation. Just as well as there are other issues in black music of course to talk about, but I just think that's my niche and my duty. I'm really, really looking forward to giving people what they want.