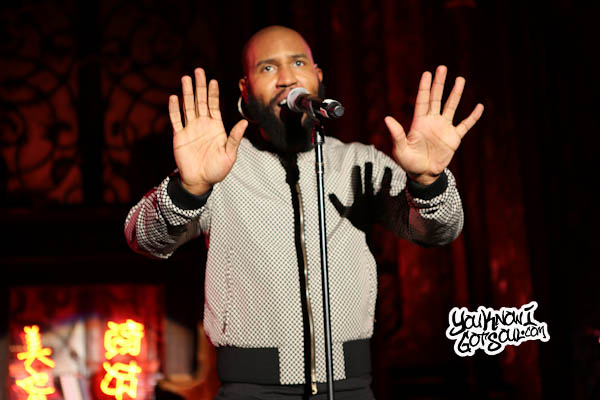 YouKnowIGotSoul had a chance to catch up with hit song-writer Claude Kelly who has penned some of the biggest songs in the past 2 years for the likes of Britney Spears (Circus), Bruno Mars (Grenade) and countless others. In this interview, he talks about how he got into the industry, his first major placement on Frankie J's Priceless and also gives us an update on some of the upcoming projects he's working on for artists like Musiq Soulchild and Ledisi.
Growing up, how did you get introduced to music and who influenced you?
I've kind of been doing music all my life. I grew up not in a musical family, but music was always playing in the house. So I was singing before I could speak. I remember listening to Bob Marley and then big Motown hits and then I grew up in New York City and grew up playing classical piano, flute and my voice. The surrounding there was late 80s, early 90's hip hop, R&B, and alternative so it's always been a big part of my life. And I've drawn inspiration from all those different aspects and that's the artist I am now.
How did you develop your writing talents and what's the writing process like for you?
The way I write is kind of unorthodox. I don't believe in writing things down because my brain works much faster than I'm able to write things out and it frustrates me. So I usually go behind the mic and make up the first thing that comes to mind because it gives you the right instinct. Then from there, I go back and edit it and might change a word or two just so I get to exactly what I want to hear. That's basically my process. In terms of how I came into songwriting, it was pretty much by accident. I was an aspiring artist at first, came back to New York from college, just wanted to figure out a way to make it and just tried it to see how it goes, at least it's something else I can do. I quickly figured out I was really good at it and I was able to write fast and get people's attentions so I honed down from that point on and haven't stopped ever since.

How hard was it for you in the beginning to get your records placed considering you were a new writer and what kept you going?

Very damn hard. It is not easy to persevere and get your songs heard and get them to A&Rs to labels to artists. I kind of somewhere deep inside believed that there was going to be a break for me somewhere. I couldn't explain it, but I always had this feeling that I would just be okay if I just worked hard and be committed to what I was doing. And every now and then, I would write a song and it wouldn't get placed, but it would get to someone and they would give me the compliments that I needed, whether they knew it or not. And that showed me "Okay you're doing the right thing, you got to keep doing this and you'll make it one day". There were a bunch of those of songs people will never hear or never make albums, but those are the records that got me to the next step and helped give me an opportunity to work with an artist or producer. Those are the moments that kept me going when I was really down in the dumps and saying like "Why can't I get that record out there?"
Eventually you had a chance to work with Frankie J on his Priceless album. How did that opportunity come about?
Through a friend of a friend and my manager, I went to work with DJ Clue and he called me when he was ready to work with Frankie J. From that point I formed a relationship with both DJ Clue and Frankie J. And then I wrote two songs on the album, one was "Say Something" which is a DJ Clue produced song and "Daddy Little Girl" which Frankie J and I did together. And that was the first single and that was through being at the right place at the right time and delivering when I had to. And that song is special to me because I was at a point where I couldn't take it anymore and was about to quit, but this song showed me I was here for a reason. It wasn't a huge hit, but it was the song that kept me encouraged to keep going and reach for bigger and better.
A personal favorite of mine that you wrote is "True" for Brandy. Could you give me the background behind that song and what it was like working with Brandy on that track?
"True" is a song I did with Red One (Lady Gaga). We worked a lot together, both him and me and Lady Gaga all together in New York in the studio. At the time, we were like "let's dream big" and at the time, Michael Jackson was looking for songs and I wrote "True" with Michael Jackson in mind and if you catch the demo, it's very much a male record at first and the opportunity kind of past. Then Brandy's A&R Brandon Creed heard the song and was like "this would be great for Brandy" and I'm a huge fan of Brandy's voice, always have been. So I jumped at the opportunity, so Brandy went in and we changed the key, changed a couple of words so it made sense for her and made it honest to her point of view. And let me know tell you, Brandy is one of the most amazing singers because she can sing like nobody else. Perfect vocals, perfect emotions, she brought that song to life very easily. It's actually one of my favorites too. I wish it would have been a single.
I know you also wrote Musiq Soulchild 's new single "Yes". Tell us a little about that song.
I kind of chuckle about it because I like to keep people guessing. I've done a lot of things across the board from pop to rock. People don't expect me to do a song for someone like Musiq Soulchild, but I'm a huge R&B fan and I sing R&B as well. So the label was looking for songs for Musiq and I was like "I'm going to get my hand in it, I'm a huge fan of his". So it's a song that I wrote for him, kind of what I felt like where he would need to be as an artist and what I would like to hear for him. Musiq's always been great at being the honest male perspective, like he's not going to talk about the money or the clubs or the girls, he's always talking about uplifting women or the realities of relationships. So it's really a song about reassuring a woman that she shouldn't have to be insecure because "I still love you and I'm still going to be with you no matter what" and who better to say that than Musiq?
Another song you wrote is "Pieces of Me" for Ledisi. Tell us about that one too.

Ledisi is like my little buddy. We actually knew each other on Twitter before we knew each other in person. I've met a lot of good people through Twitter. She hit me up after I had done "Bittersweet" for Fantasia and wanted to work with me. And for her, she's been labeled as an underground sensation and she really wanted to work out at breaking that mode and doing something bigger. So I was definitely a fan of her sound, but I wanted something that was going to put her on a bigger stage. So we talked and at every session, no matter who it is I ask them what's going on with them and ask what they want to talk about. She basically said to me, "I feel like people only know one part of me. I feel like this is who I am; I always have to be smiling and always have to be uplifting. But that's not who I am every day. I can do everything, but I'm happy sometimes and I'm sad, sometimes it's hard and sometimes I'm frustrated." From that, I thought let's talk about all these different pieces of you and you want people to know and respect every part of you and that's pretty much where the title came from. "People don't know what I'm about". Exactly what she said and she didn't even know I was listening to her that carefully but I was writing down what she was saying and studying, and after that song was done, she sang it so emotionally that she was near tears when it was done. It was so true to her life and time. She's gone beyond in thanking me and letting me know how I was able to help her be honest in a way that was commercial as well as true and musical for her. I have a feeling that song is going to do very well and I think she's going to blow up.
Both songs that I mentioned are strictly R&B, but you've also penned some of the biggest pop hits in the past couple of years for artists like Britney Spears, Miley Cyrus and Bruno Mars. How do you kind of shift gears from writing R&B songs to pop songs?
For me it's not really a shifting of gears. I really grew up listening to that wide range of music as a child. I have old mixtapes where I would have Nirvana and then the next song would be TLC and then would be Biggie and then the next song would be Alanis Morissette. So for me, it's all about the melody and something that's hitting me emotionally, doesn't matter what the genre is. So it wasn't really a problem for me to write "Circus" for Britney Spears and then do Fantasia. For me, it comes from the artist themselves and who they are and their personality and that dictates the kind of song I write. It's fun for me because writers are put in a box like R&B writer or Pop writer or Jazz writer and I've been able to define those odds by doing whatever the hell I want to do because I can and I like it all. And that's the legacy that I hope to leave because I wrote "Party in the USA" but I also wrote "Because Of Me". And it's no harder to write a pop than an R&B record, it's a challenge no matter what you do every single day and it's an honor to do everything that I want to do and on my own terms.
Is "commercial success" in the thinking process when you're writing a song?
Never. In fact to point I can tell you that I can never tell when a song is going to be a hit. I have no clue. I can hear other people's songs and tell you it will be huge. But when I'm writing, I never have a clue, even after the record has been cut and even after they say that it's the first single. I just have no perspective of what is going to work commercial. Even the songs that we've mentioned so far, I have no idea they're going to do well.
Does it affect you at all when a song that you've written does not perform as well commercially as you would have expected?
It's disappointing when people haven't embraced it the way you embrace it. It's almost like having a child and having people telling you it isn't as talented as you think they are. But I promised myself I would never put anything that I would be ashamed of or not happy about out. So with that in mind, I'm never disappointed about by how the song performs, because anything commercially is beyond my control. That's up to marketing, timing, video, imaging, that's the part of an artist's career that I don't touch. I can only write the songs as amazing as I can possibly make it.
And are there any songs that you've written which you felt would have done better on the charts?
I did a bunch of Christina Aguilera records that got penned before people even heard the album. I didn't write the single, but I wrote a song called "Prima Donna" which I felt was amazing. It should have been better received had it got to that single. The work I did with her was pretty extensive and I felt we did some cool stuff and it didn't get out there the way it should have got out there. Apart from that, I'm pretty happy. Actually, I wish "Hold My Hand" would have done bigger than it did. It did very well worldwide but I wish people in America would have embraced it because I felt it was a real heartfelt, honest song. But apart from that, I'm really happy about how the songs turned out so I can't really complain.
And of course, when a song does do well on the charts, the songwriter is usually the last person to be acknowledged. Does that bother you at all?
It used to because you want to be acknowledged for the hard work you do. But I found that I do get acknowledged a lot. I'm grateful that I'm getting acknowledged more than I used to. And I make sure to speak for myself. If I write the song, I make sure to let people know that I wrote it. I'm proud of the work that I've done so I'm not going to hide it or pretend I didn't do it. But the more involved you get, the more people will give you the credit you deserve, so it's come to a point now where people are excited that they got a song from Claude Kelly and that's where I wanted to be.
You've been the victim of having many of your songs leaked onto the internet. How do you feel about that?
Well, it's a double edged sword because I take a lot of pride in how people perceive records so it's very frustrating when things get out before they're done or before they're cut. On one hand, you understand who loves my music and loves the artist I'm working with and are so excited to hear and they can't wait and they'll do whatever it takes to get it, so in that way it's flattering. But in another way, I wish people would wait so everyone would enjoy the songs the way I want them to. On the same token though, I've got a lot of fans of songs that have leaked that I never would have thought would have even liked and some of my songs got placed that way as well. I don't encourage leaking or hacking, I hate it. I recognize it's a sub culture and I still receive and accept all the love of songs that people have heard on YouTube and other sites.
You've worked with some of the biggest names in music history from Britney Spears, Christina Aguilera, Michael Jackson, Whitney Houston and Backstreet Boys, what would you consider to be the highlight of your career so far?
Michael Jackson and Whitney Houston are two of my favorite artists so having my name associated with them in any way is an all-time highlight. I didn't actually get to work in the studio with Michael Jackson, but having him on a song that I wrote was good enough for me. I spent a lot of good amount of time with Whitney Houston and she was more than I could have expected or imagined as a mentor and as a friend. She gave me a lot of advice and she shouted my name and let people know that I wrote the songs. That was a huge highlight for me and I don't think it gets much bigger than that. And I just had a blast with every artist that I worked with.
Who is an artist that you haven't worked with yet that you know if you got the chance, you know you could write a hit for?
I really want to write a hit for Mariah Carey, Pink, Usher, Janelle Monae, Green Day, Gwen Stefani and Avril Lavigne. Also Rihanna, I love Rihanna.
There are a lot of talented songwriters all around the world, what do you think it is about you that has turned you into one of the first writers labels call on for a huge hit?
I think for me, what people get is the melody first. I'm a melody person. I don't follow trends or really care what anyone else is doing. I try to write songs that are honest and are like musical therapy.