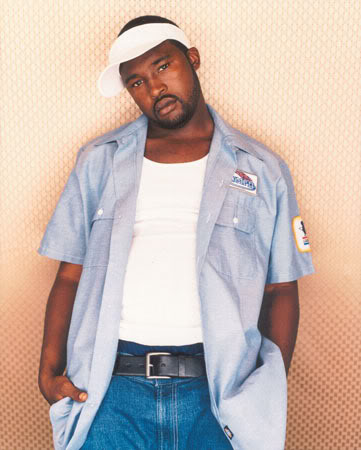 YouKnowIGotSoul in conjunction with StaticIsMajorMusic.com and Tim Barnett did an interview with Digital Black from Playa to talk about what he's been up to lately, his time spent in the group Playa, what it was like working with Static, and if there will ever be another Playa album.
YouKnowIGotSoul: What have you been up to since you released "The Autobiography of Benjamin Bush" a few years back, what have you been up to?
Digital Black: I still do a lot of live stuff. Just getting into doing a lot of music. I've got a Gospel project I'm in the process of releasing. I've been doing a lot of Gospel stuff. Just staying busy doing music in general. Trying to get it done by the end of April. The name of the group is called Totally Dedicated. I've got some of the stuff from the album on our website. I feel like people need to be uplifted, whatever you can do. I wanted to do something a little bit more personal.
YouKnowIGotSoul: Take us back to Da Bassment and what the whole experience was like.
Digital Black: It was like college, like a musical college. What you had was the dopest artists. Everybody in the camp was dope at what they did. You might not be a dope writer and could only sing, but you'd be around a dope writer so you were able to upgrade your skills being around them. You go from one room with DeVante, you got Darryl Pearson in another room, you got Dalvin & Stevie J. You got Timbaland in a room. You also got Missy bouncing around. Ginuwine, Magoo, Sugah, Sistah. It was like college. It's where we honed our skills at. When we first got with DeVante, we were just writing a little bit. But in Da Bassment, he was working on Jodeci's last album, he was spending a lot of time working on that. So it gave us a lot of free time to mess around. We learned how to produce and start writing.
YouKnowIGotSoul: Tell us about Playa's second album, we thought it was called "Throwback Legendz".
Digital Black: Not to sound biased, it was probably the dopest R&B album ever to not come out. A lot of classics on that record. For us, it was about portraying out styles. We had success with Aaliyah, Ginuwine, Nicole Wray and different people. It's like can't nobody sing your songs better than you. For us it was putting the sound out that was all over the charts.
YouKnowIGotSoul: When you listen to the "Cheers 2 U" album, which most consider a classic, how would you compare the sound of "Throwback Legendz".
Digital Black: We always feel like we are trying to prove ourselves. The first album, we were trying to prove ourselves as writers to our A&R at Def Jam. The second album, the motivation was to show we were the dopest R&B group in the business. You could hear the growth in the writing and also the maturity. It was like going from boys to men. We always needed a challenge and the challenge for us was to do something nobody could do. We were looking for the classic sound that felt like it was heard before but it was new.
YouKnowIGotSoul: What are some of the songs that were going to be on that album?
Digital Black: "Lust", "Ride 4 Me", "Ya Girl", "Gravy Train", "Grateful", "Don't Be a Stranger", "Hollywood", "We'll Meet Again", "Halfway", "Don't Think They Know" with Aaliyah. The album is crazy, you could put the album in now and it doesn't sound dated. Just the way the music was put together.
YouKnowIGotSoul: What was the reason that album never came out?
Digital Black: I would say two parts. 70% was our fault. 30% was management and labels fault. We controlled our own destiny. In this industry you get around a lot of people you trust. And put in position that you trust them to do the right thing and give the right guidance so you can make a good decision. Along with, we were making a lot of money writing. We were definitely focused on putting out that Playa album. 5 years ago you could ask me whose fault it was, and I'd probably say something else. But to be totally honest, you control your own destiny. We made some bad decisions for the group Playa, but that were good decisions for us individually. You take 3 years off and it's tough getting back to the mainstream. I think we ran out of time. Over the years we got so frustrated and it was time to let it go. The album was something we always to do. You leave one label and go to another. The legalities, you get caught up in different people's beef and stuff. You throw that all together and that's definitely a recipe for not putting an album out.
YouKnowIGotSoul: Talk about the song "Gravy Train".
Digital Black: The meaning behind it was everything was good. What's crazy is, Playa coined a lot of phrases we should have trademarked! We didn't because we weren't thinking of it. It was just how we normally talk. It just means everything is gravy. The song came about in Australia. They say no worries, so our way of saying it is gravy train. We were good at putting our life on paper.
YouKnowIGotSoul: Talk about some of the featured artists the label wanted on that Playa album.
Digital Black: Ludacris. We said no. Ludacris is my dude, but at the time…we always had a chip on our shoulder. Our reason for not putting him on there wasn't because we didn't think he was dope, but because we didn't want him to overshadow us. We're always linked to somebody, whether it was Missy, or Aaliyah, or Timbaland, and this was our opportunity to show the world it was us. It could easily turn into a smash Ludacris song. We didn't let them put him on the record. Another record they were super crazy about was "Ride 4 Me". That was Def Jam, Kevin Liles and Lior Cohen. They begged us to give them that record. But again, we had a chip on our shoulder because of some things that happened on our previous album. But it was because Def Jam was new to R&B, and it was a constant pull. We had one of the most powerful men in the industry sitting in front of us begging us for a record and we said no. We had opportunities to put the album out. "Ride 4 Me" is another phrase we should have coined, because after us, Usher and Puff Daddy came out with the song "I Need a Girl to Ride".
YouKnowIGotSoul: Will there ever be another Playa album with you and Smokey?
Digital Black: That's something we've been going back and forth with over the last 2 years. We get close and then for whatever reason it doesn't happen. I'm going to go on record and say we should get together, with how special we are together. That's something you can't deny. I would never be opposed to doing it. I'm always going to be Playa. I call my group The Gospel Playa. I will always be associated with that and never not want to do. It's just got to be the right situation. I know we are dope separately, but we are that much doper together. If enough people make noise, it might be something we can put together. I think it's needed.
YouKnowIGotSoul: What is your favorite Playa song of all time?
Digital Black: If I had to boil it down. It was a song we did back in Da Bassment called "Prove it all to You". It's probably the dopest love song ever written, such a beautiful song. Other than that, "Ride 4 Me" because when you hear the title you think of something ghetto, but it's a song everybody could feel it. When I hear it now, I get goosebumps. The list goes on and on. "Cheers 2 U", "Top of the World". All the songs we did are pretty special, they are like my children. "Don't Be a Stranger" too, that was the epitome of what we were trying to get across with the "Throwback Legendz" album.
YouKnowIGotSoul: Share some memories of Static Major as a person.
Digital Black: The thing that pops into my head above all other, my son plays little league football. It was my son Ben's first game. I mentioned it to him. I totally forgot to remind him. I wasn't able to check in and talk to him. He was either on his way back or something. I'm on the sideline, and I look up and here comes Static. That meant a lot to me. That's another moment. It let me know that he loved me. He's a busy dude. Not only a super producer and writer, but a husband and father. For him to hear it one time and remember, it meant a lot to me. It was one of the most caring things he could have done. He was there for me. To know Steve, he was a standoffish kind of dude. We were the liaison to a lot of situations. It was like a buffer. If he wasn't feeling you, he wasn't feeling you. Most of the time, he wasn't feeling you first. He was just a good dude, if you knew him. He was at his best in the studio. If you seen him there, you knew that was where he was meant to be. Dude was meant to be in front of that board. My favorite moments were watching him light up when an idea popped up. It would be 4:30 in the morning and we'd be ready to go home. We are working out the door and something clicked, and we'd be there until 7 or 8 the next morning. We had a lot of times like that. It was nothing we couldn't tell each other. I miss the conversations we would have.