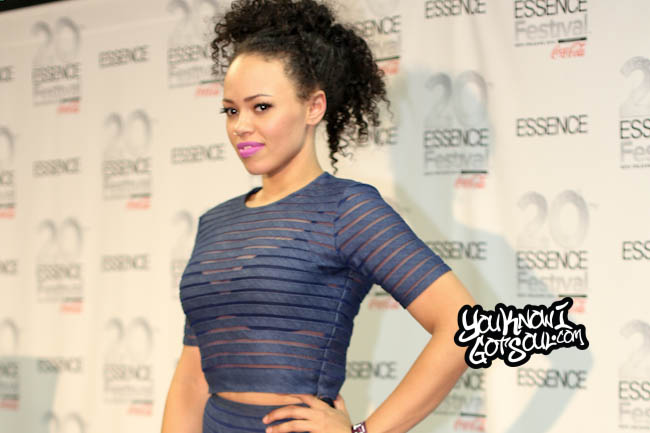 From a young age, Elle Varner was sure she wanted to be a singer, but the path to get to that point wasn't as clear. Even college wasn't a sure thing for her out of high school, but upon graduating from NYU, she was awarded "most likely to get signed" and "most likely to win a Grammy." Four years later she finds herself a well-rounded and cultured singer-songwriter. Currently, Elle Varner is signed to MBK/J Records, a team that recognizes her many talents; from her unique voice complimented by her guitar strum to her potential of becoming one of music's greatest songwriters. A little girl whose deepest comfort was once found in the vibration of the human voice will soon be comforting this world with her highly anticipated debut album. In this interview, YouKnowIGotSoul spoke with Elle about how she developed her talent growing up, her experiences at the Clive Davis Program of Recorded Music at NYU, how she eventually got signed to MBK/J Records, what to expect on her debut album, her sound, and much more.
YouKnowIGotSoul: You grew up as a child of two published songwriters and spent a lot of your early years in studios. When did you first realize you wanted to become a singer for a career?
Elle Varner: I think it was one day when my dad was producing for some girl and I was 13 or 14 and I told him the song he wrote sucked and I didn't like it. *Laughs* So he told me to write something better and he left me in the studio for an hour and a half and came back and I wrote a song and sang it and recorded it and everything. He knew I could sing, but he didn't know that this was ever going to be something that I wanted to do; after that it was really clear.
YKIGS: Did that song ever end up getting used?
EV: Yeah, the girl used the song. After that my mom started asking me to help her with her songs because she had a different kind of deal than him so she had to turn in a certain amount of songs a year, and she'd be like "So what do you think I should put here?" *Laughs*
YKIGS: Musically, who were some of your influences growing up?
EV: Growing up definitely would have to be Ella Fitzgerald, Chaka Khan, Aretha is a big one, Stevie Wonder, and I started listening to Bob Dylan later. Growing up was a lot of soul, r&b, classic, Motown basically.
YKIGS: Years later you were admitted to NYU as part of the Clive Davis Program of Recorded Music. What was that whole experience like for you?
EV: It was crazy. When I applied to school, my dad told me I had to go to college, and my mom told me don't go to college unless you absolutely know that it's what you want to do, and don't feel you have to go just to go. So the only thing I wanted to go to college for is recording and production, so I only applied to two schools. I had a C average in high school so I knew I wasn't going to get in, because I had applied to UCLA and NYU. When I got that package from NYU I couldn't believe it. *Laughs* It was a great experience, moving to New York and just being young and on my own having New York City as your campus. The professors that I got to learn from were just the top that they could possibly provide me with, and now they have Swizz Beatz there too. It was the best and I really loved that experience.
YKIGS: So you mentioned you only applied to two schools and you had a C average in high school. What was your backup plan if you didn't get into either school?
EV: *Laughs* At the same time I didn't think that I would get in, I also never thought anything else was an option. I never kinda gave myself a plan b and so I just thought it was what I was going to do. I probably would have just started my career right away, but I'm glad I waited! *Laughs*
YKIGS: So after graduating, you were awarded the distinctions of "most likely to get signed" and "most likely to win a Grammy". Then four years later you did get signed. Tell me what led to you signing your deal with MBK/J Records.
EV: It was really crazy. I was working coat check at Santos, a club in New York, and this guy came up to me because they heard me playing my guitar when it was slow. He told me they had a studio and asked me if I had any music online so I sent him to my MySpace page. He ended up playing it for his manager, who I met with the following day and they really wanted to work with me, they didn't want a contract, they just wanted to work with me. I told them that was fine, but one thing I was very strict on is I didn't want to take any label meetings until I had at least three songs produced and finished because I didn't want to go to a label and have them pick me apart and tell me how I should song and look. So I wanted to have a package before I went, and they agreed. Then about two weeks later, they mentioned there was a place they wanted to take me to meet with some friends of the family who just really wanted to hear my stuff, it wasn't official, no label involved, so I agreed. I went to the meeting and it turned out being MBK. So this guy who was basically managing me at the time didn't know that MBK was a management firm. So I went there and played for everyone at MBK and at the end of the meeting everyone was talking across the table and it was so awkward because it was one guy and his partner, and another guy I had met the night before. So as everyone was talking across the table, Jeanine from MBK asked me to give her the link to my Youtube page and she gave me her card. I didn't really know what was really coming, but she contacted me after I had e-mailed her the link and said "Look, you have it, we want you and that's that. We can do this thing right away." It was hard because I felt really bad; these guys really wanted to manage me and really wanted to be a part of everything, but I had to let them know this was something I wanted my whole life, and I couldn't pass it up over my emotions and feeling bad. So the next week they took me to J Records and I played for everyone and I got signed the next week, it was crazy.
YKIGS: Talk to me about your voice and your style of music since you have a unique style. How would you describe your style of music?
EV: I would say it's urban, quirky, r&b, soul. It's different, it's r&b but I play the guitar and so there's sometimes a rock influence, there's sometimes a really classic influence I'll pull from older music by updating it and making it current. But overall it's just a fresh new sound.
YKIGS: You developed a talent for writing as you mentioned early on in your life. Can you talk about your writing process when you're putting together a song?
EV: It varies a lot actually because sometimes I wake up at 4 in the morning and be half asleep but just grab my phone and hit record. I'll wake up the next morning and It'll be a whole song, I won't even realize that I'm doing it. *Laughs* Sometimes I'll just sit there and literally a whole song will just come out like it was already written and it just came through me but sometimes I don't even feel like I wrote the song. Then there's other times when it becomes work as well because at this level it's not just a hobby that I do when I feel like it, I write as a job. So when it's that kind of writing I try to be as visual as possible, I try to get the basic idea of what the concept of a song is and then use a lot of word substitution. For example, I would say "What's a better word I can find for something that's simple and generic?" I just kinda keep doing it and doing it until I feel like I have it, and that's about it.
YKIGS: Tell me about what you're currently working on. Do you have your debut album in the works?
EV: I do! I'm at the end, this next month or so I'll wrap it up. What will happen is you make an album, and you want to record so many songs because you want to really get a sense of what the sound of the album or what direction we're going. You could literally record forever and ever because every time you write a new song. Like what's happened with me, I've been working with these particular producers Oak and Pop and once we started working, the production and writing combination just trumped every song that I had before. *Laughs* Some of the songs that I came in with when I got my publishing and recording deal that everyone was so blown away by, they're now 25 times more blown away by the new stuff. So that will continue to happen because talent evolves and you keep getting better and I don't want to keep going on forever and ever with this album. *Laughs*So we're wrapping it up, it's time.
YKIGS: When do you foresee the album being released?
EV: I see it being released in the fall, towards the end of the year I'm hoping. I'm hoping not much sooner only because I want to really get enough time out there to establish a really, really wide audience. I feel bad because there's such a demand among the people that follow me now and it's such a core group, and those are my people and I know they've been waiting so patiently. But at the same time, three thousand people is not going to cut it, you've got to get out there, you've got to get the singles out, so when it's three million, let's give them an album! So basically I want to set up a few singles in the summer and spring and then drop the album.
YKIGS: Who did you work with on the album in terms of producers and features?
EV: For features, I honestly wouldn't be mad if there weren't any features. One of my favorite albums of all time is "The Mis-Education of Lauryn Hill" which didn't have any features and I don't think Alicia Keys' debut album had any features either, but don't quote me on that. I feel like features become such a big thing these days to where sometimes it overshadows one person or another or you get a feature and because you're not established, the person is not going to give you their best. Why would this huge person give me the verse they could put with Eminem or Rihanna? So it's a possibility of features, but if they are, it's probably going to be rappers. I'm not sure who, I can't say…well I know who but I can't say. Production wise, I've worked with Alex Da Kid, he produced "Valentine", I've worked with Al Shux who produced "Empire State of Mind", I've worked with all kinds of people. I've worked with Oak and Pop, I've worked with Bink, I've worked with Syience, I've worked with Salaam Remi. Also my dad and I, my dad really started the production process, he opened that door for me and then college finished it. I feel like it was something that I started getting into at an early age so we're a production team, anywhere from the track to more specifically on the vocals. It's cool that we'll be getting some songs on the album as well that we produced, so I'm excited about that.
YKIGS: You handled all of the writing by yourself?
EV: Oh yea, all of the writing, all of the vocals and some of the production.
YKIGS: Is there anything you'd like to add?
EV: Nope, just thank you so much for taking the time!