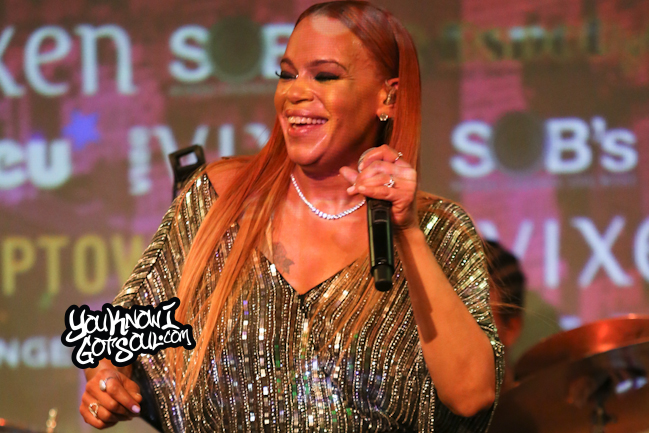 YouKnowIGotSoul was fortunate to chat with one of the most talented female singers in r&b who has been on top of her game for 15 years now, the beautiful Faith Evans. Not only is she an amazing talent, but as you will hear in the interview, she's also a very humble and friendly person which is refreshing to hear. In the interview, we discussed her new album "Something About Faith," how she was asked to executive produce Keyshia Cole's last album, the challenges she's facing now that she's on an independent label, the way she is perceived by her peers in the industry, and her plans for the future of her career.
YKIGS: Thanks for taking the time to do this interview. I'm glad because this is a real treat for me, I've been a fan of yours since growing up, I grew up on your music, so I'm just glad you're still here making that good music!
Faith Evans: Thank you! That's good to hear, that's always good to hear!
YKIGS: I also want to congratulate you on new album "Something About Faith," how are you feeling right now?
Faith: You know what, I can't complain. Things could always be better, but I look at it like the fact that people even care to hear Faith Evans music after all these years, that's definitely a blessing to still be relevant in some kind of way to somebody.
YKIGS: I also have to mention I was at your show a few weeks back when you did B.B. Kings on the day your album released, and that show blew me away, you did an amazing job!
Faith: Oh you were there? Cool!
YKIGS: Yep! You had that place packed and rocking so it was really cool. What was it like performing in front of basically, I know you're from Jersey, so in front of almost a home town crowd like that?
Faith: Right, and that's the funny thing, because it was so many friends and family that I made sure was there, and it just felt like there was so much love, it was like a family reunion. Over the years, it gets better and better but every time I come home it was great for that show to be on the day of the album release and to be at home with all of them in there, because I was having a good time. And I didn't even know that half of the people that were there, were there. If I had, I don't know if I would have been as…I was just doing it for the crowd, I didn't realize exactly people that I knew that were there, that I knew personally.
YKIGS: It was really cool when you brought out Fatman Scoop at the end too, that was a nice moment there.
Faith: Yea, that was good, that was really nice of him to do that.
YKIGS: Your debut album Faith released nearly 15 years ago now and you're still doing music to this day. So besides having that amazing voice, why do you think you've been able to have such longevity in your career?
Faith: You know what, I think I am certainly blessed to be one of the lucky ones. You never know, don't get me wrong, thankfully over the years I have learned I don't measure my success by numbers and sales figures, just the fact that like you just said, to still be making music and even though it's a different walk with independent with the numbers and the dollars, but just to even debut at the number one on any chart, the independent chart, it's like wow! I think maybe aside from it just being a blessing, I definitely try and not overdo it, I just kinda live by my rules and my heart in terms of the time I take between albums, that may have something to do with it. And when I do come back with music, it's still the same good music, I don't try and keep up with a certain pace of what I hear all the time on the radio. With all due respect, and I'm well aware having four kids what is current, but at the same time, I can't deviate from what it is that Faith Evans does that my fans like about what I do.
YKIGS: Yes and that's something I admire about you and your music. With this album, you stay true to that r&b sound you came in with, and as a true fan of r&b, I can really appreciate that.
Faith: Thank you! I appreciate that.

YKIGS: What was your plan going into making this album?
Faith: First and foremost, being in the driver's seat 100% and making for a great, more personal touch with the creative process. I've always…me and my husband have been very hands on in the studio and stuff but even in calling other artists and using the relationships I have, obviously this is my most feature heavy album. But it was all because of the love and mutual respect for me as an artist and vice versa. So that all just kinda came together, it was just a good vibe and a personal touch, the fact that it's like wow, I'm really calling to see if I could clear this sample, and of course I'm ultimately letting my team handle it. But when you do things yourself, it might happen a little faster. So just to kinda answer your question, that was the whole thing, it just kinda came together the way that I envisioned it, but not having done this before in this way, I didn't know it would be, but it's exactly how I wanted it to be.
YKIGS: Do you have a favorite song on the album?
Faith: You know what, one of them is "Everyday Struggle," and "Troubled World" is one of my favorites.
YKIGS: I was actually going to ask you if you can tell me the story behind "Everyday Struggle" and what made you decide to do that like that because obviously we all know you used the same beat that Biggie used on his song of the same name, and I thought it was real cool, so I just wanted to hear the story.
Faith: Yea, firstly I always kinda try and…like even on the song with Keyshia Cole, originally it was written differently and then I ended up like "you know, let me give a subtle throwback to B.I.G., so I put that little "Hypnotize" thing in the bridge. But with "Everyday Struggle," when I was working on my last album, "The First Lady" with Carvin and Ivan, I had told them I wanted to do a song to that beat. They had given me the instrumental for the original record that they sampled for BIG's song. And the funny thing is, when I started working on this album, my little three year old, he always gets to my cd's and dvd's. I couldn't find that track for nothing, and one day he pulled out all of the cd's and bam right on top was the track that Carvin and Ivan gave me. *Laughs* I forgot about it, and I saw it and I started listening to it and I was like ok, and I started coming up with little melodies, and went in the studio. Funny enough, I had just done a song for Harvey Mason Jr. for the LeBron James movie soundtrack. So I said "Oh his father wrote this record, he owns the publishing, let me see if I can get in touch!" So instead of using the actual record, I had my band go in and replay a certain portion of it and I wrote the song and laid the vocals down and decided to keep the title just kinda as another throwback.
YKIGS: Yea I like that you did that, that's a nice touch, it came out good.
Faith: Yea, and Raekwon came in one day to talk to me about doing something for him, the Capone and Noreaga song, and he ended up being in the studio all night, and he just went and laid the rap on it.
YKIGS: I gotta say my favorite song on your album, I think it's actually a bonus track, it's "Baby Lay" and that one to me is just like a throwback to your early work and I just love that one.
Faith: Oh wow! Definitely, we were contemplating not…it was like a lot of songs, but I'm like no they need a ballad, the album isn't super ballad heavy, and that would be a nice little reminder of my ballads. Thank you, oh that's cool!
YKIGS: Yea I've had that one on repeat since the album came out, I love that one!
YKIGS: I wanted to also ask you about your collaboration with Keyshia Cole, you mentioned it earlier, "Can't Stay Away." How did this collaboration come about and what was it like working with her?
Faith: Well I love Keyshia, I have a whole different respect for her, she's like a mini boss. *Laughs* The funny thing is she actually called me a few years ago when I was pregnant with my three year old to ask me to executive produce her album. And I was like wow! We had met before and stuff, and talked, but I was dang you like me like that? I thought that was really dope, but because I was pregnant and looking for a new house and about to move, I didn't really want to take something like that on and not be able to really carry it out, so I had to pass on it unfortunately. But then she called me again, we kinda kept in touch and she called me to do a song on her upcoming album, and by the time we went in to record it, I had written to the song that she ended up doing, and we kinda just did an even exchange type of thing, easy on my budget. *Laughs* It made sense because I like her, and she has her certain audience as well, so it worked out.
YKIGS: That's interesting to me that she would recognize your talents like that.
Faith: I know! That's always interesting to me, you know I don't take it for granted, I don't take myself that seriously like everybody loves what I do or even is a fan. So that was very like wow, I like her, I have that respect for her for even seeing me in that light.
YKIGS: Just out of curiosity, when you run into some of the younger artists in r&b that are out these days, do they show you the same type of respect that Keyshia has?
Faith: Yes! They do, I mean also it's not always the same situation where we end up talking or on that level or working together, but I can honestly say they do, I never really feel they don't. That's something that like I said, I don't take for granted, but it's always a reminder when I am out and about, because I really don't be out on the scene all the time, I got four kids, so it's just when I'm working a record or out doing something for work, I may be around artists. Recently, I've been doing a lot more of course because I've been promoting my record. Even with like an El Debarge, I'm on El Debarge's album, we just did a video for his record and I ended up doing features in Keri Hilson's next video because it's like "Wow Faith, come by my video!" *Laughs* So it's like dang. I don't carry myself with an heir of extra super ego-tism and I think being approachable and it's nice to be nice and I respect other people for what they do as well. So it's not really like it's all about Faith, just when it comes to my music. *Laughs*
YKIGS: *Laughs* That's very fair.
YKIGS: Do you have something picked out for a second single, or are you still deciding?
Faith: I am still deciding. I have a couple of ideas, but I don't know, me and my team are still kinda formulating and trying to figure it out, but we've got to figure it out soon.
YKIGS: In the time off between this album and your last album, you wrote the biography "Keep the Faith" and were nominated for an African American Literary Award. What did that honor mean to you?
Faith: Yea, I actually think I won it, and I was so surprised because I didn't know about it number one, but I didn't heavily promote the book as much as I could, but it was great to see how well received it was. I'm still running into people now that I am traveling a little more, that are like "I got your book," or people coming to my little get togethers, little meet and greets with the book like "I love your book." I'm like that's cool, thank you! I almost didn't do it, I was kinda like I'm not ready to do a book, but then I knew I had some time on my hands when I wasn't going to do another album with my last label, and I decided to entertain the whole offer.
YKIGS: I was also reading you have the reality show "It's All About Faith" coming out soon, how's that coming?
Faith: Actually it's not that show, we just shot a pilot for a show called "The First Ladies" with me and Misa Hylton, Justin's mother, Justin Combs' mom. It's basically kinda about us being friends since back in the Bad Boy days, and just having grown and have families, but it's not about our family. We're now both transitioning into other entrepreneurial ventures, me with the line of hair products, her with her line of clothes and the line of wigs and other stuff she's doing in the city. So I'm kinda just balancing that with having kids, basically kids that's about to go to college. So it's going to be interesting, we just shot a pilot for that.
YKIGS: Cool, I'll have to be on the lookout for that.
YKIGS: I'd also like to know, what do you see as being the major differences in being on a major label as you were for your first four albums, and now being independent?
Faith: Well first and foremost, the dollars are different. But on the other side, a lot more of it is coming to me, and the fact of owning your masters is certainly a plus. But it's definitely not the same marketing machine, so you gotta try and take advantage of every opportunity to play a part in promoting yourself and your team has to do the best they can. But I feel good about…I think for me right now, I'm not saying I would never do another deal with a major, but right now it's just so good for me to have acquired all my publishing back, just make a whole new fresh start. If I feel I wanna do something different, I've done it this way where there's some part of my…I've gotta own my catalog. I need to have the right to do whatever I want to with the things that I've created from my heart and my soul, so that's really the plus in it all for me. Because you never know, I can't guarantee how many units I'm going to sell, and how many dollars I'm going to make, but I have the option to do whatever I'd like to do later on to make those choices and make some more money and go to a Time-Life deal with my music, as opposed to someone else benefiting from that.
YKIGS: Now that you're independent, do you ever find it hard reaching your fan base, since there might be a different type of promotion now being independent than there used to be?

Faith: It certainly is. Even with the whole internet machine and everything, that is such a big cyber world, because some people still don't know I have an album out, and I haven't promotionaly covered some of my biggest regions yet. But instead of me blaming…the first week of my release, I had fans setting up sites like "Your album is sold out, they said two weeks!" I'm out here promoting a record people can't find? I went to store personally and I didn't see any Faith Evans! But as opposed to me looking at it and being angry, I still gotta promote and do what I gotta do, I gotta see the blessing in it, at least people bought it and it sold out, it means they're looking for it. *Laughs*But then on the other hand, I'm still finding out some people don't even know it's out. It is different, it's a different walk, but I did it for a reason and I gotta make the best of it. I gotta do what I can do, instead of stalling things and wasting the energy just trying to keep it together, I gotta pick up and keep it moving. Put on a happy face! *Laughs*
YKIGS: *Laughs* That's definitely a good attitude to take!
YKIGS: I'd like to ask you about a few collaborations you've done over the years that I'm a huge fan of as well, and I'd like to just see if I could get some background from you on what you remember about working on that song and recording it.
Faith: Ok which ones.
YKIGS: The first one is the song you did with Jon B. called "Overjoyed."
Faith: Yes! I remember that! I love Jon B., he's such a cool guy. Actually I've been seeing him a lot recently at the studio too. We did that at his house, and I think he lost everything, I think he had a big fire and lost the house, but I remember recording in his house studio in Pasadena. We actually started dabbling on a few different ideas, but that was the one he already knew he wanted me to do with him. I like that song too.
YKIGS: Very good song. Next is the song you did with Eric Benet "Georgy Porgy."
Faith: That's one of my favorites too! I just did a song with him for his new album too. He called me his last album, and I think I was pregnant or it was something weird where it was a crazy time and I couldn't make it happen in time. That's like my boy, I feel like he's my brother just from the first time when he came, I think that was before Motown Live which at the time he sat at the entire rehearsal for two hours waiting for me. And I had never met him, I knew who he was, and he said "I need you to get on this song with me." And I think we went to the studio the very same day. *Laughs* I was just honored like, "Really? You like me??" *Laughs* And I love that song.

YKIGS: That's cool that you're so humble about it.
Faith: I mean like I say, it would be kind of embarrassing to be like "Oh my God, I know yall love me!" and they would be like "Who are you again?" *Laughs*I've always kinda been that way, I know so many talented people that may never even see the light of day in terms of being a well known artist. I think there's so much talent in the world it's hard to measure, so I certainly wouldn't try and measure myself and think I'm better or less than, I am just me and I definitely try to appreciate when people receive my gift. That's really all I can do. *Laughs*
YKIGS: That's very fair. The song you have with DMX "How's it Goin Down."

Faith: You know what, I don't think I got to record that song with him. But we did the other song, I think we were in the studio together. No no no, he came to my hotel in Miami at three in the morning and made my husband wake me up to tell me about that joint. *Laughs* And he wanted to record with him actually, I remember it. That's like a real nice little…people like that joint, hip hop heads like that one.
YKIGS: Now I gotta ask you about the song you mentioned earlier which is your new collaboration with El DeBarge "Lay With You." I'm loving that song, tell me about it.
Faith: Oh that's one of the times when I was really nervous in the studio, because that's El DeBarge! *Laughs* You're an r&b head, so you understand, so I was nervous. I'm used to being in the studio with just me and my engineer and maybe my little few people I may write with and work with. Ron Fair is amazing, so they made me feel really comfortable but I was just like "Wow, that's El DeBarge!" But that song came out amazing, like what I hear what they did with it, just to know how nervous I was when I was in there singing it! *Laughs*
YKIGS: Yea I love that song, I think it could be a big hit.
Faith: We've been doing a lot of stuff together since then, he and I keep in touch a lot, I always send him little messages, a prayer on the road, be safe, God bless. He's a sweet guy, El is a really cool guy. Just imagine that before I was anybody, Faith Evans the artist, I would really used to read all the credits and look at the pictures like "Oh my God!"
YKIGS: There's a song I wanted to get some background on, it's from the Biggie duets album it's called "1970 Somethin." I believe the chorus was written by Static Major who I'm a big fan of, and I was wondering if you had the chance to work with him on that?
Faith: I didn't, they had actually had the demo done because a lot of the vocals were done in a lot of places with the artists. So it was already demoed when I got it. I think I was working on something too, my last album, and I did that while I was in the studio working on something else.
YKIGS: Did you ever have a chance to meet him at any point in your career?
Faith: I met him but that was when they were still together as a group when I used to be with Missy a lot, I think they may have come to my apartment with Missy a couple of times. I wanted to work with him on my last album really, really badly and we almost…I think he wrote to a track I sent him and we weren't in the same town, I wanted to work WITH him. But he was such a talent.
YKIGS: I've mentioned all of these collaborations, but you've also made collaborations with the whole Bad Boy roster from back in the day like 112, Carl Thomas and even Puffy. I know you recently did a song with Slim from 112 for his solo album, but do you ever see yourself in the future collaborating with these artists again?
Faith: Yes, actually me and Carl have been in touch quite a bit, we're definitely going to do something together because he's working on his new album too. But we kinda keep in touch over the years. Me and all of the guys of 112 are still cool. Me and Q are actually about to do a song together for his album. I'm cool with everybody for the most part unless they have a problem with me, I don't like having confrontational things with people. I've always kinda been pretty much cool with everybody, I don't have any hard feelings. Me and Puff are cool.
YKIGS: Speaking of Puff, what was he like in the studio in terms of the control he had over your music. Did he really just let you do your thing, or was he trying to guide it? Tell me about that.
Faith: He knew what he was doing. If it was an artist, and I'm not saying I know who they were, but I'm sure there was an artist he couldn't just leave in the studio, he would make sure there were writers or something there. But I was one of the artists he definitely knew I didn't have to be in the studio with him to make a hit record. I would sometimes call him and see if he liked the direction I was going in, but for the most part he would be like "Play it over the phone, I love it! Nah you got it, it's all good!" But he knew that much, for him to know that. I was definitely always pretty much in the studio, I don't want to say in control because I didn't take that position back then so much, but I was definitely much a producer myself and as opposed to taking that credit for it, not that he didn't play a part in the overall production of the song, but I was always producing my vocals and just me and whoever did the track and the engineer. And then when the track is done, just me and the engineer. Back then I really didn't even write with a bunch of people. Like now, I'm a lot more willing because this is the time of it as well because I have a family. So I write with other people and I do work on my material and it allows them to get a chance to get their names out there and me help them with getting their publishing game together, stuff like that. Which my next book is kinda gonna be about, stuff like that. Because I'm always kinda trying to point people in the right direction. They're like "You should write a book about that!" *Laughs*
YKIGS: So you're working on another book currently?
Faith: Yes, actually I just kinda started on the prologue for it. But it's kinda like going to be a handbook, I guess an informational companion from like the artist/writer/producer perspective. Just the things that I've learned. There's a lot I still have yet to learn, but the things that I do know quite a bit about because I've been very hands on with it over the years by trial and error.
YKIGS: How long do you see yourself continuing to make music into the future?
Faith: Hmmm. Right now I can't see there being an end to it, for as long as I have that drive in me and that passion to do it, and people are out there like "Faith when are you coming back, we need some more music!" I'm going to keep doing it. I definitely have plans to start working on my next album very soon, I'm going to surprise my fans. They'll think it's gonna be another few years, but maybe not. I tend to make decisions based on not those things, just on the things I have to deal with every single day regardless of whether I have a record deal or not, to whether I could sing or not. I appreciate them for understanding that, and maybe that helps too with my being able to still come back, because some people do have a heart and do understand those things! *Laughs*
YKIGS: Well speaking on behalf of your fans, please never stop, we want to continue hearing you forever! *Laughs*
Faith: Oh please trust me, as long as someone like you who's even on the other side, but you still are a fan of real music and you're an r&b fan obviously, that gives it a whole different perspective. It's like ok, I'm sure if I saw you in the street, it would be the same thing and I didn't know that you were a journalist. So that's a wonderful thing. You never know how you touch people.
YKIGS: I want your opinion, do you have a favorite of your albums you've made throughout your career?
Faith: Ummm….I think I have yet to make that! That would be the best answer.
YKIGS: That's very fair! That's actually all I had prepared, is there anything else you'd like to add?
Faith: Did I mention I'm launching a line of hair products? I kinda mentioned it, but that's kinda part of what the show's about too, I'm going into business with my friend Richard Glass, he has a line of hair products called Glass hair products. Right now for styling products, but they're amazing, and I'm kinda joining forces with his brand to kinda help launch it. Oh I'm starting the biopic about Florence Ballard. I was chosen to play the lead in that movie and it starts filming in January, and I'm excited about that too.