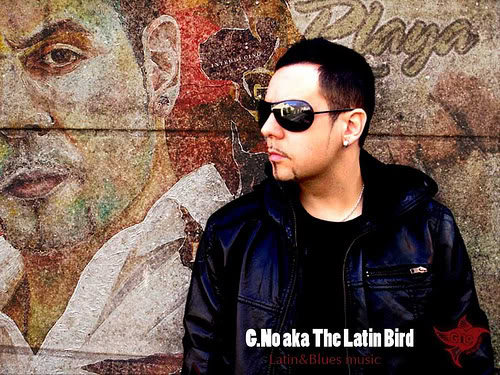 YouKnowIGotSoul caught up with G. No "The Latin Bird" to talk about being signed to Smokey E. Digglera's label, singing in four different languages, the universal power of new jack swing and r&b music and the genre he's created of latin r&b.
YouKnowIGotSoul: From Reading your bio, you have roots in Spanish & Italian, but are a French singer. How many languages can you speak, and how many languages do you sing in?
G-No: That's right, my mother is from Barcelona, my father is from Gioia Del Colle, Italia like Sylvester Stallone *Laughs* and I was born in Paris (France). I speak French, Spanish, English and I understand Italian. My next album includes these 4th languages.
YouKnowIGotSoul: When did you first realize you wanted to become a singer for a career?

G-No: I can tell you exactly when, in 1993, because that's when I saw for the first time on MTV, I had cable that year, all these new jack singers. It was amazing to see hip hop people singing and not rapping. I wanted to be the first French new jack singer. I had a trio called Safyr, we were imitating H-Town, Jodeci…

YouKnowIGotSoul: What is the r&b scene like in France, and what made you decide to start singing in this genre of music?
G-No: There are many French rnb singers but it's teenager music. I've hosted a DVD in 2004 for Warner Music called "RnB Invasion," you can see all the main actors of this genre in it. I decided to sing rnb in French because at the time no one was doing it! I've never been to church to sing gospel, so I had to work much more than any other typical rnb singer.
YouKnowIGotSoul: In terms of singing and writing music, where do you say you draw most of your inspiration from?
G-No: I'm more and more focused on my true life when it's time to write lyrics. I've never understood how singers can sing words they're not living.
YouKnowIGotSoul: Where does your name "The Latin Bird" come from and what does it mean to you?
G-No: Well G.No is short for GardeliNo, it means a bird in Italian. My father gave me that name one day because with my pento in my hair, De Niro style, I was looking like a wet bird. *Laughs* Seriously, I'm really feeling like a bird in a cage, I sing all day and I'm trying to escape, by that I mean to reach Libertad. And I'm also Latin, but not Latino.

YouKnowIGotSoul: Eventually, you would sign with Smoke E. Digglera's label Bittersweet LLC. How were you discovered by Smokey and how did he sign you to his label?
G-No: Well I was writing a book about black music, which will be released in 2011. In 2005 just after the release of my first album "Evazion," and MySpace was the shit, I saw in a forum called http://www.facebook.com/l/87f41;rnbworldmusic.com that the members of my favorite rnb group ever Playa had a page. I first called Smokey for a phone interview telling him I would love to work with him. And some weeks later, I sent my song "Senorita Sensual" to my mailing list. Smoke replied saying "I LOVE it" and wanted to do a remix of that song. I was in my room, alone, and damn, I couldn't believe one of my idols was loving my music! The other members of my group Safyr had given up music and my album was not selling that much, but that special day I finally had a reward for all these years. So he told me he wanted to work with me, I went to Louisville Kentucky in September 2006 for a test and he signed me to his label. The rest is in Youtube and in the DVD "From Paris 2 Louisville." That release is coming soon, including 45 minutes of interviews, rare footage, etc.
YouKnowIGotSoul: Please tell me a little bit about working with Smoke as an artist, and how he has influenced you.
G-No: In 2006, when I met him, I had a precise vision of my music: I wanted to mix my Latin roots and true rnb, but technically I hadn't got the skills to do it! Smoke is, with the late Dino Conner, Aaron Hall or Gary Jenkins, one of the most incredible singers I know. I had no choice: I had to work WAY more to be able to sing the songs he gave me. The way he harmonizes is true inspiration. When we were recording the chorus of "Run 2 U," he told me "Feel free, just put all the notes that fit, that's how I do, it can be 4, 6 or 12 harmonies, no matter!" Listen to the chorus of tracks like "Dangerous" of Dalvin Degrate and the album "The Show, The After Party, The Hotel" by Jodeci, you will recognize the voice of someone not mentioned in the credits. Smoke is one of the best and he's bringing the Jodeci/Playa vibe back; that's why I'm happy to work with him. A track like "Someone 2 Luv Me" is Latin & Blues: harmonies and music are like Jodeci, and I'm bringing the Latin vibe. And now, four years later, I know how to harmonize!
YouKnowIGotSoul: I've seen some Youtube videos of you with Smoke in the studio singing, particularly Smoke singing his song "Thru It All" and you singing backup. It looks like you guys have a lot of fun with this. Tell me about these videos and experiences.
G-No: What you see on Youtube was at 3 or 5 in the morning, after some bottles of Hennessy, that's why I'm sometimes flat *Laughs* It was an extraordinary experience, we were like rock stars singing all day, recording. One of my best memories was when I sang "Cheers 2 U" with him. I was tired because I couldn't sleep with the jet lag, but I had to sing! And I'm someone who never gives up, I recorded most of our songs there very quickly. The DVD is the full story, if you feel what we lived there, cop that documentary right now!
YouKnowIGotSoul: What is it like being signed to a record label based out of the United States, but being located over in France? What are the major challenges?
G-No: With the internet, Facebook, or Skype, it's like there is no frontiers so we speak very easily about our projects and I have Pro Tools at home to record the songs. The only location we gotta be today is in the social networks, that's where millions of people and potential fans are all day. But we're trying to find shows together. I really wanna tour. If you wanna book us, conact contact@gardelino.com
YouKnowIGotSoul: I've heard songs of yours in various different languages. Do you have plans to concentrate on singing in one language in the future?
G-No: No I'm loving so much to be able to touch people from everywhere that I won't stop. I've got people loving my music in Australia, Spain, USA, South America, Asia, etc. To sing in different languages is a true power to touch people. I'm choosing Spanish for club songs and French for sad songs. That's just how I feel it.
YouKnowIGotSoul: I believe that your style of music, which I would call latin r&b, is definitely something unique in the industry today. Comment on what it's like pretty much being in a genre of your own.
G-No: Well, it came naturally to me. I didn't say "I'm gonna create a genre" but my origins mixed with the music I love gave Latin & Blues, or Latin and Rhythm & Blues. Tony Sunshine and some new Spanish singers are making rnb in Spanish now, but I'm the only one to mix the Playa sound and Latin roots.

YouKnowIGotSoul: I heard the tribute you did to Static Major with your version of "Ride Till The Wheels Fall Off." Did you have an opportunity to meet and work with Static Major?
G-No: No, I didn't meet Static. But I've made an interview through MySpace back in 2005 that I will publish in my black music book. And Smoke gave me a Playa song includes a Static verse that I recorded, it's in my Mac but I can't release it just yet!

YouKnowIGotSoul: What made you decide to do this tribute to Static?
G-No: In 2010 many people are still Static fans. But who was a Static fan in '95? Me! *Laughs* When I heard his rap in "Gin & Juice" with Devante I said damn, who's that cat? And then when I realized it was the same Static in Playa in '98 with this soulful voice, I was truly impressed. My tribute to Static is like a tribute to the Jodeci era. He confessed to me in that interview that "Da Bassment was like Motown in a whole new level". He was right, rnb became number one on the pop charts with Aaliyah and Timbaland. I would like people to know who the creators of the rnb we know are: Devante Swing, Smokey and Static among others. All the singers I've had the chance to talk to, from TQ to Day26, know who they are and they're fans of their work. And the second reason I'm singing a tribute is because he was the brother of my brother Smoke, and I'm trying, my way, to keep the legacy of Playa alive.
YouKnowIGotSoul: Tell me about the Iphone application you recently released. How were you able to create this and what can fans get by using it?
G-No: Well I'm a web 2.0 expert. *Laughs* Web design is my second passion and every day I find new tools to promote my music. This application is amazing for me to reach people all day through their IPhone. You can listen to some of my music, check my twitter account, photos and videos. It's free, so get it now in the iTunes Store: search for "g.no" or "latin bird". Leave me a comment in my Fan Page at http://www.facebook.com/gnolatinbird
YouKnowIGotSoul: Tell me what projects you are currently working on and what we can expect from you in the near future.
G-No: Well 2010 is a big year…I'll be releasing three albums. The first one is "Latin & Blues," and the album made with Smoke including productions by Key Beats, who produced Aaliyah's "Rock the Boat," Destiny's Child's "Independent Woman," and many more. The "Latin & Blues remixes" is a nine song album including remixes of famous rnb songs. And finally, I will release my French acoustic album at the end of the year "Le Soulitaire." Right now, I'm working with the guitarist and producer of R.Kelly and I've just made a duet with one of the best rappers in the world. Here's a clue: he made duets with 2Pac and Biggie, and now me *Laughs*
YouKnowIGotSoul: Is there anything else you'd like the fans to know?
G-No: I thank all my Facebook friends and fans for their kind messages. I'm just trying to be me through my music. I'm a believer and a fighter; I won't stop until I die. And to all the haters that are trying to ignore my music: you know you just can't ignore me! Study me…
Rendez-vous in my website now: http://www.facebook.com/l/87f41;gnolatinbird.com, enjoy the ride!