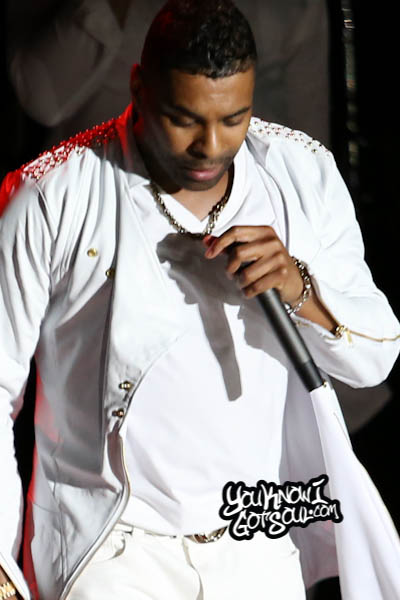 When it comes to being an entertainer, not many have been the complete package like Ginuwine has over the past decade and a half. He's got the voice, he's got the look, he's got the dance moves, he's got the charisma, and of course he's considered a sex symbol by the ladies. Heck, just take a look at his resume as an artist over that time period and few can compare to the number of hits he has put out. Now over 15 years since he was first discovered by DeVante Swing and recruited to become part of Da Bassment, Ginuwine is set to release his seventh album "Elgin" and further solidify his legacy as one of the premier entertainers of his time. In this interview with YouKnowIGotSoul, Ginuwine discusses what to expect on the new album, why he decided to go with "What Could've Been" as the first single, the direction he's looking to go with his music as he gets older, the help he's looking for from fans in choosing his second single, the best song he's ever written, and much more!
YouKnowIGotSoul: You're preparing to release your seventh album titled "Elgin" next month. After being in the industry for 15 years, how does it feel having a fan base that's been there supporting you through it all?
Ginuwine: It's always good to have your fan base and to continue to do what you love to do and making a living and seeing the people and travel and do everything, it's always a great thing for me. So I'm just appreciative that I'm still here after 15 years and people still come out to see me and I'm still relevant and I'm still doing what I love to do. So it just feels good and hopefully it can continue for another 15 years.
YKIGS: Talk to me about the album and the approach you took and the sound we can expect to hear on this album.
Ginuwine: With this one, I always felt like if it aint broke, don't fix it. You always take care of your base and how you started and what people supported. My strength has always been slow songs, so I never deviated from that, I always took care of my base and that's just doing slow songs and just pouring out my heart in songs. With this one I never go in there saying "I'm going in this direction, or I'm going in that direction," I tell them I need a hit, so whoever got that hit that's what I want, whoever's got good music, that's what I want. *Laughs* I just do as many songs as I can and then I put it together when I get sort of in the middle, maybe 30 songs, that's when I start really thinking about the name of the cd and what direction all the songs are going, that kind of stuff. But I don't ever want to corner myself, I just want to be able to express whatever I can express in songs and just pick after that.
YKIGS: Talk to me about the first single "What Could've Been" and how that song came together.
Ginuwine: Well "What Could've Been" was a song done by a guy named St. Nick and it was written by Atozzio and myself. It's just a song that makes you reminisce and think about what you lost and what you would've done if it could've been a certain way. You think about what you've lost and then you're just thinking about also what could've been if you kept that person. So that's pretty much what it is, it's pretty self explanatory, it's just that phrase, what could've been. It's pretty much talking about a relationship, you had somebody and you lost them, and what could've been if you kept them.
YKIGS: We've seen promo videos recently for "Break" and "Heaven," have you decided on either of these as a second single?
Ginuwine: Well we don't know and that's our dilemma. We have a good problem but we want to make the right choice. Hopefully we'll make the right choice and we've been getting great feedback and that's a great thing so I don't know, we're going to go with whatever people feel the most. Right now it's neck and neck really. *laughs* I always ask would they go with "Break" or would they go with "Heaven." "Heaven" was done by Tank so maybe we'll go with that, I'm not sure, but it's a good problem.
YKIGS: Yea you could put me down for "Heaven," that's my choice! *Laughs*
Ginuwine: Oh ok *Laughs* That's what's up, I appreciate that.
YKIGS: In a UStream session you did a few months back you talked about choosing between "Heaven" and "Drink of Choice" as the first single. What made you go in different direction?
Ginuwine: Really I didn't want to press the issue of something that I liked, because what I like is "Drink of Choice." But I didn't want to press the issue this time because we're going towards a different format, I'm older now and I do want my younger family to feel these songs. "Heaven" is more of a heartfelt, no time limit type song. So since I am a little older we have to go towards what actually will best benefit us on this cd and probably it would be that. But me, I'm still young at heart and I still love the metaphorical type songs and that song is just one of those songs that does it for me, I love that song "Drink of Choice," it reminds me of "So Anxious."
YKIGS: I love that song too, I can't wait to hear the full version of it.
Ginuwine: Thank you.
YKIGS: So I've been a fan of yours throughout your career so I've got a couple of questions now for you from earlier in your career. Going back to your first album "The Bachelor," what do you remember most about the recording of that album and how does it compare to what you're doing now?
Ginuwine: Well the thing that I remember about recording "The Bachelor" is we were in Ithaca, New York and it was just cold and upstate New York, and we went up there so we could get away from everybody and just concentrate on us doing hit songs. Timbaland, myself, at the time I had a few friends come up there with me. It was just one of those times where we just wanted to make sure we didn't have any problems with anybody, we wanted to make sure that we were closed off from things and things that could distract us. So that's pretty much what I remember, that was actually great times for me, I really loved the fact that me and Timbaland was working together hard in the studio with no distractions, just being creative. That's the way you like to be, unfortunately a lot of times now everybody is going in different directions and have their own things going on and you just reminisce about those good old times. Hopefully we can create that magic again in the future also but I did love the process and it's just something I'll never forget.
YKIGS: I noticed that throughout your career you've had a hand in writing a lot of the songs on your albums.
Ginuwine: Yea, yea earlier on.
YKIGS: Yea earlier on. Is there a particular song that stands out as the best song you've ever written?
Ginuwine: "Differences" is probably one of the best ones that I've written because that was a time in my life when I was going through a lot of hardship and it was therapeutical for me. It was a way for me to get a lot of my frustration out, my hurt, and that song I wrote for my wife. She's been by my side and she was one of the people that really helped me pull me through my depression stage and all of that kinda stuff. So that song was for her, and I would have to say that was the best song.
YKIGS: You've also had a lot of collaborations with many artists and many big names. Is there one that stands out to you?
Ginuwine: Not really, I had fun with all of them, P. Diddy, Fat Joe, Nas, Aaliyah, Missy,
Timbaland, Playa, Static. I've had the privilege to work with all of these great talents, but none of them really were better. I always say Aaliyah stands out because of course she's no longer here and that just makes you always remember the times when you were in the studio. None other than that really stands out because I had fun with everybody.
YKIGS: That's fair. I've always been curious when you're going through your album to pick out what's going to be a single, because you have so many good songs on your album, what's the process like for picking out what's going to be a single?
Ginuwine: On the last record I knew when I heard it, which was "Last Chance," I knew when I heard it I felt like I don't care what anybody says, this is my single. It really wasn't a lot of arguing…actually it was, let me take that back. It was a lot of arguing and a lot of pressure for me not to do that song as far as letting it out as the first single. I had my feet firmly planted on the ground where I was like this is it, I'm not doing a video for another song, this one is it. Luckily I was correct, I pretty much am an artist that's been here for awhile and I know what works better for me. So that was just one of those songs where I was like "Y'all Buggin, this is the best one!"
YKIGS: Just out of curiosity, what were the other choices that they wanted you to release on that album?
Ginuwine: Ummm….I forgot the name. *Laughs* If you said the names I would know it, but I forgot the name, I mean I know would know it if you would say it. Like I said I got so many albums, I can't remember every song.
YKIGS: Was it "Get Involved" or "Open the Door"?
Ginuwine: Nah, it wasn't "Open the Door," wasn't "Get Involved." We actually came out with "Get Involved" overseas. It was a slower one.
YKIGS: "Orchestra"?
Ginuwine: Nah, keep going, keep going.
YKIGS: Oh the song you did with Johnta…"One Time for Love."
Ginuwine: Yea! There you go, that one!
YKIGS: It seems like a lot of your fan base is still hoping that you will work with Timbaland, but then a lot of your other fan base is saying they like what you're doing currently. How do you keep everyone happy with your music?
Ginuwine: I don't know man, I just go in the studio and do what I love to do. People will be people, they'll come and go, they'll like you then not like you, I just try to stay true to myself first and that's what most important because that way when you are successful you can stand up and say look, I did it my way and I did it the way that I wanted to do it. Hopefully we will work together in the near future but until then I got to keep moving, I've got to keep living and I've got to keep working.
YKIGS: A couple of months ago I stumbled upon a track that while you were in Da Bassment and it's called "Let's Stop Effin Around." (Click Here to Listen) I was wondering if you remember anything about that song or anything you recorded while with Da Bassment.
Ginuwine: Nah I don't remember "Let's Stop Effin Around." I Do remember *sings* "It never really mattered too much to me," you know "Let Me Love You Down," I did that with
DeVante, but I don't remember it, that was so long ago, you're talking about '93 or '94.
YKIGS: So we mentioned you've been in the industry for 15 years and had the chance to work with all these stars such as Timbaland, Missy, Static, Aaliyah. What do you think is the legacy that you're going to leave on music once you're done?
Ginuwine: I think the legacy I'll leave on music is just an artist that went out here and gave 100%. Songs that stand the test of time, like "Pony," you still hear "Pony," even though it was very raunchy and whatever, it's still very different at the same time. I came into music at a time when music was pretty blazee at the time and we just gave it a shot. We gave it a jolt as far as me, Timbaland, Missy, and Aaliyah when we came in the business. I think the legacy that I'll leave is just a great entertainer, and that' s what I want to be remembered as, a great entertainer. I never claimed to be the best singer, I never claimed to be the best dancer, but I do claim to be the person that can put them together best.
YKIGS: That's all of the questions I had, is there anything you'd like to add?
Ginuwine: It's all good, I just want to say thank you to everybody that's been supporting me. Thank you to you, you've been supporting me for awhile obviously because you know all of the songs. *Laughs* I appreciate that my brother. Everybody follow me @Ginuwine09 on Twitter.