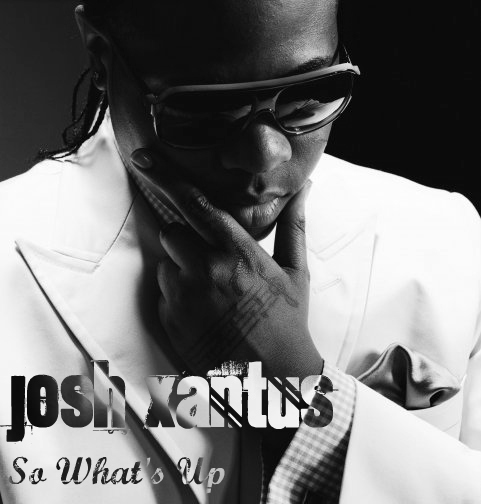 If you're an up and coming artist and you happen to catch the ear of the legendary Stevie Wonder and he gives you a mandate on which direction to take your music, you listen. That's the fortunate position that Josh Xantus found himself in and not only did he heed the advice of his idol, he took it to heart. By just speaking with Josh, I came away with the impression he's very poised and focused to carry on that legacy and gives a bright outlook for the future of r&b music. Clearly, Josh is someone who deserves our attention. In this interview, we discuss that epic meeting with Stevie Wonder, what to expect on his debut album "Can I Live?", his background in classical music, the importance of real r&b music, and a lot more.
YKIGS: I just want to start talking about when you were growing, you played the piano growing up and you learned it at an early age and you were playing classical music and eventually you attended Julliard for classical music. What do you think you learned from going to that school and your background in classical music that has helped with the current style of music & r&b?
Josh Xantus: Just feeling. I think I got from the classical world basically feeling because it's all about feeling, it's about how you accent on certain notes or certain sections of the piece when you're playing the classic piece. It could be soft, it could be loud, it could be medium, and certain words, to be able to play that word and sing it at the same time, I think that's what made it easier for me.
YKIGS: One thing that stood out a lot on your bio was the experience you had with Stevie Wonder, because I'm a huge fan of him, and the compliments he gave you were big. What did it mean to you hearing what he had to say about your music?
JX: Oh man it was mind blowing, I mean Stevie Wonder, where do you go from there? Just being a Stevie Wonder fan, especially coming from a man who sings and plays, it was awesome. It was truly an achievement for me in my career, and I'm just blessed, I'm just humbled and blessed to have that type of person of status give me those words.
YKIGS: What eventually made you want to abandon your classical background and gravitate towards more soul and r&b?
JX: When I was in school I had this little shorty I was talking to and I hit her with this ill Mozart piece and I played the hell out of the record and then when she looked up she was like "What is that? What are you trying to play here?" So I told her "Baby that's Mozart" and she said "No way, I don't want to listen to Mozart!" *Laughs*I didn't understand that kids in junior high school and high school weren't up on classical music, but I was just happy to have a mother allowed me to learn. So I went back to the drawing board and I learned Brian McKnight "Anytime" and I went back to the same shorty and it was history from there, this was the way I was going to go.
YKIGS: Tell me about how you originally get noticed and how that led to you signing your first record deal?
JX: I was grinding at that point and I started opening up for a lot of acts like Ne-Yo, I was opening up for Tank, Floety, Fabolous, and it was to a point where the buzz started getting out there of being an artist that was coming up. I had a couple of deals on the table, but I really wasn't feeling the direction that the labels were mentioning, and I just wanted to go independent so I got up with my label M USA Entertainment, which is my current label, and we just did a deal with EMI/Capitol and it's been history from there. I'm just making music and putting out quality music that we feel that the industry needs.
YKIGS: Once thing that stands out to me about you is you're a complete package; you got the voice, you can play piano, you can write music. Then when I saw you perform at B.B. King's and had a chance to meet you, I noticed you had a personality that really shines through and makes you stand out. Tell me about all that.
JX: I appreciate the compliment man. Basically I think personality is important, I think when you're an artist you're supposed to have a light shining within you and I think a lot of artists forget about that. I think a lot of artists stay to themselves and they're not as personable; I just think that's wack. When you're doing music and you love what you're doing, your personality should shine, you should be a personable person. I come from a family where we're always cracking jokes, I've got brothers and sisters, there were five of us in the house and we just always joked. I just think that's the way to be, I think in life when you show people that, you make other people feel comfortable, other people want to be around you.
YKIGS: Talk to me about the new single you have out "I Don't Care" which is the collaboration with Ghostface and Styles P. Give me some background and tell me how the collaboration came about.
JX: Basically I had cut this record a while back and Statik Selektah produced it and we were in the studio vibing and I love the record. I literally wrote the record in twenty or thirty minutes, it just came to me. So I was feelin the record, and then my A&R heard it and said "Man, Ghostface would kill this record!" You know Ghostface on the r&b records, he's always going in, so I thought yea and asked him to get to him. So we sent it over to Ghostface, and he loved the record so he wanted to be a part of it and jumped in and did his verse. Then actually Styles P was in the studio as well and he heard it and wanted to be a part of it as well. So it was dope, everybody really wanted to be a part of it, it wasn't like I had to force them to jump on the record.
YKIGS: How has the reception been from your fans since its release?
JX: It's been great, It's doing really well on radio, it's doing what it needs to do, we're spreading the record across the country nicely. We are actually going for adds at the end of the month, we're going for full rotation, so we're going for it. Capitol is definitely doing what they need to do, we're putting in the work so we're definitely doing things to make it happen.
YKIGS: You've had a lot of collaborations with hip hop artists over the past couple of years. How did you develop these relationships to collaborate with these artists?
JX: Basically with Jadakiss, my boy Killa Touch, he DJs for Jada so Jada held me down on the first record "Let's Ride," he was definitely supportive and he's like a big brother to me now, I'm always around him, we're always cracking jokes together, we've developed a real tight relationship. With Busta Rhymes and Red Café on the remix, DJ Envy definitely he's a part of the team and he's a part of the label M USA, he definitely utilized those relationships to get them on the record. Busta Rhymes has been a great friend, I actually have a song with Busta Rhymes on my new album. It's just like family now.
YKIGS: The track I had mentioned to you when I first met you was the song "Gimme Yours" that you did with AZ, the 2010 version. How did that collaboration come together?
JX: It was a dope thing man. Statik Selektah was in the studio with AZ, he was playing some of my stuff and AZ was like "Yo, can you get him down here?" So basically Statik called me and was like "Yo AZ wants you to jump on this record." So I came to the studio and AZ was there and we cut the record. I was happy, that's a classic record and I was just happy and honored that he wanted me to be a part of it.
YKIGS: Yea I was actually going to ask if you were familiar with the original "Doe or Die" album and the original track.
JX: Oh yea, how could I not be, that's a classic! *Laughs* My older brother was like "Damn man you re-did the classic!" It's crazy because that album was released on EMI and I'm an EMI artist so it all made sense.
YKIGS: Talk to me about your debut album "Can I Live?" Give me some background on what kind of sound you're going to have on there, what producers you are working with, and collabos.
JX: Producers on the album is real cool. We've got the Refugee Camp which is Wyclef's situation, we have Little Wonder, Jerry Wonder on the bass playing for "Let's Ride," so that's on there. I have Swizz Beatz on the album, I've worked with Swizz in the studio actually for this record and we collaborated on the writing part of it and definitely a dope record called "Movie Star" which is on the album. I have Los Da Mystro who does all of Dream, J. Holiday "Put You To Bed," bunch of great records. The rest of the album is just me really and certain up and coming producers, just guys that really had a different sound. But for the heavyweights I've got Swizz, Los Da Mystro and The Refugee Camp.
YKIGS: When can we expect that to release?
JX: The label is looking for a second quarter release, that's why we're pushing this record right now, kinda kicking it into gears and definitely getting it going to the point where we will be able to put a dope album out at the end of the second quarter.
YKIGS: Tell me about the mixtape you released late last year "Josh X-Mas." It was kinda ballad heavy, is that going to be similar to the sound of the album? Are you going to do a lot of ballads?
JX: Yea I wrote the ballads on the album, definitely wrote the ballads on that, I co-wrote with some people like my home girl Cassandra, we went to school together and she's a dope writer, she actually sings backup for me. I wrote like 90% of that mixtape. Basically that's a side of my artistry that you will see on the album because I think that's dear to me and I think that's what distinguishes me from other r&b artists. I could do club records, radio records, but there's a side where I can give you songs when you just want to mellow out with your girl or you want to listen to a real r&b song. So when you listen to "Can I Live," you'll find a mixture of those songs and songs like "I Don't Care" and "Let's Ride." It's a dope album, I'm happy with it and I feel it shows a lot of different music. Nothing on that album is going to sound the same.
YKIGS: There was a line in your bio that stood out to me and that's where you said "I'm not doing this for cars and clothes. My music is to change people's lives." How did you develop that outlook about your music?
JX: I developed that because Stevie Wonder taught me that. Basically I have a song called "Mommy I Love You" that I performed for him and he was touched, he was so touched that he started talking about his mother who passed away. Basically to get you into the story, the name of the album "Can I Live?" is basically about making choices in life and whether or not they're right or wrong choices, can you live with it? So being an artist and going to college and having a scholarship, I was faced with my mom who had heart disease, who got diagnosed with heart disease, and it was a very challenging time in my life where basically I was trying to figure out if I should stay in school, if I should drop out, if I should get a job to help her out because she wasn't able to work anymore. Something told me to stick to what I believed in and I stuck to what I believed in and I got a record deal immediately after graduating college. I just want to give people in my position that come from a single parent house and have doubts in themselves to know that it is possible. So when you listen to the album you'll learn about things and situations that I've been through that I'm sharing with the listener and letting them know you don't always have to take the easy way out. I feel like the message is strong and I want to help people get to places and know that if you believe in yourself then things will happen.
YKIGS: I like that, that's good stuff.
JX: Appreciate it.
YKIGS: Do you think that maybe some other artists who are out now who are doing music don't follow that same philosophy? I just wanted to hear your opinion on that.
JX: I think a lot of artists forget that, and this is all coming from Stevie, so I want everybody to know that Stevie asked of me to carry his legacy in making good music and becoming a teacher. As an artist it's my job, he gave me a mandate and told me it's my job to educate people, to bring people to a level where they can relate as a story teller. I think people forget as an r&b artist, as a lyricist, as a writer, I think a lot of artists forget, I'm not name calling or anything, but I think a lot of people with the music today, they forget to tell you something. Like what can you get from that music, from that song? Anybody can talk about poppin bottles in the club but where does that take you? Respectfully speaking, it's a recession; the average person isn't in the club poppin bottles. The average is going through the loss of a family member or someone who is sick or a breakup with a girl that they love, and I think a lot of artists forget about that. I'm basically going to fill up that void and that gap.
YKIGS: Yea I appreciate that outlook and as long as you keep making music following that philosophy you will always have my support, because that's real right there.
JX: I appreciate you man and I'm definitely going to continue that and I promised Stevie Wonder that I would continue to be that person, a story teller and keep making music that's going to change people's lives.
YKIGS: That's all of the questions I had for you, is there anything else you'd like to add?
JX: I appreciate you a lot and I just want everybody to know they can find me on my website, the music is real, pay attention, this year is going to be a good year, I feel confident in the music I'm getting ready to put out.