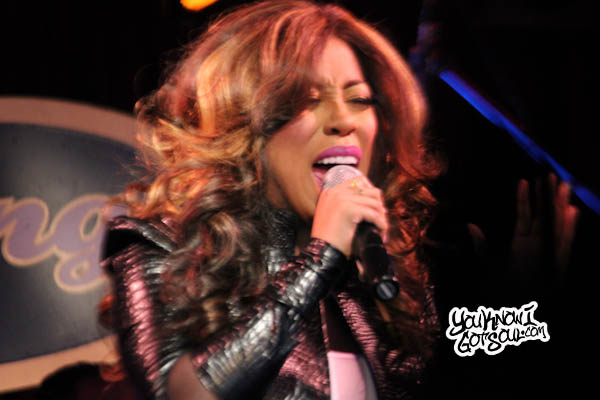 When your career as an artist is co-signed by an r&b legend like R. Kelly, you know you have a bright future ahead of you. Not only did Kelly see enough in K. Michelle to publically support her, but he also befriended her and included her as the only feature on his critically acclaimed "Love Letter" album. It's not that K. Michelle didn't already posses the voice, determination, and prowess to find success on her own, but with Kelly now involved in her debut project, there is reason to believe she could be huge. It's also so easy for me to get behind the cause that she stands for, seeking to be the voice of women all over the world who find themselves going through struggles and just need help. For that reason, K. Michelle should not only be applauded for her musical talents, but also for desire to make a positive impact in the world. In this interview, we discuss what the title of her debut album "Pain Medicine" means to her, what to expect on the album, being the voice of women in need, the impact R. Kelly has had on her career, her talents in yodeling, and much more!
YouKnowIGotSoul: First let's talk about your debut album "Pain Medicine" which you've got coming out in the Spring. What does the title "Pain Medicine" mean to you?
K. Michelle: The title "Pain Medicine" basically means it's a medicine, it's a healing, it's a therapy, and it's a kind of record that talks about everyday issues, not just how a man left you, but everyday issues from struggling with your sexuality to issues with domestic violence. So I'm offering a form of healing and a helping hand to a lot of my fans, so that's why the title "Pain Medicine" is so important to me.
YKIGS: Your bio mentions you wrote and co-produced every track on the album. Talk about where you developed your skills in writing and production.
KM: Well at the time of my bio I had written and produced every song, but now I'm working with a lot of different people like Sean Garrett and R. Kelly who put their helping touches on the album. A lot of my skills have come from ever since I was little, I've felt that God just wanted me to do it. So I've been singing, my mom put me in front of a classical piano, so I've been banging on a piano and singing since I was little.
YKIGS: Give me some background on the new single "How Many Times" and talk about how the song came together?
KM: "How Many Times" is a record that I absolutely love and it's a different sounding record, nothing out right now sounds like it on the radio. The record was written by Sean Garrett and produced by Blac Elvis. I took out a lot of time to sit with Sean and just let him know what I was going through, I talked about my life, we didn't just go in the studio and hit the ground running, it took a couple of days. We just talked and hung out and he wanted to kind of portray what I was trying to say, I wanted a brighter sound, I was tired of being depressed, so he gave me that. So that record just came from everyday life.
YKIGS: Tell me more about the album. What can we expect to hear on there and what is the sound on the album?
KM: The album is amazing. The album is basically a mix, I have a song that's kinda a country song, so it's a mix between a lot of different things, it's good r&b but at the same time it plays a little bit into…well it's a different kind of album but you're going to get the core of what you came for. So I'm very excited about it.
YKIGS: Your bio quotes you as saying you want to be the voice of single mothers, broken hearted women and women who are judged and misunderstood. What made you want to take this approach and what does it mean to you?
KM: It means everything because all of the stuff that I've sacrificed to be the voice of women that I've never seen and don't even know their names, it's very important to me. It's important to me because I'm a single mother because I have my son and he's my life, so I'm taking on a big role and it's big shoes to fill to try to be the face of those women but I've been through so much that I feel like I'm the perfect candidate for it and I'm just going to keep fighting.
YKIGS: Do you feel that women you've come across who have heard your music can relate to it and are really taken by it?
KM: I mean people can relate to anything if they put it into terms of how they want it. I feel like not only can they relate to me, but they can live by my mistakes and my music. I get letters everyday from fans saying "You changed my life and you helped me" and that's enough for me, I'm doing something and it's worth it. I mean I'm doing shows and making money, but it aint even about that, you have to eat, but I never got into it to be the biggest star in life. I just live off of people saying "You helped me."
YKIGS: Talk about your working relationship with R. Kelly and how he helped you develop as an artist.
KM: He helped me develop a lot. I had lost a lot of self esteem and had a lot of issues and stuff like that with my record label and them just not getting it and really just sleeping on me for a minute. So when you go through things like that, you want to give up sometimes. Everybody thinks a record deal is greatest thing to get but sometimes it's best to grind out and then call the shots. He basically came in and told me, "It doesn't matter, you might not break in as an artist on Jive, you might break two deals later, but what matters is you keep the main thing, the main thing which is the music and what you're doing." So he really pepped me up and just gave me a boost of confidence and every time I get down a little bit I speak with him and every time I get down I really realize what this fight is about. So I will forever be grateful to him and that's my friend and I'm blessed to have him in my life.
YKIGS: He recently released his album "Love Letter" which got great reviews and you were the only feature he had on there. What did that mean to you?
KM: Everything, I'm very excited about that. A lot of times we get so caught up in what we're trying to do and we get used to things. I never thought I would have the fan base that I have now and would have never expected to be the only feature on an R. Kelly album and receive my first Gold plaque. So I'm grateful but I still need to take some days to live in that, I haven't been to that moment yet where I say "Wow K!" So I'm excited and I need to slow down a little bit to live in it more.
YKIGS: You've used social media in the past to help drive your career as a singer. How important do you think social media is nowadays to the success of artists?
KM: It's very important; I've had the Twitter struggles of saying too much and getting in trouble, doing things like that. It's very important though so I'm just trying to balance it out and I don't think I have it yet down pat at all because I'll be so open and honest that I don't know if I'm losing fans from it or bringing them to me. So it's important but you've got to find a balance and I'm learning the balance because I don't know it yet.
YKIGS: I've seen you on Twitter interacting with your fans and having conversations by asking them questions and hearing what they have to say. It seems like you genuinely enjoy interacting with your fans, so talk about that.
KM: Yea I do. I love it, I actually do love talking to people and I'm a people person. So people might say I need to stay off of it a little bit to keep the mystique, but that's kinda confusing as an artist because I don't know which way to go, like should I talk or should I not talk back? But I know in my heart I enjoy it.
YKIGS: I've heard many people compare your style and sound to that of Keyshia Cole. How do you respond to these comparisons?
KM: Nah I just feel like they're deaf and dumb and they don't know much. Because I'm a classically trained pianist and I do this and I love music, I study, I dissect it. So just because we're two girls that have had a rough situation and because we've gone through things, that does not necessarily mean we are alike. I respect her and her grind, I listened to Keyshia Cole years ago when I was going through things and she helped me a lot. So it's not a knock when I say I'm not anything like her, it's just saying we are two different individuals, and if you get into my body of work and find out exactly who I am and perform and different things, there's similarities but as a whole that aint me.
YKIGS: I read in your bio you were vocally trained since age seven and were offered a music scholarship to study yodeling, which I was a little surprised to read. Is that true?
KM: *Laughs* Yea I got a scholarship to Florida A&M University for yodeling.
YKIGS: Tell me about that.
KM: I went there to audition to get a music scholarship and I yodeled. I sang other songs too, but the yodeling really shocked them because it was a black university, so I ended up getting a music scholarship through that.
YKIGS: Do you ever have plans to incorporate yodeling into your music?
KM: *Laughs* You know something R. Kelly has incorporated some yodeling into his music and it kinda makes me want to. But I'm not kinda feeling like yodeling right now.
YKIGS: Anything you'd like to add?
KM: I just want to say thank you for interviewing me and trying to help me get my message out there.