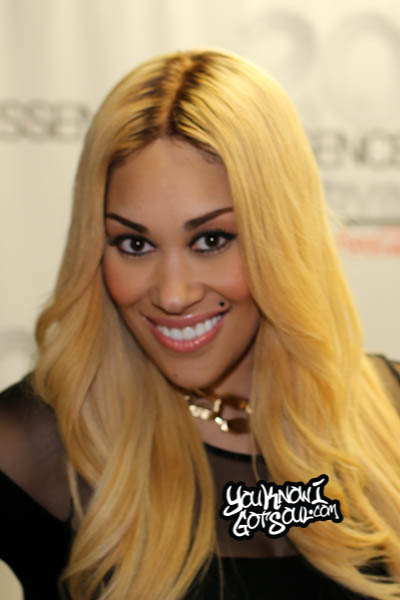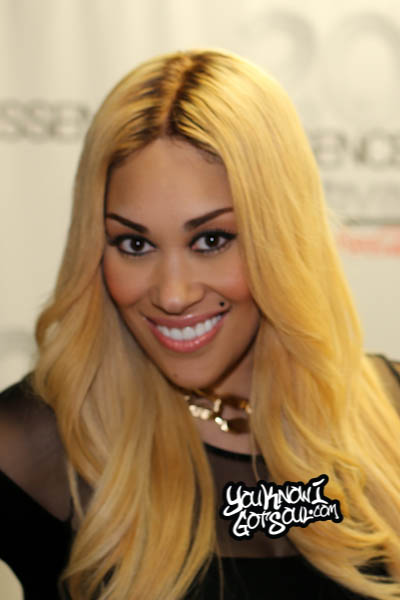 Leading up to the release of her third album "Unbelievable" next month, KeKe Wyatt took the time out to speak with YouKnowIGotSoul for this very candid and open interview. Topics we covered during the interview include information about her new album, hate she's received since covering "Saturday Love" with Ruben Studdard, her upcoming reality show with other r&b wives highlighting their everyday lives, how discouraging it was to have to wait so long to release music, a possible duets album with Avant, being the national spokeswoman for domestic violence and much more.
YouKnowIGotSoul: You're going to be releasing your third album "Unbelievable" next month. How did you choose the title for the album?
KeKe Wyatt: It was kinda a mixed decision. I let my fans on my website pick and also my label and that's what we all came up with. It's a song that I have on the album that's called "Unbelievable" and we just thought that it would be a good song for the album name. Because hey, you know, I'm blessed and highly favored by Christ, and my life is unbelievable now where before it was crappy and horrible. Now it's happy.
YKIGS: Well I'm definitely glad to hear that.
KW: Yea, thank you.
YKIGS: How does this album compare to your previous albums?
KW: Well my last album that I put out "Who Knew" was just to say that I'm still here and just gave my fans something to listen to because they just kept asking for something to listen to so I said I would put some songs out. So that was pretty much just reintroducing myself to everybody and fans who don't really get to hear much of me. My first album was thrown together; that was like a guinea pig album that I sold platinum for so I guess that was good right?
YKIGS: *Laughs* Yes!
KW: But this one here I think is better first because I had more say so in it and second it's the real me and not the guinea pig me and not something that was just thrown together like the last album. It was thought out carefully and songs were chosen by myself, the label, and my team.
YKIGS: Tell me about the first single "Saturday Love" which is the cover of the classic. How did you choose to cover that song?
KW: It's just a fun record for me and Ruben to do because me and him have been wanting to do something for a long time. So I got a call from my lawyer saying "KeKe you've got to do this song, I love this song, and you've got to do it as a favor to me." So I called Ruben up and told him I said a song for me and him to do, and he agreed, so we did it and I think it sounds great. There have been people on the blogs saying that it's full of auto-tune and there is not even any auto-tune on the song so I think it's funny. Maybe just on the *Sings* "Sunday, Monday, Tuesday, Wednesday, Thursday, Friday, Saturday Love" but just to make it sound more retro and fun because that was a retro song. That's about it but like on my vocals, my lead vocals, people were trying to say that we had auto-tune all over it, but no we're just people that can sing on key and using a really good microphone.
YKIGS: I feel like whenever you touch a classic people are going to hate just because.

KW: Yea! And a lot of people say KeKe and Ruben can both sing but some things just shouldn't be touched, but I say who gives a sh*t because it was just something fun to do, I like the song, so I wanted to hear me on it. It sounds good!
YKIGS: Yea I like it, I like what you did with it.
KW: I think it's the older people who are probably favor the original singers which is fine, but keep the comments to yourself, especially the smart stuff. I hate when people do that, don't hate because it sounds good. I'm not one to say "Oh I'm this and I'm that", but I'll tell you that song is cute and I sound good and so does Ruben, period point blank. Also, songs CAN be touched. I'm sure someday is going to remake "My First Love" again and "Nothing in This World" which is original and which is fine with me. I'm eager to see what somebody else can do with "Nothing in this World" and hopefully it will be one of my kids!
YKIGS: I read in your bio you have another song on the upcoming album with Tweet and Kelly Price, you guys all collaborated on it. Tell me about that one.
KW: That song is called "Mirror" and it's about a female that she's singing to the mirror and she's basically singing to herself, the other her, and basically saying I'm trying to leave this guy and this craziness but you keep pulling me back in. You said that this was the last time but I'm looking at myself in the mirror still abused, still bruised and full of pain. That song we've all pretty much been through that at some point in our lives and we just came together to do the song as great singing females who want to sing a song together and sound good and we've all experienced something along those lines.
YKIGS: I definitely look forward to hearing that one.
KW: Thank you!
YKIGS: What else can we expect to find on the album in terms of what producers did you work with?
KW: JR Hutson. I have Shep Crawford on there who did *Sings* "How Did you Get Here? Nobody's Supposed to be here." Remember that? Then he's done all kinds of Kelly Price songs , everybody that's done a banging ballad, he's worked with. I worked with him, Steve Morales, he's done all kinds of Christina Aguilera songs, Brittany Spears songs, and I know those are white pop songs, but he can do the r&b thing. Also his brother Jesus, he did the track on the album for my favorite song on the album which is a song I wrote, and he's just as talented as his brother with a younger twist to it. Among others as well.
YKIGS: I was also reading in your bio that you're slated to tape a reality show pilot with a few others artists such as Faith Evans, Syleena Johnson and Tweet.
KW: Well it's not a pilot, it's actually going to happen. Faith Evans isn't going to be on screen, she's behind the scenes as part of the producing team. It's going to be me, Nicci Gilbert from Brownstone, Syleena Johson, Tweet, I think Kelly Price, Angie Stone and Lelee from SWV. It's basically going into our lives and showing that we're not only singers of r&b, we're also mothers and our lives and we lead lives like regular women do. We'll be in the store grocery shopping and our baby decides it wants to poop everywhere or throw up all over us while we're right in the middle of a grocery store. At the same time, people are like "Oh my God how are you doing! Can I have your autograph!" and I'm thinking "Oh yea I'm going to give you an autograph with sh*t all over the front of my clothes!" It's showing that we go through the regular stuff, we argue with our spouses, we love our spouses, we have happy days and down days. How we work and how we go to school meetings like everybody else.
YKIGS: I'd like to take you back to earlier in your career because I love to get the history behind some of the music. How did you originally link up with the producer Steve Huff?
KW: I've been knowing Steve Huff since I was thirteen years old and we just started working together. It was funny because I started demoing his songs to his tracks and all of his songs started getting placed with my demos on it. So he was like "Well hell, we might as well start putting you on some and start shopping you!" He introduced me to Avant, which I know him as Myron, and he decided to put his project to work and he got signed and he asked me to record "My First Love". When I recorded "My First Love", he had it on his album and it blew up and he and I blew up. He had another song out before that, "Separated", but when "My First Love" came out it just blew up. So Steve Huff is very talented. He used to play bass for R. Kelly and was really good friends with R. Kelly and did quite a few tracks for R. Kelly, but of course R. Kelly will never let that be known because he wants all of the credit, which is fine, whatever. He's an important part of a lot of R. Kelly's stuff, he played a major part.
YKIGS: You mentioned Avant. I read in an interview you did last year that you two would possibly get together for a duets album. Is that just a rumor or will that ever happen?
KW: No it wasn't a rumor, I really would like to have that happen. I also would like to do that with Ruben too, just have like a throwback album, a whole bunch of remakes or something. With Avant, I want to do about six originals and six remakes. There's so many duet songs out there, but I don't understand why there aren't duets out anymore like an actual duet group. I don't know why? I know Kindred the Family Soul, they're a married couple and they do it. But it's really not Tammy Terrell and Alexander O'Neal, and then Renee and Angela Winbush. They're not out anymore, nobody's doing them anymore and people like to hear stuff like that. I'd like to do that again. I like my own individual artistry, don't get me wrong, I like KeKe Wyatt by herself because I could hold my own. But at the same time, I happened to blow up off of a duet, people loved KeKe Wyatt and Avant, or Avant and KeKe Wyatt, or Avant and that girl, however you want to say it. I like it honestly and I think other people do too and I think that's why "My First Love" and "Nothing in This World" were on the top 10 for I can't tell you how long. We had two duets at the same time playing on the radio. I'd be driving down the street and I'd flip the station because I didn't want to hear "My First Love" and "Nothing In This World" would be on, but I wanted to hear somebody else, I didn't want to hear me! People really love it.
YKIGS: Between your debut album and the "Who Knew" album you had a couple of scrapped albums in between, and it was a long gap in between the time you released albums to the public. Was that a discouraging time for you to not be able to release music?
KW: It was very discouraging because with Cash Money Hurricane Katrina came and just scratched everything out and I was so disappointed that I didn't want to do it over again, I was just like "Slim, Baby, I'm sorry but I really can't." My emotions were wrecked all up in that and to try to mimic that I don't think it would have come across the same way so that kinda got pushed on the shelf. Then I signed with Lil' Jon and the Eastside Boyz and the Ying Yang Twins and Pitbull and all of them. Right when my album was set to be released they went bankrupt. I didn't want to put my money behind it with the distribution, I was like "Ok, it didn't happen, it wasn't supposed to happen." I'm a stronger believer that if it's supposed to happen it will happen. Like if you're supposed to get slapped, someone will slap you, that's just the end of it. *Laughs* So I just took it as they weren't supposed to happen. Even now I get so discouraged when things don't happen the way that I expect them to do because I feel that God gave me a gift and I believe my gift outshines a lot of mess that's out here today and it's not like I'm ugly and horrible or anything like that. So I get very discouraged because I can't figure out why this Miss Thang right here is big; she's not cute, she can't sing, she doesn't have anything to give us so why is she blowing up and I'm still lingering. I'm in the pool, but I'm kinda lingering on the side. I get tired of people saying I'm a triple threat, but then I say "Well what am I threatening?" It can be very discouraging and I tell the Lord I'm about to go back to school and do something else. But then I don't want to let my fans down. At least I do know I have a million people out there that do love KeKe Wyatt.
YKIGS: You actually led me to my last question, you see these singers out here who can't really sing, they're blowing up and making those commercial songs for the radio. Have you ever felt pressured with the way the music has evolved to change your style at all? You're a pure singer and have a great voice but we don't hear artists like yourself on the radio too much.
KW: Well I feel like I'm caught in a catch-22 you know why? I can really sing, but then when I try to do the gimmick stuff, people get mad at me! "Why did she go and do that? What is she thinking? She can really sing, I don't know why!" But people are sitting here bouncing and grinding and clubbing to the other stuff, so when I go and do it, people get mad! Then I've even heard people say that I'm too old for that, but what people don't realize is I was born in the 80's! Half of these girls out here are older than me, Nikki Minaj is older than me, half of these chicks out here are older than me. It kinda hurts my feelings when people say that because I'm young too and so I can sing that stuff too, but at the same time my voice is so mature, so I just try and look at it like they have voices that are just not as mature as mine. So when your voice is mature, people want to make you out to be older than you are, plus I've been out nine years, and people tack nine years onto your age from when you first came out. Well what they don't understand is I was young then, I was just a kid. So it's very much like I'm stuck between a rock and a hard wall.
YKIGS: Well I hope you do keep doing what you do and keep making the music you do because I know for a fact there definitely are fans who appreciate it out here.
KW: Well I still like to do the little fun songs too. I tell my fans not to get mad at me because I like to do fun too, I like to hear the little auto-tune on my voice and stuttering stuff on there and the chopped and screwed sound; I like it too, sometimes. But when I'm really trying to sing you a really song and get your attention then I'm not going to play with it, I want to sing to you. I'm in a happy place now and I hope that my fans can hear it on this album and see that I'm not in this abusive life anymore and possibly singing about stuff that I'm hurt about. People want to hear that you're happy too, so I'm excited about this album and I'm also excited that I've teamed up with the national coalition against domestic violence to help women who are being abused and their children. I'm happy about that, I feel like I'm giving back in a way. There are people out there that really need some encouragement and I want to be the one to help because I really needed a lot of encouragement when I was going through that crap. I'm the national spokesperson for them so I feel good about.
YKIGS: That's all of the questions I had, is there anything you'd like to add? Where can people reach you?
KW: Yea I'm on Twitter, @KeKeWyattSings and my official website is KeKeWyattSings.com.