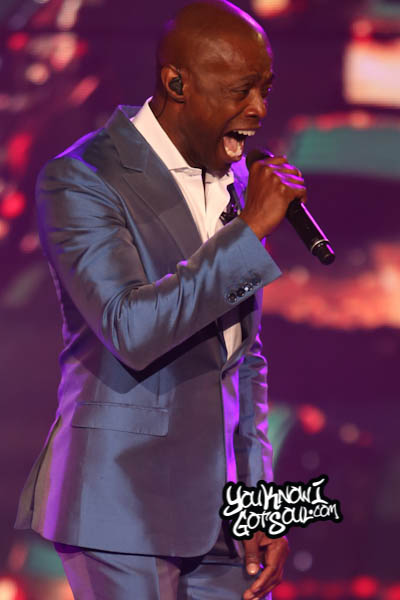 Prior to his performance at The Theater at Madison Square Garden for a stop on his "Intimacy" tour, I had a chance to sit down with Kem for this brief interview. We discussed how it's been touring with Musiq Soulchild and Ledisi, his recent Grammy nominations, words of encouragement he has for El DeBarge who was supposed to be a part of the tour, the keys to his success, and staying true to himself in music.
YouKnowIGotSoul: You've just recently kicked off this "Intimacy" tour with Musiq Soulchild and Ledisi. How's the tour going so far and how's it been working with them?
Kem: It's been great. Ledisi is brilliant on stage and Musiq does his thing with his string of hits. Then, Ledisi returns and actually sits in on my set as well so it's been a good run.
YKIGS: I read another interview you did where you mentioned your Grammy nominations were the highlight of your career so far. Tell me how it felt to be nominated and recognized for your work.
Kem: *Raises Arms in Triumph* Being nominated in a tremendous honor. When you're nominated for a Grammy that means that a group of your peers actually sat in a room and weeded through a bunch of music and picked you. So of course you want to win, I wanted to win, but being nominated is a great honor.
YKIGS: There's the much publicized personal strife you went through early in life. Looking back to early in your life, did you ever expect to be where you are in your career now?
Kem: I always had high hopes for myself. I always wanted to ultimately be doing what I'm doing today but sometimes everything is kind of surreal, being at the Grammy's, performing at the Theater at Madison Square Garden, we've been to the White House, overseas, South Africa. So I mean it's really cool to be living in my gift and living in doing what I'm passionate about. So It's something that I don't take for granted and I feel like I'm very blessed to be able to do this.
YKIGS: El DeBarge was supposed to be a part of this tour. As someone who's been through personal strife and made it through, are there any encouraging words you can offer him during his tough time?
Kem: I've reached out to El and made myself available in that way being that we've had similar background and I'm glad that El is in a place where he's addressing that situation in his life. I'm here for him and my whole crew sends all of our prayers to him and his family. I would just tell him to stay true to himself and take care of himself. He's a great talent, can out sing anybody and outplay anybody and we're waiting for him. I look forward to being on the road with El at some point in the future.
YKIGS: You're coming off of a third successful album with the "Intimacy" album. What do you think is the key to your success in continuing to have longevity in music and just being successful in doing what you do?
Kem: I think that a lot of it is the grace of God and I'm really just doing what I feel was put here to do and just being myself. I think that when you are being yourself and true to yourself that's when you're able to truly succeed in life.
YKIGS: With the way that r&b has evolved since you've been out, have you ever felt the need to change the way do things, or have you felt you could just stick to what you do and be successful with that?
Kem: I've been able to be true to where I am. Wherever I am musically, I'm able to represent that. I do things that show I'm willing to work with rappers or pop artists, and I actually just re-cut one of my songs with Chrisette Michele. When it's the right thing I'll try it, but I don't think it's wise for an artist to compromise what they do. Once you start chasing something else, then who are you if you can't be yourself? I really just try to stay true to myself musically and that works for me and my fans honor that and I don't take that for granted.
YKIGS: I definitely respect that approach.