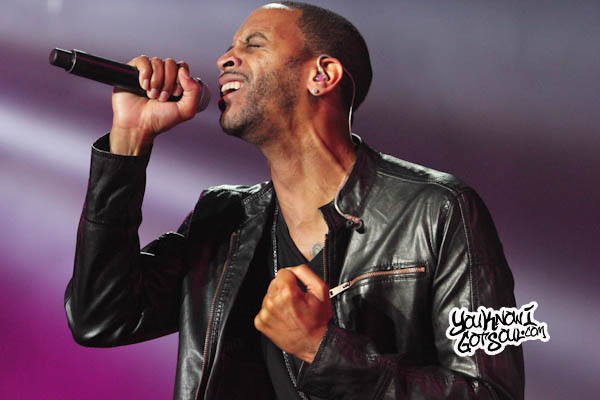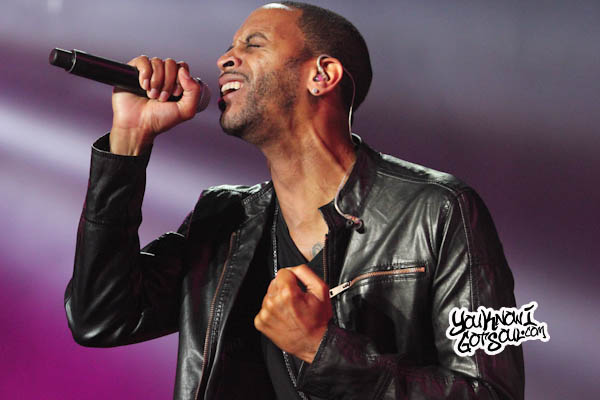 As someone who takes the time to read the liner notes to seek out the authors behind some of my favorite songs, I know it's rare for some of the best writers to get shine on their own as a solo artist. Heck, one of the most successful writers of the past decade and a personal favorite of mine Static Major suffered from that type of fate and never released a solo album. Johnta Austin is in the same league right now, and the list goes on. For that reason, it's exciting to find out that Lonny Bereal, the author behind hits by Chris Brown, Tank, Pleasure P, Jamie Foxx and LeToya Luckett just to name a few, is getting that chance. YouKnowIGotSoul got the opportunity to interview the industry veteran and we discussed his signing to Busta Rhymes' label, what to expect on his upcoming solo album, his writing experiences with some of the biggest names in r&b, the stigma attached to some writers in the industry, and the best song he's ever written.
Lonny Bereal: I was born into this, into music. It came of course from the church kind of things; I'm a church boy still, my family was a very musical family, the Bereal family. I grew up in my grandfather's church and my cousins and siblings, we all either sang or played something. I originally started playing the drums as a kid and I always could sing but it was something I never wanted to do, I was shy about it and I thought it was more cool to play the drums. As a child my mother would make me sing sometimes and sometimes I would do it, and sometimes I wouldn't. As I got older some of my cousins and associates that I grew up with that were musicians had already started playing for different artists on tours and that was the cool thing because we were in the gospel world. So when we had a couple of friends that were playing for Jodeci and the Eric Benet's back in the day, Rahsaan Patterson, Brandy, Destiny's Child; I had family and friends that were musicians that played for these artists. So I finally got older and started embracing singing a little more and when I turned 18 I just said you know what, I'm going to get really serious about this singing because I had started really doing it about 13 years old, and I always could do it. But at about 16 I started really getting my craft together and learning my voice and by the time I was 18 I was doing it professionally. So I put the drum sticks down and I went on my first tour, I went on a few gospel tours, but my first actual secular tour I worked with K-Ci and Jo Jo and then I sang with Ruben Studdard when he first won American Idol, I went on tour with him, and I was out on the road with Kelly Rowland. So I just started singing background for all of these people and because I sung backgrounds for so many different artists, once I started writing music, I actually formed my writing craft in working with my cousins Kenny and Charlie, shout out to Hit Club, I've always been with them since the beginning. So while I was developing this writing craft, I was singing backgrounds for a lot of people, so when my writing got up to par, shout out to Tank, Tank got me my first placements on Dave Hollister's "Real Talk" album. So he ushered me into the writing game and so once I got those first placements with Tank and just started carrying around CDs of songs that I had written and recorded or vocal produced whether it was a male or female song. I already had all of the relationships with the artists to give it straight to them, and the rest is history. I've been just growing ever since then and God has been blessing me with that, I have so many great relationships now of course it's a lot easier to get my placements because different artists request my pen. Now I'm doing my own thing and I originally started writing because I wanted to do my own thing and I just found out I could make a lot of money selling some of these songs. So I kind of did that for a little while and now it's time for me to hold onto some of these records for myself. Of course I look to my friends like Sean Garrett and Andre Merritt and the different writers out there, and of course Tank and Song Dynasty writing with me on this project. I'm just looking forward to it, it's my turn.
YKIGS: Before I talk to you about your solo career and what you're going to be doing in the future, I want to talk to you a little bit more about what you touched on and that's where you developed your craft for writing because people know you as a very talented writer. How did you develop that talent for writing?
LB: I had the luxury of, like I said before, my cousins Kenny and Charlie, they had their own studio so when Charlie first started playing guitar and producing, that's around the time when I first started writing. They had a studio in the back of their house and I used to be there every day just studying songs and Charlie would be working on beats and I'd get a pen and pad and just start writing. Kenny had the patience with us to teach us and allow me to record, he would sit there and record me. I had songs from those years that just every day I was in there just kept writing and writing, if one song didn't work, I thought let me try something else. So I just stayed in the studio and didn't come out, I was a studio rat, I would sleep on the floor, wake up, listen to the beats that they had and kept writing. I would invite some of my friends that were more advanced in writing to come and write with me, or some friends that were starting writing as well. We would just sit there and go at it.
YKIGS: Talk to me more now about the solo project you're working on. I know you signed to Busta Rhyme's label, talk to me about how that whole opportunity came about?

LB: I've always been good friends with Busta. Busta was working on his album last year, incredible album getting ready to come out, and he called Jamie Foxx for a feature. Jamie went to the studio and Busta had this track that was just incredible, and me and Jamie worked together a lot lately when it came to his writing in the studio, so he called me and was like "Lonny, I need you to get over here and help me write this song with me and Busta Rhymes." So I said cool, I'm on my way. So I get there and I hear the track and I call my writing partner and he gets there, and I had this crazy idea that we just brought to life and you'll hear it on Busta's new album. Busta loved what we did so much that he started calling me himself like "Yo playboy I need you to come over here and write these hooks for me, I got some ideas that I know you will kill em." So me and my partner started going over there for two or three weeks straight, and I ended up getting a feature on Busta's new album as well. So we came up with such incredible work together and Busta was like "Lonny you've been in this game too long to not do your own thing, I believe in you, there's no jealousy, I'm a rapper so you can't step on my toes, you sing and I think you need to get out there and I want to help you get out there." So I asked what he was talking about and he came with some paperwork and we negotiated back and forth for a couple of months, and here we are.
YKIGS: So are you are currently working on your debut album? When can we expect that?
LB: I am working on that and it's almost done, it's going to be titled "Love Train." I just did a record with Chris Brown for that, Busta is on it of course, YG is on it, I was with Tyga last night, he's giving me a verse. I'm excited about the project, of course me and Tank are going to do something together, it's going to be a hot album. I'm working on that as well as the "Love Games Part 2" mixtape so my plate is full. Of course I'm working with Chris Brown on his new "Fame & Fortune" album, I'm working with Pleasure P on his new project so I'm kind of spread thin. I'm still doing live shows, I'm getting ready to go to New York with Tank, so between these shows with Jamie and Tank and "Love Games Part 2" and the "Love Train" album and me writing on everybody else's album, I don't sleep too much!
YKIGS: Talk to me about the mixtape you recently released "Love Games Part 1." What has the reception from your fans been like?
LB: You know the reception has been great. As more people find out about it I'm getting a lot of positive feedback. It was really surprising to me because it was my first piece of work that I put out there for myself. I just wanted to throw a little appetizer out there for the people that are waiting on this album, while you are waiting on this album, let me give you this little appetizer to feed on and just introduce myself a little bit and show you what I can do. So I put the mixtape together just for the fans and supporters that are waiting on the album and it's been great feedback. I didn't expect the feedback that I'm getting, and I'm appreciative, it gives me more inspiration to keep going and just get in there and confidently give people what they're waiting for.
YKIGS: I want to get your opinion on something. As a veteran writer who's had success in the past, do you find there is any stigma that goes along with that where people may classify you as just a writer? Does that kind of take away from what you're trying to do as solo artist? Have you ever got that type of feedback?
LB: I've had that kind of feedback within the industry, the politics of the industry. Just because you can write and sing doesn't necessarily mean you're supposed to be an artist. So a lot of times they're big on image and look and marketing and promoting and if they don't know how to do that with you they really don't see you as an artist, they see you more as that writer that "Oh let me get these records for that other artist from you." I have run into that within the industry internally but outside of the industry the fans have always supported me and even when I do these live shows with these artists, they all have showcased me in their shows, it's always been the fans that come to me and say "When is your stuff coming out?" So it's those moments that built me up to say you know what, I'm not going to listen to what everybody is saying, I'm going to give the people what they want.
YKIGS: I had a chance to check you out at Tank's show at SOB's in New York last month and I saw that he gave you a chance to shine a little bit on the mic and do your thing solo which was cool. What's it like singing backup for Tank?
LB: Singing backup for Tank, he's my favorite artist to do shows with because he doesn't care. As long as you sound great you don't have to stick to background script. You got a chance to see the show so as you saw a lot of times we rock like a group more so than background singers. So I love that because he's not intimidated by singers. A lot of singers would be intimidated and want you to stay in the back and to really do too much and stick to the script because it's their stage and they want their shine and they don't want too much attention off of them. Tank isn't that kind of artist, he just loves having fun, he's a great musician, and he appreciates people that can help his show even if that means they steal some of the light a little bit and I love that about him. So it's nonstop fun, jokes, we all got crazy sense of humors so I love being on the road with him and we have a ball like some little kids.
YKIGS: Yea I definitely noticed that you guys looked like you were having fun out there and you were all just rocking out doing your thing so it was cool.
LB: Yea and I have almost as much fun with Jamie Foxx because he showcases me too but it's just real loose and whatever with Tank, it's just fun.
YKIGS: Speaking of Tank, I want to talk to you about one of the biggest songs you wrote for him which is "Please Don't Go." Give me a little background on that song and how it came about.
LB: Wow, I actually lucked up on that one. Tank was working on his "Sex, Love & Pain" album and it was just one of those days where I woke up and said "What am I going to do today? Let me call Tank and see what he's doing." So I called him and said "Yo Teezy," I call him Teezy, "Yo Teezy where you at man?" So he said he was at the studio, and told me which one he was at and I told him I was on my way. So I get there, he always loves to play what he's working on, he'll play the track of what he's getting ready to do and give me his ideas or whatever and I'll sit there and be like that's hot, or that's not hot, or let's do it like this. So I just walked in on "Please Don't Go" and he had already started on it and I sat down and just started throwing lines at him. At one point he walked out of the studio and was on the phone or eating or whatever he was doing, and I actually got in the booth myself and finished the song myself. So when he came back in there and heard what I had done he loved it so much. He changed a few lines here and there but we knocked it out, we knocked "Please Don't Go" out. I didn't even think it was going to be a single, I didn't think it was that big of a song, I was just happy to be part of a song on his album, I was just hoping that it made the album. But he called me and said the label loved it and it's going to be the first single. I was like "What? Ok cool well that's crazy, I hope it does good." And before you knew it, it was number one and I couldn't believe it and it was my first number one. That's "Please Don't Go," still to this day I'm appreciative of that day.
YKIGS: Amazing song, I love that one. I want to talk to you about another one of your biggest hits which is the song you wrote for Pleasure P, "Under." Give me some background on that one.
LB: Wow, "Under" was actually done at the same studio that we did "Please Don't Go." Shout out to Glennwood Studios, that's a special place for me, I always luck up. Me and Tank were actually working with Keyshia Cole in the same room that we did "Please Don't Go," and then across the hall we had the session with Pleasure P. So Tank wanted to just finish the song with Keyshia, and wanted me to go over with Pleasure. So we were bouncing back and forth between the rooms and I walked in the room with Pleasure and Tank gave me the track for Pleasure and he went back in with Keyshia. Pleasure told Tank he wanted us to give him "Naked" like the song Tank did with Marques Houston. So he said "I need one of those out of you Tank, I need 'Naked' on a song." So we heard the track and Tank came up with "Under," he came up with the word "Under" and he went in the booth and laid the melody and everybody agreed that we loved the melody. So Tank said "I'm going to go back over here with Keyshia, Lonny you and Pleasure got it, you guys write the song, I'm going to come back in here and check on you and finish writing it." Tony Dixon was in the room as well as some other Song Dynasty writers and we just sat down and listened to the melody Tank had, and he had a few words that he had thrown in there, and we played off of it Tank came in there and helped us finish it and we had "Under."
YKIGS: I love that song too, that was one of my favorite songs from 2009.
LB: Oh yea, it's one of my favorites now. We did it again on this new Pleasure P album, you'll hear it, it's a song called "Piece of Mind."
YKIGS: There's something I wanted to get insight from you on. "Under," and another song you had a hand in was LeToya's "Over," I felt like those two songs had a similar sound and feel and kind of the same structure. Did you follow the same blueprint on those?
LB: Yea we definitely followed the same kind of blueprint. It's actually the same writers if you look at the credits and it's like that's what we do when we get together. LeToya loved "Under" as well and she said she needed something like that, so we gave it to her.
YKIGS: You mentioned Chris Brown earlier. Tell me what it's been like having the chance to work with him.
LB: It's been actually a learning process because Chris is such a genius and I didn't know how talented he was until I got to go in the studio and work with him, but I knew he was great on stage. My first song that I ever did with Chris was a song on his "Exclusive" album. The first song I did with him on the "Exclusive" album is called "I Wanna Be." That was my first time working with him with Tony Dixon and Eric Dawkins and I had ball working with him. He's vocally fast, he works so fast in the studio, I was very impressed and he's a very smart kid. So we got a chance to know each other in the studio around that time and we'd always been friends and seen each other around, then when he started working on his "Graffiti" project, he put my name down as one of the writers on his wish list to be a part of the project. I was really surprised, really happy about it. So when he called me, he was going through his turmoil, I really felt like one of the elite because he reached out to me in the hardest time in his life to come and create this album with him. So I got to Orlando where he was based and it was like a compound; they had this building full of rooms and you had the Swizz Beatz out there, the Rodney Jerkins, and just all of these producers that I always wanted to work with that I never had a chance to. So it was really fun, Chris is a big kid he loves to have fun and his melodies and the lyrics that comes out of his brain is great. So I sit back and feed off of him now even on this "Fame & Fortune" album. We tend to bounce off of each other's ideas a lot and it's just fun, the environment is great and I'm glad that he's back, "Graffiti" should have been a bigger project. Around the time I did "I Can Transform You" on that project, a lot of people were saying the thing on Lonny Bereal is well he's a great ballad writer, he doesn't really do up-tempos. So I had a chance to be a part of an up-tempo and it actually got me some of my biggest royalty checks, "I Can Transform You." That came out, and then the Teairra Marie "Cause a Scene" came out so I had these up-tempos that started releasing around the time when my critics were saying I couldn't release an up-tempo. So I got a chance to be a part of "Famous Girl" which wasn't a ballad on the "Graffiti" project. So Chris Brown is a genius and actually is broadening my database as far as my wide range of writing; he's got me writing pop songs, he's got me writing country songs, he's got me writing alternative songs, rock songs and we're mixing it with r&b. So it's a great growing process for me.
YKIGS: I want to ask what might be a little bit of a tough question for you. I've got your ASCAP page up here and I'm looking through all of your writing credits. Do you have a song that you feel is the best song you ever wrote? And why.
LB: Mmmm, wow. That's a hard one! Well as far as the songs that are out there, because I do have a song that I do have a feel like it's the best song that I ever wrote that's actually going on my album so you haven't had a chance to hear it yet. But as far as what's out there *pauses* that's a hard one. I have to say I gauge that off of the biggest song that I've had so it would be between "I Can Transform You," "Under," and "Please Don't Go." I think I would go with "Please Don't Go" because it's more of an emotional song, a song everybody could relate to, it's a song from the heart. So I would go with "Please Don't Go" if I had to choose. "Under" is a clever song, it's a clever song how we wrote it and the melodies. "I Can Transform You" was more of a song for that time, a fad song for the clubs. So I would say "Please Don't Go."
YKIGS: Now as a writer who is behind the scenes, to me that's the real star who is crafting the hit for an artist. A lot of times the common fan might not even know who the writer is. Do you ever feel that maybe you don't get the credit you deserve for the hits you've created?
LB: Definitely I feel like I haven't gotten everything that I deserve when it comes to that because being that I write with Tank so much and Tank was already an established writer and producer, a lot of songs that I've written that have big names attached to it. Even with some of the stuff I've done with Rico Love or Tank or with the Jamie Foxx's, the Chris Brown's, the Swizz Beatz'. So my name will get lost behind the bigger names because I'm up and coming and so a lot of people are not sure how much I really did and what I'm really capable of because they know what these big names are capable of that I've worked with. So I'm not offended, I understand, so what I started doing is doing more things on my own and you'll see that on my album as well as some of the things I have coming out real soon.
YKIGS: That's all of the questions I had for you. Is there anything else you'd like to add?
LB: You summed everything up pretty much.
YKIGS: Well thanks for taking the time for the interview, you gave me a lot of good info and I appreciate it.
LB: I appreciate you. I want to let everyone know about the Facebook, I do have my fan page on there and then my personal page as well and then my Twitter page, Hitclub.com, LonnyBereal.com, just shout out to all of those social sites that we have. We keep people up to date, and everybody just stay tuned.