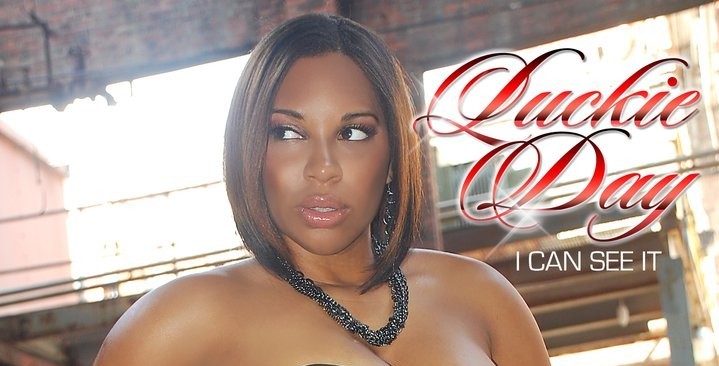 Buddha from www.youknowigotsoul.com had a chance to speak with Luckie Day about the beginnings of her career, her working relationship with her big brother Smokey from the R&B group Playa and her new EP, which is available now! She also tells us what everyone can look forward to from her in the near future and also what kind of struggles she's had to go through to get to where she is now.
YKIGS: First off, tell me a little about how you got introduced to music and who some of your influences were.
I started singing church like a lot of people. My mom was a choir director. She couldn't make the other kids sing, but she could make her own kids sing. I just ended up falling in love with it then. I also love videos so that got me into it as well. I love Faith, Mary J Blige, Beyonce, Alicia Keys. Just soul singing in general, I just loved it. And of course my brother!
YKIGS: You mentioned in your bio that Mary J Blige was the reason you wanted to become a professional singer, what is it about her that you admire so much?
She just reminded me of me so much at that age because I wasn't really a girly girl. I was more of a tomboy. When she first came out, she was in Timberlands and a blue jean outfit and that was so me. She was still feminine in what she did, but she had this edge where she wasn't over the top glamorized like everybody else out at that time.
YKIGS: I also read that you dropped out of college to pursue the music career. Looking back at it now, is there anything you regret about that decision?
I don't. College is always something you can always go back to, but I didn't want to live a life with regrets or what could have been. And to be honest, there was nothing in college that even inspired me to increase that debt. So it was the better move for me because I was in the studio most of the time anyway. It was the best for me to do.
YKIGS: Now talk to me about your journey shortly after leaving school. I know you were writing for a gospel group?
I started writing with a gospel group and that was actually while I was still in college. Then I guess we all just kind of fell apart, one person moved away and another person joined another gospel group. And then I was kind of left just out there, then I was like R&B was always my original thing anyway. Gospel was something I just started writing, then I started to branch into R&B and started recording myself in the studio to find out what worked for me and played with harmonies and just got lost in the music.

YKIGS: So for someone who hasn't listened to your music yet, how would you describe your sound?
Soulful. It's familiar but it's fresh sonically.
YKIGS: With the way the radio is today; have you ever felt pressured to record songs that were more pop sounding?
Oh yeah I fell into that hole. Probably 3 year ago, anyone with any type of tone was ousted. Everyone was looking for some pop black girl. It got ridiculous. So I fell into it for a while. I still appreciate pop, like I appreciate R&B. I just think it's important that you find a balance instead of draining the soul out of your voice because that's where I ended up going.
YKIGS: Why did you decide to go back to your true roots of R&B?
It was stupid from the get go. It just wasn't me. I fell into it more so just from a writing standpoint because for a while, I stepped away from being an artist and just focused on writing. And being that that's all they wanted, I mean when you record, I can't sing in this big voice on a reference and then give it to someone they signed that can't half ass sing. So I kind of had to dumb it down and drain everything out so they could hear their artist on it.
YKIGS: Talk to me about your new album "I can see it" and what we can expect from it
Real singing, real music. It has a really good vibe to it. I feel as soon as you put it in, the voice is undeniable. You won't feel cheated. The music is something you can ride to. I think it's just an impressive project.

YKIGS: Are there any producers, collaborations, writers on the album?
I wrote the whole thing. There's a feature by a rapper from Louisville Kentucky named Royale. Producers there is Mr. Lee, Omen and actually a group from California that I'm familiar with called The Boogie. Also New Schoolin' Legend did a track for me, it's a monster.
YKIGS: Tell me about your single "Never Had a Love" and give me the background behind that song?

Basically you're finding out what you like and what you don't like, and you just come to this stage where you find somebody that is really easy to love. He says he's going to call and he calls you back. It's just easy, there are no games. There's just real love and that's where it came from and Royale gives the male perspective of it.
YKIGS: What is the process like when you write a song? How does a song come together for you?
The track just has to speak to me. I don't have a certain way to write anything. The song just has to speak to me and I go from there.
YKIGS: Many may not know this but you're the younger sister of Smoke from the group Playa. How much has he helped you and what kind of things has he taught you musically?
He's made me a monster. If I ask him to do something now, he'll be so willing to do it. But when I was younger, he introduced me to it but he made me work. I see a lot of what he did as far as being like "if you want this, you're going to have to learn it." He never handed anything to me. People may think that but he didn't hand me ish. He made me arrange myself, write myself and find my own sound. He introduced me to it, but he let me go pretty quick.
YKIGS: Not a lot of artists from Kentucky have really made it besides Nicole from the Pussycat Dolls, Playa and Nappy Roots. Do you think it is harder for opportunities to come your way because you're not located in New York or LA or Atlanta?

Definitely, and that's the answer *laughs*
YKIGS: And what kind of things are you doing to overcome these obstacles?
The internet is a gift and a curse, but I feel like a lot of the opportunities I've received have been from that. Just putting my music on the internet. Actually Omen, one of the producers on the EP, he did "What's Mine is Mine", he reached me out to me on Facebook out of nowhere asking me to write for him. Omen did "I'm Single" for Lil Wayne and The-Dream's song with Drake. Just opportunities like that. I met Mr. Lee, he's a Houston producer, and he's done a lot stuff for Bun B. I met him on the internet. Just to be able to reach people that I would never be able to reach because I live in Louisville. That allows me to be in New York, California and Atlanta.

YKIGS: Is there anything else you're working on currently besides the album that you have coming out?
Yeah I'm working on a mixtape with Soulstar music; I already did a cut for him. I'm not sure when that releases. Hopefully that'll be in the next month. I think he's just in his mixing stage and then Omen has a mixtape coming out called "Black Hero Music". I wrote a couple, there's one actually out right now called "Negro Spiritual" and it's a monster.

YKIGS: Are there any long term goals that you have as far as collaborations or accomplishments that you want to achieve?
I want a Grammy *laugh* and a plaque. That's long term. I always tell people and I just had this conversation with my funny, "you have got to do this music thing to understand it. There's really no rhyme or reason or blue print behind it. You just have to walk on faith and see where God takes you." I can decide to go to college and still do music. I can still do 9-5 and still do music. Regardless, I'm still going to work and I believe whatever I get is what I'm supposed to get.
YKIGS: And any artists that you want to collaborate with?

I still need to do a collaboration with a brother. We've done light weight stuff but we still need to do a whole song together. Someone else I would like to do a song with is Drake, but I mean who doesn't? I like where he can go though, he's flexible.
YKGIS: Female R&B singers come and go, what is it about Luckie Day that is going to make her stay in this music industry?
More than R&B. I think a lot of times, from what I've seen, I mean you can make it in R&B. If you take note though, the people that lasted in R&B are people that came out in a certain time where it was appreciated, so if you don't already have that platform, it's hard for you to build it. I think nowadays, the one trick pony is kind of dated. I think you need to be multifaceted. This EP is definitely R&B but in the future you'll hear a little bit of everything. I think that's what's going to make me last. I understand radio, I understand markets.
YKIGS: Is there anything else that you would like to add?
I love you guys, you guys are dope. This is my first interview. I'm geeked.