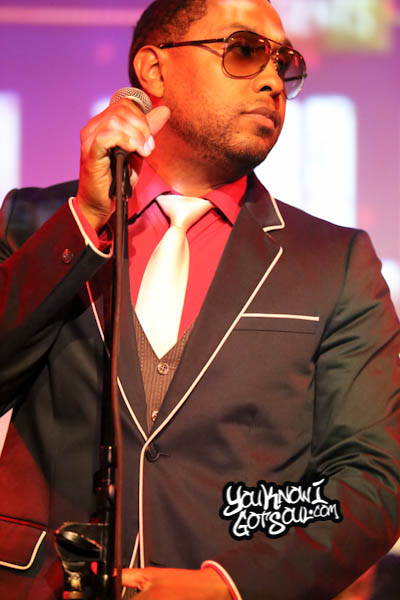 Slam from YouKnowIGotSoul had the chance to catch up with Noel Gourdin backstage for his show in NYC on 3/2/11 (He was the opening act for Anthony David that night). Noel discussed how he originally hooked up with Kay Gee, what to expect on his upcoming sophomore album, the new single "Beautiful", the growth in his music between albums and the importance of making real r&b music.
YouKnowIGotSoul: Can you tell me the story of how you originally linked up with Kay Gee and did music with him?
Noel Gourdin: Originally, I was in New York and I was working with my production company at the time Track Addicts and he had a pretty good relationship with Kay Gee. To make a long story short, I had dealt with Track Addicts, and through them I met Kay Gee and he really liked my style and feel and ended up putting me in the "Cookout Movie." So that was the beginning of our relationship and we just took it from there and created "The River" and the rest of the album. So it went pretty good, we got a lot of support from that. Now I'm with the new label, Mass Appeal, I've got the new single out "Beautiful" and it's doing really well on the Urban/AC charts. So I'm really happy, feeling really blessed right now.

YKIGS: Tell me about the single you've got out "Beautiful" and give me some background on the song.
NG: "Beautiful" like I said it's with my new label Mass Appeal Entertainment/E1. It was done with Ryan Toby and my production team, Marcus "DL" Siskind. When I first heard it I thought the record was just so infectious and I just had to have it! I kinda listened to it two or three times and I called Marcus and told him I needed to do this. So I went into the studio, cut it, and that's it.
YKIGS: Tell me about the new album you've got coming out. What can we expect to hear on there?
NG: The new album I've got coming out is called "Fresh. The Definition" and it's coming out April 12th this year. What's different about it from "After My Time" is it's more organic; there's music with instrumentation implemented into it. Another difference is I had much more creative control this time around. It was a really tight knit group with six producers and five writers and it's just really what I wanted to happen the first time around but didn't really get a chance to do it. So this time I got a chance to spread my arms and really get in with some creative people that were on the same wavelength and we saw the same outcome with the album. So the album came out great.
YKIGS: So you think listeners will hear the growth between your first album and this one?
NG: Yea the growth is phenomenal for me because I'm seasoned in the industry now. I've been signed since 2005, so I pretty much know much more of the industry with the ins and outs. I know what to look for and for me this industry for me is all about relationships. Just the growth of the music, it's more organic, more music instrumentation, I was able to be more creative so it's been great to make a record with Marcus "DL" and Mass Appeal/E1 and I just came wait for everybody to hear it.

YKIGS: On stage you talked about making real r&b and that's what we need right now. How important is it to you to make that real music?
NG: It's everything to me. That's my motto, I know that when you listen to a Noel Gourdin album, you won't be able to say "He really didn't say anything" or "It didn't do anything to make a lasting impression." I grew up on music that had meaning and it's still around today; that music was made in the 40's, 50's, and 60's. That's something that my father had me grow up listening to. I just want to be a positive black role model as well as a role model for anyone. It's really important for me to be respectful and have music that can talk to anybody from two years old to your great grandma. It's very important to me so it's all about the integrity and what you want to leave the industry with your legacy when you're gone. So I want people to know that I'm making respectful music that has a chance to stand the test of time.