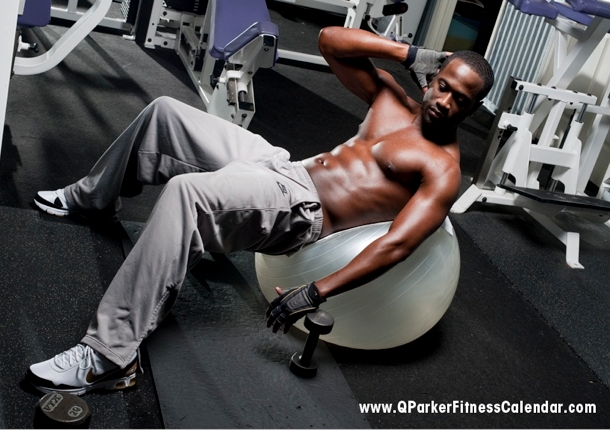 YouKnowIGotSoul caught up with Q. Parker of 112 backstage after his performance in BB Kings in NYC to discuss his upcoming solo debut album "The Manual", how his sound as a solo artist compares to that of 112, why he decided to release a Fitness Calendar, what he hopes to accomplish with the calendar, his Q Version of songs, if 112 will ever release another album, and more.
YouKnowIGotSoul: On stage you mentioned your solo album that's coming out called "The Manual." Tell me about the album and when we can expect it.
Q. Parker: Late 2011, later on this year. It's just a great r&b album with a lot of substance, it's very musical, and it's really just my life from my perspective as it relates to women. I believe that there is a right way that a woman should be treated to show that there are still gentlemen and chivalry is not dead and the right way to be intimate and all of that stuff. So just a how to guide and that's why I decided to call it "The Manual."
YKIGS: Who are you working with on the project in terms of producers and other artists?
Q. Parker: In terms of producers, Chuck Harmony, Oak and Papa (Nicki Minaj & Trey Songz), Carvin & Ivan (Musiq Soulchild, Jaheim, Jill Scott), Tim & Bob. Then I did a lot of it myself. Also Tha Cornaboyz. I did a lot of the writing myself too.
YKIGS: A lot of fans probably want to know how does the sound you're going to have on this album compare to the sound of the 112 albums?
Q. Parker: Well when I open my mouth, what you hear is what you hear. A lot of people don't realize, or maybe they do, that although Slim's voice was the most identifiable when it came to the lead vocals of 112, I was the body of 112. So whenever you hear me sing, you can't help but have the memory of 112. The beauty about this solo record is I can give you 100% of me, and in 112 it was four members so each of us had to play our part and we each got 1/4th of everything. But now I'm able to give everybody 100% of Q. Parker on stage when it comes to the vocals, songwriting, and production. It's very exciting for me because I've always had all of this in me and now I'm getting the opportunity to really let everybody know what I'm capable of doing.
YKIGS: How does it feel recording this album? You're used to having three behind you but now it's just you yourself. Does it feel any different?
Q. Parker: Well I've been singing forever, for as long as I can remember, the last 15 years I have had my brothers along side of me. But as I was saying earlier, it's exciting because it just gives me the opportunity to let everybody know who Q. Parker is as a songwriter, as a vocalist, as a performer. Do I sometimes look to my left and right and could picture them on stage with me? Yes. But it's a journey I'm enjoying so it's fun.
YKIGS: I know you released a fitness calendar recently. Tell me about that and what motivated you to do the calendar.
Q. Parker: I've always been into health and fitness. You can find the calendar at www.QParkerFitnessCalender.com. I just want to do my part and I believe we all need to be more health conscious in terms of what we eat and just how we treat our bodies. We only have one of these bodies so if you do it right, it will do you right. By me being a celebrity, a lot of people look at what celebrities do and they imitate it. So if I can do a calendar and it can motivate somebody then I'm doing my part.
YKIGS: How has the reception been on the calendar?
Q. Parker: It's been good, it's been really good. I was overseas and we were able to move a lot of calendars overseas. What I realized there are a lot of people are knowledgeable about health and fitness, it's just about making that first step and becoming motivated initially. Once they get into it, it's difficult at times, but everybody needs that push.
YKIGS: What could you offer in terms of motivation for someone trying to get into a routine and trying to get into shape?
Q. Parker: The Q Parker Fitness Calendar. *Laughs* The good thing about this calendar is, a lot of times when people do calendars, it's so much about the eye candy or the images, but one of things my team wanted to do with this calendar is not only take great pictures but also educate. We have a lot of motivational tips on here and we have 1, 2, 3 steps on how to do certain movements. One of the main things I wanted to get across for us is you don't necessarily to have a state of the art facility and if you notice some of these images, I purposely shot them in locations that aren't in the gym so people know that you can go to your park, you can run your stairs, you can do pushups, you can do anything and not necessarily have to have the luxury of a gym. That's what I think makes people not want to go and discourages them at times because "they don't have a gym" but you will notice that there are things that you can do at home.
YKIGS: I know you have been the Q versions of songs, what made you want to do those?
Q. Parker: Well my manager is always in my ear saying "Q we have to remain on people's minds," and I always listen to records, and anybody that knows me will tell you that I'm always singing. Every time I hear a record on the radio that's hot, I'm saying to myself "Why didn't I think of that?" or "Why didn't I write this song" or "If that was my song, I would sing it this way". So it's really me giving respect to the artist that have done those songs and my spin on it, it's not me trying to outdo somebody. So if I choose that record, obviously I like that record. And I just want people to hear how I would have done it. And the response has been really good.
YKIGS: I heard the R Kelly one you recently did and you killed that one! I heard great things from people about that one. It was an amazing job.
Q. Parker: I try to choose different styles of songs every Q cover. One week I did the Nicki Minaj record, then I did the Rick Ross one, then I did a Trey Songz one, then R Kelly. So who knows what will happen next. I'm just trying to give some versatility so at least people will know what to expect when "The Manual" is released.
YKIGS: Last question and I hate to ask this, will there ever be another 112 album?
Q. Parker: I hope so and you can never say never. I do believe in time, there will be a 112 album. And I'm really giving it to you totally 100%. I hope that there is another 112 album. I think we still have a lot to do. You can just tell by when I perform the 112 records, how people still are responsive to them. But it's just about timing. So I'd say to be continued…