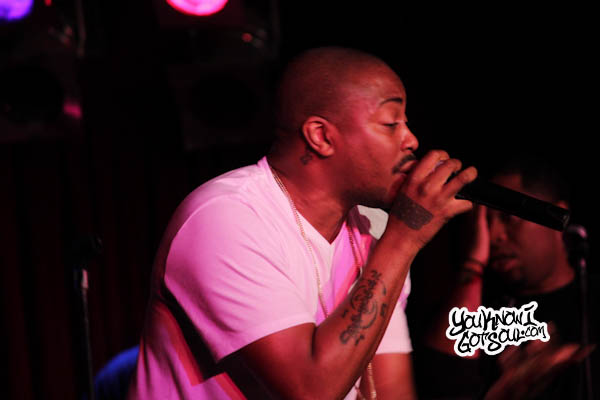 YouKnowIGotSoul caught up with Raheem DeVaughn to discuss everything from his latest mixtape "Mr. February aka March Madness," to what to expect on his upcoming double disc album "The Love & War Masterpiece," to playing drinking games with Stevie Wonder!
YouKnowIGotSoul: First of all, you released a new mixtape recently called "Mr. February aka March Madness." For those who haven't had a chance to hear it yet, what do you have on here?
Raheem DeVaughn: Ah man, it's just me doing my beat jacking thing at its best. I make the mixtapes strictly off of the love of music and just to give my fans something to vibe to because they get impatient at times. It's also just a reminder to…you know what I'm saying, I'm very competitive, but I've always been that way, and I try to constantly raise the bar. I've been doing these mixtapes since 2002.
YKIGS: Like you mentioned you've released mixtapes for years now, which is not something you see from many r&b artists. Is this something you do to just hold fans over until the album drops?

RD: It's no secret that these labels are downscaling and they are cutting marketing and promotional dollars tremendously; they are pretty much just throwing the albums out there. With an artist like myself that kinda just sells word of mouth anyway, it's kinda like a catch 22, where they don't necessarily feel like they have to put the right funding behind it, marketing and promotional wise. So it's really about me marketing and promoting myself too. Although I give away all these free songs, or remakes, or jack somebody beat and do my own tune to it, it's still, the purpose is promoting the fact that I have something coming. I have an album coming March 2nd, so to make that clear at all times. And it winds up being a piece of history too, documented at the same time.
YKIGS: I always thought it was a cool concept because not many others in r&b are doing that so I've always viewed you as doing something different.
RD: Yea, it's a couple that have been doing it, but I'm kinda like the spearhead of it as far as the lane I do. I've been doin it since I said, 2001 or 2002. I've had my own music since 2000, I got four independent projects, those are available on iTunes to this day. And then, I've been putting out my own mixtape since 2002. So this is about my 8th, I wanna say like my 8th joint, you know what I'm saying?
YKIGS: Your double disc album "The Love & War Masterpiece" is coming March 2nd. What can we expect to hear on this?
RD: Oh man, it's gonna be…kinda the mixxtape is like an idea of the concepts that will go on the album. It's half socially conscious, half love; it's 20 songs. I had the opportunity to work with a lot of great people and artists that I always wanted to work with and stuff like that. I have Damian Marley on the album, I have Wale on the album, I have my artist Phil Ade on the album. I recently started my own hip hop label, 368 music group. Official blog site is at 368musicgroup.com/blog. So Phil Ade is on the album, I have Bun B from UGK on the album. And of course Luda is on the first single from the social conscious side "Bulletproof." But then, I got a gang of love songs too, so it's a well balanced album that I think defines where I am right now mentally, physically, spiritually, and I think this is where I feel like we are globally, from the conscious side, social issues side.
YKIGS: A double disc album is somewhat of a rarity these days, what made you decide to do this?
RD: I think because of the fact that it is a rarity, I always try to be the one who kinda pushes the envelope, not intentionally, I just march to the beat of a different drum. I feel that not only do I have a lot to say right now, but it's a lot that needs to be heard. Hopefully the fans will love it, the consumers will support it and get the message, and the rest will go down in history. But, I didn't set out, it kinda just all came naturally for it to be what it is, you know?
YKIGS: I noticed that you use social networking sites and the internet to really get yourself out there. When did you realize how important it was to basically take control of this yourself and not leave it up to somebody else?
RD: I've always been on that since day one. I mean, my first album "The Love Experience" is probably still some of my best work today, next to this album that is going to drop. That album was recorded and set, I was sitting for like two to three years, I was signed in 2002 and that album didn't drop until 2005. 99% of what I came to the label with for my demo was ultimately my first album. So, sitting through the different transitions, and mergers, and selling of the companies, and all that type of stuff. To still be one of the Mohicans standing, I had to find a way to jump start the labels interest and I just really went the route that was going at that time. 50 Cent's movement was really big on that mixtape game; it was real big for him. Mike Jones too, was another cat that was doing it real heavy. I figured that I would do the same thing and put my little twist or spin on it, and the rest is kinda like history man. You know it's crazy because cats will download the music, I give it to them for free, but we also package it for merchandising, and they will still cop it again, or get the signed autographed copy.
YKIGS: I really respect you for that, I think it's really smart and wonder why more artists don't take this initiative.
YKIGS: In addition, on these types of social networking sites you have very easy access to your fans at all times. What does it mean to be able to get almost instant feedback from them?
RD: How can I put it, it's about control. I don't ever want to give anybody full control of what I do, I'm going to find a way to keep the control. It's about connecting with the people. I'm one of the artists that I have control of my audience, I know who my core audience is, I know how to get at them, and they know how to get at me. So I think definitely the whole movement of Soulja Boy too, you gotta adapt to these new ways, UStreaming, Myspacing, and Twittering and all that good stuff, the SayNow numbers. It feels like you are giving up so much, but in reality you are not. You can monitor it and kinda put out the information out that you wanna put out and use it to your advantage. I do giveaways, give away money and gifts and things like that. I do my SayNow number and Ustream. It's vital, it's all about that you use it for you, you gotta use it to make it work for you.
YKIGS: I was a big fan of the song "Country Cousins" you did with Talib Kweli and UGK a few years back. How did this collaboration come about?
RD: Oh man, that came about through Bun B. Nah, it was my man resting in peace right now, Pimp C. My whole relationship with UGK came about through Pimp C. Shortly after him being released from his incarceration, he got my number, he reached out and told me he was a fan, him and his old lady, and how "Guess Who Love You More" record was big. The relationship started there and we would play phone tag and stuff like that. I was like "Yo, if you ever got something you want me to jump on, just let me know!" It kinda just came about from there. That record, and the rest was kinda like history. From there, I just kinda became part of…actually that was on Talib's album too. I had a friend of mine who was working for them at the time, so it kinda came from both angles, but that was Talib's record. But from there the relationship kinda just kept going, and I was on the last two UGK records as well.
YKIGS: I know you were on tour with your cousin Chrisette Michelle who is also very talented, but to this point I haven't heard a collaboration between you two. Can we expect that at some point?
RD: Chrisette is actually on my album, singing a few lines and ad libs, supporting lines on a song called "Nobody Wins a War." Actually Chrisette is on this record, Jill Scott, Bilal, Oliver, Citizen Coke, Chico DeBarge, Anthony Hamilton, Dwele, Shel-B, Algebra, they all on my joint. I also have couple of records in the can that I recorded with her, one for a holiday record, when it's the time I'll put that one out and a couple of other things. I'll give her something and we'll record stuff over a day or two, but we might not use everything right away, everything has its time. The last tour I took her out on the road with Solange Knowles also, it was a dope tour, a dope experience. And I'm sure that me and Chrisette will do some stuff down the pipeline as far as touring as well.
YKIGS: I read in your bio you had a breakthrough in life when during your college years you ran into some street singers and began harmonizing with them. Tell me about this experience.
RD: It was years ago, I think in short I went to college and I think that is where I found myself musically. Everybody in college that I came across that were performers or entertainers or what have you, definitely played a huge part in who I am today. The drive, the work ethic that I have, because I was so dedicated just to skipping class in college just to go and rehearse songs and stuff like that, I was dedicated to skipping class periodically *Laughs*, so that was just an experience where some people go to college to get a degree, and others go to find yourself.
YKIGS: Well, if you had not pursued a career in the music industry and remained on your original path through college, what would you be doing today?
RD: I can't say, it's one of those situations where I can't ultimately say. I think I'm doing what I'm supposed to be doing, I really feel like this is my calling. When I make records such as "Bulletproof" or "Rough Laces 2010," which is on my new album, stuff like that is just socially conscious. That stuff don't necessarily come from me, but through me. It's just an experience that I can't really describe. I enjoy the gift of giving and I enjoy music in its purest and rawest form. Maybe working with kids or something of that nature, not necessarily a teacher but more or less maybe a counselor or mentor, a mentoring program, something of that nature.
YKIGS: I also read that you were asked to write a song for Dru Hill. Did you ever get a chance to do this and if so, what song was it?
RD: Yea, I worked with Jazz from Dru Hill, it was during the time when they were doing their solo thing. It was a few records that never came out, you know what I'm saying? Great records, definitely great records, but it just never really panned out. I still run into those guys from time to time, I think they are really talented, it's a shame they couldn't stay together because their sound is definitely missing from music and r&b right now.
YKIGS: I thought the version you did of "Invented Sex" was better than the original by Trey. Do you have a comment on this?
RD: Hey man, *Laughs* me and Trey is cool, he was one of the few people in this business that pulled me to the side. About three years ago, we was in, I want to say Oakland, we was in the Bay. We was at a party, as a matter of fact it was his birthday. He was just like "Yo Man, you dope! I been following what you do and I think you are dope." And we just got cool from that point on. I'm proud of him, and hopefully he's proud of me. I know he been doing the mixtape thing for some time now too. With that whole situation, I look at it like some things you do and you create, and I create at the end of the day to inspire. Hopefully he do the same thing. Actually, he was one of the few people that, when I was working on a "Customer" remix when I reached out to, he actually sent me something right away. A lot of the other cats that I reached out to, just really like blew me off or whatever.I think it would be dope if we do some type of tour together, that would be great. Like for both of our careers, because he gets an audience that I could definitely get, and I could bring him to an audience that could be checking for him too. It's cool, I let everybody have they time, but it's definitely my time now to do my thing. I been sitting back, laying back letting everybody do they thing, but now it's time for me to do my thing.
YKIGS: I've read that you consider yourself a "r&b hippie neo soul rock star" and that it's really hard to classify your music. If someone was to pick up one of your albums and listen for the first time, how would you describe to them what they could expect?
RD: Oh man, for hearing my music for the first time, you are going to hear the voice and the mannerisms of an old soul. You are going to hear some truth, you are going to hear some knowledge, you are going to hear some wisdom. You are going to feel the spirit of love and sex and compassion and all that, you going to feel that in the music. Ultimately, just you feel something that's like timeless, that's vintage. So you will want to put it in your cd player after a week, and it's something you can continue to revisit. I get people that run up on me, and they be like "Yo this is my fourth 'Love Experience' cd, can you sign it? I broke this one, this one got stolen, I gave it to my friend and they never returned it." Definitely those are all of the things I desire for people to hear and take from my music, you know?
YKIGS: I think it's very important that you mentioned "timeless" because I think that's what's missing these days in r&b. A lot of music that's coming out these days, and you can comment on this, r&b has evolved and a lot of what you hear on the radio today, is not what people are going to want to hear in a few years.
RD: I think it's bigger than r&b. I think it's music as a whole. I recently been to the studio with Bootsy Collins working on his new album. This is a man who's played with James Brown for years, then Parliament, co-wrote and produced a lot of the records and all that stuff, and for James Brown. You know, worked with The Isley Brothers, was on the road with them. One of things we talked about in the studio was like now, everything has got so corporate, that corporate structure kinda like ruined the passion and the art, you know what I'm saying? Because I feel like 80-90%, maybe even 95% of folks, we get caught in the shuffle of doing stuff for money, versus just being motivated to just get your art out and get your message across, the pure form of that. It's not like making it entertainment. I think it's in a process now of filtering itself out. Even I can get caught in that at times, you don't want to get caught in that hype. It's filtering itself out because if you have too much of that, and then you'd end up with an urban format where you'd hear the same song four times in an hour versus some diversity.
YKIGS: Tell me about the business ventures you are involved in outside of music?
RD: I have kinda slowed down with the whole…I was doing some digital stuff, stuff of that nature. I kinda shifted gears, my main focus right now is the music, possibly doing some more acting in the future. I got a movie that is coning out, I believe it's called "Who Do You Love," it was originally called "Chess Records," but it's supposed to be called "Who Do You Love." I believe it comes out in March or April. I know it's supposed to be coming out sometime in Spring or whatever, I'm excited about that. I started my own label recently, a boutique indie, hip hop, label/brand and my first artist's name is Phil Ade. He's an MC, vocalist, sings, writes, he's definitely making a lot of noise. I kinda got him in that same little system that I started in out here. Breakout artists like Wale, and Kathy Benet from the area who getting national and global looks. Being what they doing in DC, he definitely, I feel like he next in line for that.
YKIGS: How did you actually discover Phil Ade?
RD: Oh man, it was right place, right time. The focus was actually on some other cats we was working with at the time, but he made himself a priority. I look at it like, you got a gang of artists on the labal, like myself on the label, Anthony Hamilton, R. Kelly, I mean you name it. The best of the best. I had to find a way to make myself a priority in that building, period point blank. I feel like he's done the same thing, going the extra mile, doing what we ask him to do.

YKIGS: Final Question, tell me a memory that you will never forget that you've had in the music industry thus far in your career?
RD: Probably about, it would be a month or two ago, I happened to go to [a restaurant] in New York, after an event I went and did, and Stevie Wonder was there, who is actually like a friend you know, like a mentor, I can call him. I'm still nervous about calling him. It's like how do you call Stevie Wonder, what do you say when you call Stevie Wonder? I still look at him like "That's Stevie Wonder!" He was having dinner, I was having dinner with my management and my stylist. He invited me over, his daughter was there, Aisha, people that was just in his organization, in the band and stuff, 20 to 30 years. Man, we played drinking games and just had a good time. It was just like, we had a really good time. We had a couple of shots of Patron *Laughs*. So it was cool man. Also, if I could throw another one in there, to bring in the new year with Alicia Keys at the Apollo. This was my first time playing at the Apollo. This was somebody that has broken all of these records, and sold all of these millions and millions of records all over the world, and it's humbling to find out she was like a genuine fan of what I do. It's cool, it's just a humbling experience. Ultimately the people you look up to, they become our peers and your friends, and I think that's the best part of the business for me.