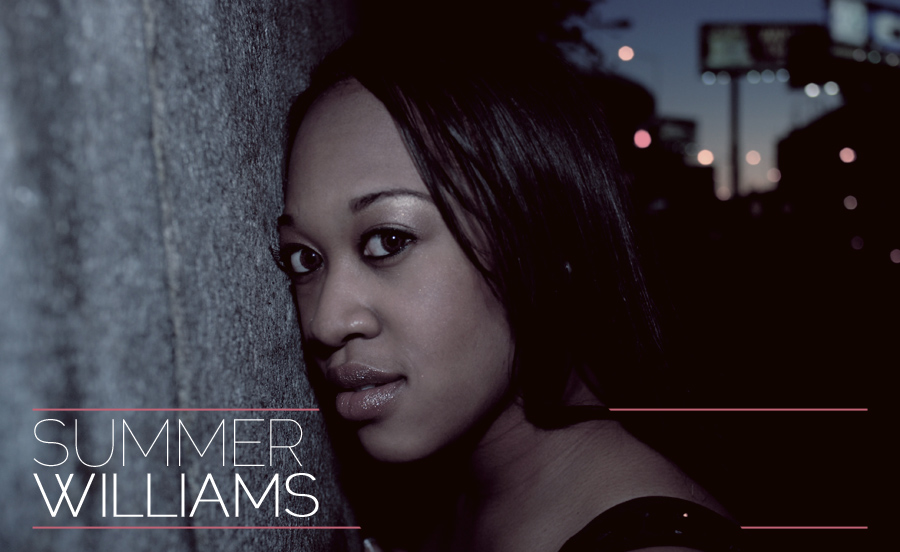 Buddha from YouKnowIGotSoul had an opportunity to talk with Summer Williams about how she first got introduced to music and some of highlights of her young career so far. She also explains to us the concept being her new album "Boom Bap Soul Vol. 1" and what the fans can expect from her in the near future.
YKIGS: Talk to me about early on in your life, how did you first get introduced to music and who influenced you?
SW: Well, I've been singing my entire life. My mother is a singer and my dad is an organist at my church so I've been singing just about my entire life. And then I started wanting to pursue music professionally probably when I was 11.
YKIGS: In your bio, you mentioned that you entered a lot of talent shows early on and surprised a lot of people with your voice. What was the first reaction like when your family and friends found out that you could sing?

SW: I was a very small, skinny, little girl so I was singing these really big gospel songs and they would always wonder where this voice came from, this powerful voice from such a little small person. I mean, they were happy as soon as I could sing because all the females in my family all sing, all my mother's side and my grandmother. It was kind of natural but they were all excited.
YKIGS: Now eventually after the talent shows, this led to you performing at live shows. At what point did you realize you wanted to be a professional singer rather than just someone who sang as a hobby?

SW: It's always been the main option for me. It's the only thing that I really am passionate about. So it was always expected that I was going to be a singer *laughs*

YKIGS: For someone who hasn't heard your music yet, how would you describe your sound?
SW: I usually describe it as being soultry and that's s-o-u-l-t-r-y. There's such a jazz, neo-soul and gospel influence over the hip hop beats. I try to incorporate my inspirations, Lauryn Hill, Mary J, Anita Baker, even classic Jazz artists like Ella Fitzgerald and Billie Holiday . I try to incorporate everybody into one sound. So I would just describe it as being soultry and I'm trying to keep it very smooth and easy listening so everyone can just vibe out.
YKIGS: Talk to me about your voice because it's different from a lot of female singers. You have a very deep and as you mentioned soultry voice. What kind of advantages do you think your voice has over a typical female R&B voice?
SW: I just like low sounding things. I've always liked that. No matter who is singing it whether it's a guy or a girl, I think it's just unique. The only couple of artists that I can relate to that have the same kind of deep voice are Toni Braxton and Anita Baker. You don't hear it too often. It's not necessarily better or worse, it's just different. When you hear me a song, you automatically can identify me on the song.
YKIGS: What inspired you to start writing your own music because a lot of singers these days don't really do that anymore?
SW: It's kind of disappointing because I assumed as a singer you had to write to your songs and had to be able to harmonize. I was horribly mistaken when I first getting into the studio, and engineers and producers were shocked that I could do half the things that I could do. But I know my voice the best and I know the emotions behind the songs the best, so I always expressed it myself. And I've been writing since age 11, not that it was any good at age 11, but I was still trying at that age *laugh*
YKIGS: What is the writing process like for you when you're writing a song?
SW: It depends on how I'm writing it. Sometimes producers send me songs. I go off of what first comes to my head, what I immediately feel when I hear the song or what kind of mood it puts me in when I hear the track, it's the first thing I do. If I'm writing it by scratch, it's just really how I'm feeling that day or what I'm thinking about or any memories that I've had, I just put into my music.
YKIGS: Talk to me about your first album "Late Night Session" which you released last year. What do you remember the most about making that album considering it was your first?
SW: It was really meant as an experiment. I just have all these different sounds in my voice and I love all these different types of music, so I just put it into one tape to figure out what would hit people the most review I got was "Shook ones". I got crazy reviews off of my remix of "Shook Ones" called "What I Wanna Say". Then I remade D'angelo's "How Does It feel" and I got crazy reviews off of that. Then it kind of just birthed this whole project I have now called "Boom Bap Soul Volume 1". It's the same sound that I would have put on a Neo-Soul beat, but I put on a hip hop beat and the reviews were crazy. Also, Neo-soul itself is so combined and has so many different elements of hip hop that it kind of was a given to continue that but to make the beats a little harder and make them a little more "boom bap". So with the first project, it was scary doing songs like "Shook Ones" because it's so notoriously known and when I say "oh I did a song over Shook Ones" people automatically were like "what? Did you know what you tried to do there?" And when I said D'angelo, they were like "you know you have to sing on that song?" Those were just the scariest moments but the reviews were crazy so it went really well.
YKIGS: Now tell me about your new project "Boom Bap Soul Vol 1"

SW: It was basically inspired the same way I've been talking about my inspirations. I'm just trying to bring that sound back in a new way with a more jazzy and neo-soul twist, but the title came from KRS One's "Return of the Boom Bap". It was inspired by that. The intro is a DJ mix and it has the KRS song on there a lot. Basically it's trying to put a definition to something because Boom Bap Soul was never a real term, it's something that I kind of just created because it's the only way to really describe the music. All you're going hear on it is classic boom bap or very neo-soul. There's no medium. It's either very soulful or very hip hop or very jazz.
YKIGS: A song that has gotten very positive reviews is "Belong to you". Tell me a little about that song and how it came together.
SW: I have a friend that works very closely with different producers and he had S1's contact and sent over some other music that I had done and asked him If he wanted to be part of the project and he sent me tracks and when he first sent me that one, it was called "Summer". And it was kind of crazy because as soon as I heard it I fell in love it and immediately wrote to it. It kind of just came. It was natural. He loved the song and it's gotten lots of great reviews because it has a Floetry vibe to it. It basically seems like S1 made it for me, I don't know if he did but that's what I'm going to go with it.

YKIGS: You're still in your early 20's with a long career ahead, but do you have any long term goals set out for yourself already as far as accomplishments or people you want to collaborate with?

SW: The first collaborate is Lauryn Hill. I've been wanting to do that since forever. And her coming back and doing this tour and I actually went to one of the shows and almost passed out in the audience, it's just amazing. She's definitely the first person. And then obviously other rappers. I have some collabs under way that I have now. I'm not necessarily going to say the names right now because they're still in the works. Ultimately, I just want to do this for the rest of my life. I want to recreate a genre, and music is all about trends anyway, so if one person starts something, others follow in their place and take it to new heights. So I definitely want to bring back this hip-hop soul and neo-soul, almost like it's 1997 again and see where this music industry goes from there.
YKIGS: There are millions of female singers around the world, what is it about Summer Williams that's going to make her stay in the music industry for a long time?
SW: First it's just passion. You can't fake it, no matter how your songs are, if you have all the hits in the world then that's fine, but the passion shows through to music and I try to make music that can relate to everyone and I try to keep a very smooth, soultry vibe. You have the dance hits and club songs, but then you want songs when you're in room by yourself or having your alone time with your thoughts, you need music that can relate to those moments. I think that's what I bring to the table, so for that reason hopefully it'll stay around for a while.
YKIGS: I know you have your own website, so how can the fans get in contact with you?
SW: My website www.summerwilliamsmusic.com I put any information, any of the blogs, anything that goes on with me. I have a show coming out March 22nd in New York city, Studio 21. It's my first showcase, I have a live band, background singers and a DJ so it'll be really good. I have my facebook (Summer Williams) and twitter (@SongstresSummer). Basically I'm on facebook and twitter all the time so if you want to get in contact with me, and I respond to everybody!
YKIGS: How important do you think it is to utilize Facebook and Twitter, especially for a lot of people who don't know you yet?
SW: Facebook is honestly life to me *laughs* especially because I'm a college student. It's definitely important because I've met a lot of important contacts on Facebook. People that I would have never been able to speak to before that just gave me a chance and listened. And I promote on Twitter and Facebook as hell. So it's crucial.