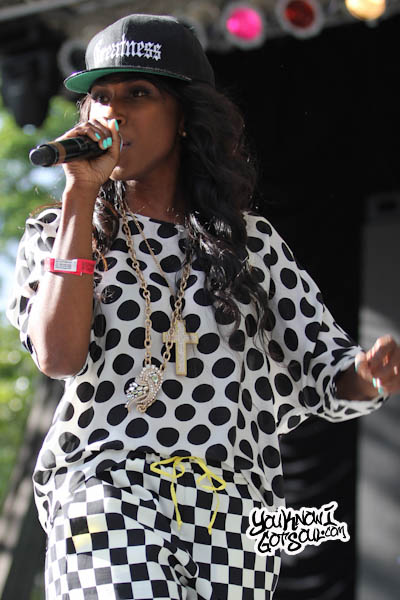 Recently YouKnowIGotSoul in collaboration with StaticMajorIsMusic had the pleasure of speaking with the beautiful "Southern Hummingbird" Tweet and we had the chance to talk about originally meeting DeVante Swing and getting her start, working with Missy Elliot, the classic sound she achieved on the "Southern Hummingbird" album and what's in store for future.
YouKnowIGotSoul: We appreciate you taking the time out to do this interview because we've had the chance to hear perspective from others you were in the Da Bassment with about being in the Da Bassment, and also about Static. So we were really looking forward to the opportunity to hear your perspective as well.
Tweet: ok, no problem!
YKIGS: First up, just give us some perspective on how you got your start in music, and more specifically, getting into Da Bassment clique.
Tweet: Well, music has since birth. I grew up in the church, singing in choirs, and I went to a performing arts school, and I had a gospel group, so music has always been in my blood. But in 1994, Jodeci came to Rochester to record, "The Show, the Party"…I can't remember the exact name, but that album. And Devante had his Bassment artists with him, which consisted of Sista, which Missy was a part of, Playa, which Static was a part of, he had Tim and Magoo and Boogie man and a couple of other people. And then he had a group named Sugah that was looking for another member to replace a member. So I auditioned in 1994 and I got the part, so that's just how it went from there.
YKIGS: What was it like working with so many other talented artists in Da Bassment?
Tweet: It was really, really, really fun. Devante actually had a studio which was Dajhelon Studios in Rochester, NY and he also had an apartment building, so we all had our own apartment and we all stayed in the same apartment complex, and we all had the whole studio. So it was always music going on, it was always writing, it was always collaborating with one another. So it was like having Motown, but updated, and I think that's the business that Devante had, wanting to recreate the Motown music. So that's what it was, good music all day everyday, who wouldn't want to do that?
YKIGS: Is there a specific memory that stands out to you from your time there?
Tweet: I kinda remember most of the days. The most I remember, there was one time we had an album release party for a young lady Renee Anderson, she wasn't a part of the Bassment, but an artist Devante was working with at the time. So we had a release party for her, and I remember that night was the night Missy wrote "Sugar and Spice" and I recorded that song with her. So I remember that, we had fun, when we recorded the Bassment Tape, I remember all of that stuff. We were musical all the time, we were a family.
YKIGS: I'm glad you actually brought up Sugar and Spice because we've had a chance to hear that one. What can you tell us about that song, and overall what can you tell us about the sound of Sugah?
Tweet: Sugah was…we always used to say the female version of Playa. So we were old school, we had the old school sound, maybe The Supremes, we would always look at The Supremes and get ideas. Like the old 70's and things like that, so our sound was basically the female Playa at the time. And "Sugar and Spice," it was just spur of the moment. Everybody was in the studio in the back like having fun, enjoying the release party, and Missy was like "C'mon let's go do a song!" Just spur of the moment and she wrote it and we did it right there while the party was still going on.
YKIGS: After leaving Da Bassment, what was the transition like going from a group to a solo artist?
Tweet: It wasn't hard, that's because it happened so fast, everything happened so fast. I was never the one that really wanted to be a solo artist, I was always in groups, but because of the opportunity that I got from Missy, with her calling and wanting me to do the backgrounds for her albums, and me just being home after the breakup from the group, I started writing songs in my time, so it just sorta happened, and just caught on when I played a couple of songs for Missy, and then that was that. I never was asked do I want to be that.
YKIGS: Tell me a little more about Missy. How did you develop a relationship with her in Da Bassment that led to you guys having the opportunity to work together once you guys left?
Tweet: Missy, as I've said before, we all stayed in the apartment complex. We had our own apartment, each group basically. We were always doing songs. Missy was a writer, so she wrote songs for Sugah, and the group that I was in, and she just was writing for Da Bassment period. I was the lead singer basically, so that's how we built the relationship. We were all like family. So when Missy left to do her solo project, she came back and got me because she recognized my talent. Because I would always do a lot of the stuff for my group Sugah, we all did our parts.
YKIGS: Since it took awhile for you to release your solo album after you left Da Bassment, was it always your intention and why do you feel it took so long?
Tweet: No, actually it wasn't. Actually Susan and I, after the group broke up, Susan and I were going to do a duet group, we had started writing songs, we actually went in the studio and recorded a couple of records, and that was going to be that. But there was just so much going on, we both went home, and then Missy called, and then I did the background vocals for her, and then I played a song for her and that was that. So it was never my intention to do a solo album, but it just happened.
YKIGS: So what do you remember most about recording that "Southern Hummingbird" album?
Tweet: It happened, it was just so…how do you say it…it just happened so quickly and at the right time. With the combination of Nisan, and Charlie, and Jubu, and Craig, it was a match made in heaven. We had known each other, and that's why I love working with them, like my brothers because I don't have to tell them what I want. If I play something, they know exactly what's needed and stuff like that, so it was amazing. We didn't know at the time that we were making something that a lot of people would still listen to today, and affect people still to this day, but we were just making good music, and it was just amazing. We did it in a one track room, it was a small room in L.A. at the studio, and it was just amazing.
YKIGS: What's your personal favorite song on that album?
Tweet: Off of "Southern Hummingbird?" Oh my God, I don't have a favorite. I think they are all…they are all like special to me. "Complain" is great, the one with Bilal is amazing, "Best Friend," "Boogie 2Nite,"… you know all of them basically! That's like one of my favorite…I could go on and on *Laughs* "Smoking Cigarettes."
YKIGS: Actually, my favorite song of yours, which actually appeared on your next album, is "Cab Ride." Can you just tell me a little background on that song?
Tweet: Well, we were actually on tour, we were doing a show, and you know how you do all the sound checks and whatever. And Craig started playing the song which is the theme to the show "Taxi." And I was like "Oooh that would be kinda dope if we did it as a song!" With that, Nisan did the track and sent it to me while I was at home and I wrote the record. That's what it is, it's about a cab ride, going to see the person that you want to go see. It's simple, nice song.
YKIGS: Very nice song! *Laughs*
Tweet: Thank you! And I'm the only one…a lot of people wanted to get the rights to use the sample, and I'm the only one that they allowed to use that sample. So I feel honored that they allowed me to do that.
YKIGS: A lot of your fans that we've reached out to want to know what you've been up to since your last album released.
Tweet: Well, after the last album, and things don't go the way I wanted business wise, I didn't even want to do music anymore. So I came home and settled down and became Mom, I wanted to be in my daughter's life, and I decided I didn't want to do music anymore because I was compromising myself too much and I wasn't loving what I was doing. But in that time, I had the chance to also get another deal with Jheryl Busby, and he came to me and gave me the opportunity, that's how I got signed to Umbrella, in 2006 or 2007, something like that, and did the album which was "Love, Tweet," which will be out this year, whenever it's coming out. *Laughs* But I've been still writing, and I did a couple of songs, I did a song with Lil' Mo while I was waiting, a song with P.J. Morton. I'm doing a couple of more things in preparing for the new album.
YKIGS: Is there any chance on this album you'll be working with Missy and Timbaland again?
Tweet: Yea definitely. Missy and I have been missing each other, but we will definitely be doing something.
YKIGS: What can we expect to hear on this album?
Tweet: Well we decided to go back to the classic Tweet, "Southern Hummingbird," so that's what you're going to get. I won't be compromising, you won't get no hip hop, I'm not a hip hop artist. I'm going straight back to "Southern Hummingbird," the acoustic sound, what everyone fell in love with from the beginning, so that's what you'll get.
YKIGS: Perfect, that sounds good! Since you've already worked with artists like Timbaland, Devante, Static, Missy, is there anyone in the future you'd like the opportunity to work with?
Tweet: I've always wanted to work with Andre 3000. D'Angelo definitely, I think that's the top of my list, number one is D'Angelo. But I've also recently been loving a guy, very talented, his name is Junie, and I really would love to work with him. Maybe do a gospel album, that's about it though.
YKIGS: Since you've been in the music industry for so many years, are there any artists in your time in the industry who you would say have influenced you?
Tweet: Influence wise would be Marvin Gaye. Quartet music period, that's what I grew up on. My mom and dad, Diana Ross, Aretha Franklin, the Clark Sisters, to name a few. I kinda like all kinds of music, so I'm well rounded. Those are the top people that really influenced me.
YKIGS: Ok Tweet well that's all I had prepared, is there anything else you'd like to add?
Tweet: I appreciate even you wanting to interview, and look out for the "Love, Tweet" album that's coming out soon, I'm finishing right now, it's gonna be hot!
YKIGS: Do you have any tentative release date on the album?
Tweet: No I don't. Who knows, anything could happen, I'll just say that! *Laughs*
YKIGS: Well I'll definitely be checking for that!