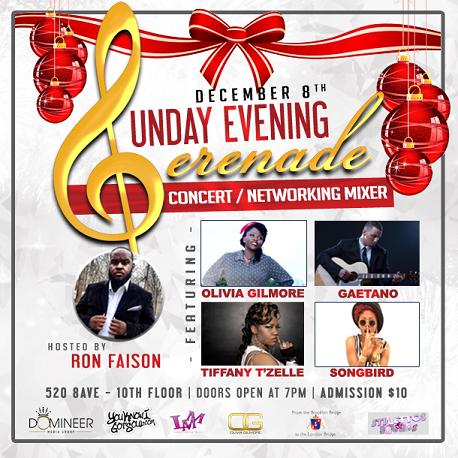 YouKnowIGotSoul has just announced that it will be partner with the Sunday Serenade R&B Showcase in NYC to become a media sponsor of the event. The next installment of the event will be December 8th and feature producer Olivia Gilmore, as well as Gaetano, Tiffany T'Zelle, Songbird, and will be hosted by Ron Faison.
This is the third edition of Sunday Serenade, which started with Olivia's dream to create a platform for artists to share their work and bridge the gap between artists and music fans in an intimate setting. Past performers include: Lydia Caesar, Taylor Hill, Brittany Foushee, Kadeem Nichols, and more. In addition to a host of artists, designers and other entrepreneurs, past guests have included executives from Atlantic Records as well as producer Rockwilder. Having so much talent in one room is what inspired Olivia to add the networking component, so this time in addition to music, there will also be an hour set aside specifically for the purpose of networking.
Tickets to the show will be available at the door for $10.