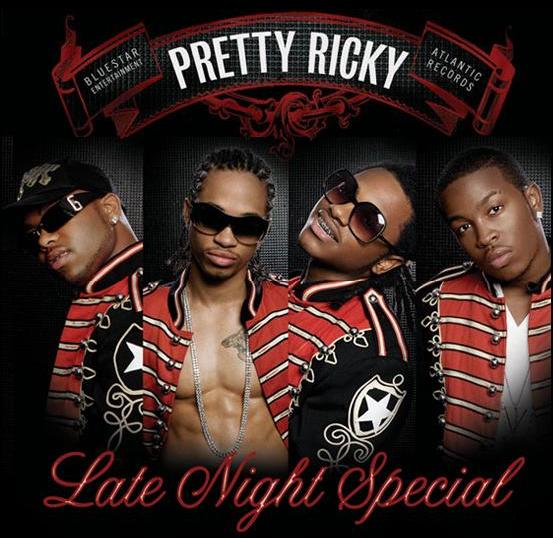 From 2005 to 2007, Pretty Ricky was all over the radio with their overly explicit lyrics and catchy hooks. The group took the music industry by their storm with their first album "Bluestars", which had the huge singles "Grind On Me" and "Your Body". Even with the success of these two hits, critics were still skeptical on whether the group could last for more than one album. The first single "On The Hotline" off their following album "Late Night Special" proved the group's success wasn't a fluke. Pretty Ricky went on to debut at #1 on the Billboard 200 charts with their sophomore album "Late Night Special" thanks to the success of this Static Major & Diamond Blue penned track.
http://www.dailymotion.com/video/x1qult_pretty-ricky-on-the-hotline_music
We had a chance to talk with Diamond Blue of Pretty Ricky and Rudy "Groove" Sandapa (Producer of the song and also music partner of Static Major) about the creation of "On The Hotline":
Rudy Sandapa: I did the beat for the song. Static and I were in Atlanta together. It was really late. He heard it and he was like "Oh man, let me do something" but it was so late and he was like "Man this track is too good to do the last minute stuff to." He decided to give that track to Pretty Ricky. It's a funny story because at the time, Pretty Ricky was having a fall out with their label. Static was in the middle of it all and they had a heated meeting at Circle House in Miami. They were talking about this and that, and I didn't want to be part of it. I was outside. I heard all these arguments. Someone from the room came out and told me "Static said to go to the car and get that track out." That track ended up being "On The Hotline". I was like "Alright, cool" so I went and got the beat. I walked into the room, gave them the CD and walked out right away because there was so much tension in the room. *Laughs* They played "On The Hotline" and the label loved it. They were like "This is hot, you need to write to this!" I was excited because it was going to be the first time that I was going to have some work out on a major artist.
Diamond Blue: That argument was actually about an R. Kelly record. Craig Kallman brought us an R. Kelly record and we were figuring out who liked it and who didn't.
Diamond Blue: We were in the studio, we were recording at Circle House Studios. It was me, Spectacular and Static at the time. It was just us in there. We were vibing to tracks all night, but we couldn't find that one. Static was like "Alright, what do you think about this one?" and he put that beat on. We started vibing in there. We turned the speakers up real loud. Me and Static would used to get right in the speaker just so we could feel it. We would go back and forth, he would tell me what he got and I would tell him what I got. We mixed it together. I can't remember exactly how we came up with it, but we ended up going through the dictionary and we tried to figure out some freaky words and we came up with the "Horny" line. We were just in there vibing and it just came together. We worked all night on it and we finished at 9 in the morning. "On The Hotline" was the last song we were recorded on the "Late Night Special" album. That record was the one. We took the tour bus all the way to Atlantic Records and played them all the records. We called the whole label in and did a meeting in the conference room with the whole label. Once we threw "On The Hotline" on, by the end of the meeting everybody was in that "Pretty Rretty Pretty Ricky!" and that's when we knew we had a hit!
Rudy Sandapa: When we did "On The Hotline", Pleasure P didn't want to sing that song. Static laid the hook and Pleasure came in and was like "I don't talk about phone sex, I'm not singing this." He was in there singing it kind of reluctantly and then eventually he did it, and it turned out great. The label loved it and it ended up being their first single.
The hook is interpolates Salt-N-Pepa's "Let's Talk About Sex".