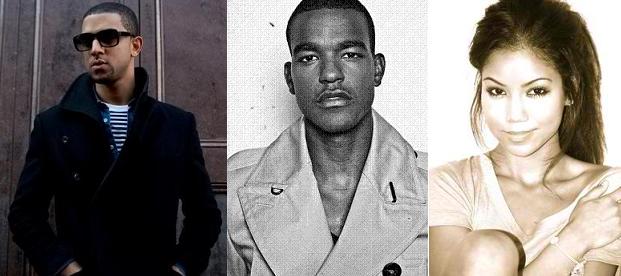 (Article Written by Sope Soetan)
Over the past year, a new crop of R&B artists have emerged with a unique approach to lyrics, melody and production has seen a slight resurgence. This can also be credited to the increasing successes of Frank Ocean, Marsha Ambrosius, Elle Varner, Miguel & two-time Grammy winner, Melanie Fiona. While they are yet to reach the runaway success of debuting artists from the late 90's & early 2000's, their notoriety is slowly but surely soaring as they continue broadening their fanbases.
The growing success of these talents signals that R&B could perhaps return as a genre to once again be a force to be reckoned with. In the wake of this renaissance of sorts, there are now some relatively new artists looking to follow in the footsteps of the aforementioned stars and imitate if not surpass their successes.
8) Rochelle Jordan:
Toronto-based songstress Rochelle Jordan has been making major waves in the blogosphere with her smooth as silky voice coupled with sparse production and superb lyrics. Her haunting music and breathtaking delivery has lead to many calling her the 'New Age Aaliyah'. I fully concur with that comparison as it's hard to overlook their similarities in tonality and their ability to convey such intensity in their singing while staying faithful to the serene and soothing nature of the music.
Rochelle's new album, 'P R E S S U R E' is a highly impressive collection of atmospheric R&B with multifaceted production akin to the ground-breaking sound of the landmark Aaliyah classic, 'One In A Million'. Though she remains unsigned, it's not unfeasible that she can become a staple in the urban community similar to the way fellow Toronto native Drake broke out attaining mainstream notice on his accord.
7) Tinashe:
Say hello to the new RCA Records signing Tinashe who is armed with everything it takes to go toe to toe against today's female dominators. The 19 year old boasts stunning beauty, commanding vocals and proficient dance skills. I truly believe if given a giant push she could rival Rihanna as the industry's 'Bad Girl'. Her critically-acclaimed mixtape, 'In Case We Die' contains a sultry dark sound with a very bold and sexual style in her lyricism backed by gloomy trip hop-inspired production. Tinashe is currently prepping for the release of her sophomore mixtape entitled 'Reverie' ahead of her much anticipated major label debut album due next year.
6) Daley:
When you first lay eyes on this man, seeing him usually donning his quiff hairstyle, glasses and unsuspecting clothing, you would be forgiven for assuming he's just some quirky lead singer of an indie band. However you couldn't be more mistaken. British-born singer-songwriter, Daley has the voice of a gender-bending soul singer that will instantaneously grab the interest of listeners with his androgynous voice which bares reference to an unlikely blend of Prince and Karen Carpenter.
The well-received EP, 'Those Who Wait' sees Daley shifting between neo-soul jams such as the Marsha Ambrosius-assisted 'Alone Together' and acoustic covers of Madonna's 'Like a Virgin' showcasing the rawness and effortlessness of his vocal ability. The stark contrast between his image and music united with his mysterious aura will definitely keep the ears of listeners intrigued as they wait for the unveiling of new music.
5) Mateo:
Signed by Kerry "Krucial" Brothers, the man who played a pivotal role in the launch of multi-platinum R&B veteran Alicia Keys, Mateo like Stevie Wonder & John Legend before him is aiming to bring more piano-laced music with a sense of sincerity back to the charts. Mateo has recently released his latest mixtape, 'Suite 823' featuring guest appearances from Stacy Barthe & AToZeke. While musically it's primarily rooted in R&B, the sound has a rich element of alternative rock with subtle John Mayer nuances creating an anthemic live listening experience. The set is mostly notable for his spectacular & poignant take on the Lana Del Rey hit, 'Blue Jeans'. His debut album will hit stores this winter.
4) Luke James:
Undoubtedly one of the best vocalists to come out in the past 10 years, Luke James is here to take fans back down memory lane with his revitalized brand of timeless soul with live instruments, his affectionate delivery and the extraordinary falsetto that is making all the females swoon. The New Orleans resident got his industry start in the short-lived duo, Luke & Q. After they went their separate ways he began writing songs for the likes of superstars such as Chris Brown & Britney Spears. It was during this time he met Beyonce's choreographer, Frank Gatson, who began shaping his many talents.
With a show-stopping performance at the BET Honors under his belt, fans who include Estelle & Kelly Rowland as well as being one of the new faces for Diddy's Sean Jean clothing line, James certainly has the chops and the potential to be the one of the most prominent men of soul since the reign of fellow ladies men, Maxwell & D'Angelo.
http://www.youtube.com/watch?v=H0QH9sYir7I
3) Jhene Aiko:
You may remember her from the few tracks she contributed to various B2K releases from 2002 to 2004, but those offerings are in no way reflective of the artiste she has developed into. When Jhene's mixtape 'Sailing Souls' dropped, listeners were instantly captivated by her tranquil yet imposing voice and her gift to write songs about the normal occurrences of a woman's life in such an abstract way.
"I'm tryna save the world how can I when you belong to me, I belong to them. Who do I give me to, who do I let win – you or the world?"
The well-deserved praise of the mixtape has now lead to a signing at Def Jam records where she is currently in the process of recording her debut album, 'Souled Out' due for release later this year.
2) The Weeknd:
With a remarkable ear for melody, it could be argued that The Weeknd is the pioneer of the newborn dark and moody R&B we hear from Drake, Rochelle Jordan, and Jhene Aiko amongst many others. The unconventional & melancholic sound of his mixtapes has received a wealth of adoration from R&B fans and critics for its nocturnal sound and subdued vocals which situates listeners in a trance with the electronically-infused and bass heavy nature of his music. With Drake's sophomore album, 'Take Care', being profoundly influenced by the Weeknd's sound, mainstream awareness of his music has increased a great deal which has led to chart placements on billboard and performances at the Coachella festival.
The Weeknd is unquestionably the future of R&B and it's illustrated in the new artists that have based their sound on his artistry.
1) Dawn Richard:
Once a member of platinum-selling groups Danity Kane & Dirty Money, Dawn Richard and her Brandy-esque voice is finally ready to strike out on her own and she isn' t taking any prisoners. After merely flexing her skills as a songwriter and virtuosic employer of vastly stacked harmonies on her debut mixtape, 'A Tell Tale Heart', Dawn went full throttle with her imagination on the tribal-sounding 'Armor On'. The sound resembles a militant and futuristic rainforest with hypnotic melodies featuring a large array of percussive rhythms entirely articulated by Dawn's colorful tone and intricate vocal arrangements.
Dawn has awakened a vessel in R&B that hadn't heard before and fans eagerly anticipate her full-length debut, 'GoldenHeart' in October which will see Dawn striving to push the boundaries of R&B even more with her progressive & revolutionary sound.