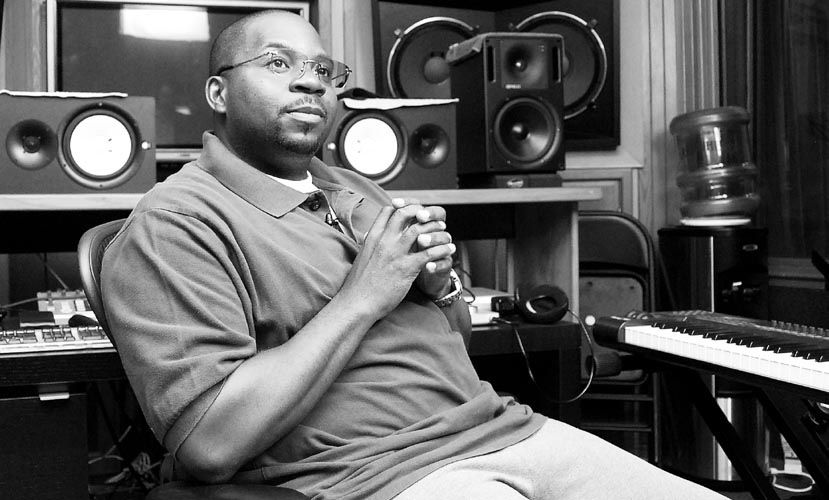 When we put together our top 25 songs of 2010 list last year, the name that showed up as having a hand in producing the most songs on there was none other than producer Mike City. He's not new to the game, in fact he's been around for years consistently producing timeless hits for some of the best r&b jams over the past decade. One talent that also sets him apart from a lot of other producers is he's also a very talented writer who's had a hand in penning many of the hits you'll find on this list. Oh yea, we also have a lot of respect for him since he was one of the first producers to show us love and bless us with an interview. Check out our list, and once again let us know where you agree or disagree. Please note, we tried not to duplicate artists on here, so that's why we were forced to leave off some of the great work he did with artists like Carl Thomas and Sunshine Anderson.
Check out all of our Producer Top 10 Lists
10. Rell "If That's My Baby" (2002)
http://youtu.be/SIuvtaLX9k8
It pains me to say it, but this song released nearly a decade ago and we've still never had a proper solo album from Rell. Mike City also did another great song with Rell for the same album, "Say It Aint So", which we discussed in the interview.
9. Anthony Hamilton featuring Sunshine Anderson "Last Night" (2001)
http://youtu.be/_EXaL1kF9Qk
This timeless collaboration not only appeared on Anthony Hamilton's "Soulife" album, but also appeared on Sunshine Anderson's debut album "Your Woman".
8. Donell Jones "Spend the Night" (2006)
Mike produced this track along with "Lust or Love" for Donell's "Journey of a Gemini" album. This song is single material and I always felt it would have done very well if released.
7. Dwele "What's Not to Love" (2010)
Mike City on "What's Not to Love":
Mike City: I was just in the zone that day in the studio like this is what I want to do and that's how it came about. Nothing extra special about it, just I was in the zone that day like this is what I want to do, and that's what came out. The crazy thing about it is I don't even write everyday because I don't have nothing to say like that every day, so I try to let the music move me so it will come out. Because it's like there's 365 days in a year, you aint writing 365 hits. I separate that too because if it's a hit that doesn't mean it isn't a joint, and I've had plenty of records that weren't hits that are joints. It's a lot of things that gotta go right for the record to be a hit. A lot of times it don't necessarily be the song, oh that's not a hit. A lot of things gotta go right for the record to be a hit.
6. Dave Hollister "One Woman Man" (2000)
2000 was a good year for Mike City as he saw his work chart for the first time, including Dave Hollister's "One Woman Man". On the same "Chicago '85" album, Mike also produced "Keep on Lovin'".
5. Jimmy Cozier "She's All I Got" (2001)
I know when this song dropped back in the day, a lot of men definitely vibed with the lyrics on it. In the years to come, Jimmy Cozier hasn't been able to match the success Mike helped him find with this track.
4. El DeBarge featuring Faith Evans "Lay With You" (2010)
Mike City on "Lay With You"
Mike City: Oh man, oh my God! Now with El DeBarge it's funny because I know a lot of people that know El, but I never knew El out here, I never met him or anything, and we just instantly clicked. It's just one of those sings where here's an iconic dude that in high school everybody skipped class to go see DeBarge play at Great Adventure. *Laughs* You talk about that and then I'm in the studio with him doing a joint, I got three songs on the album, I got more than anyone on the album actually, maybe it's me and Jam & Lewis. So I did three songs on the album, and then the single. A friend of mine Erika Jayne, she wrote the joint and it just came out crazy. It's a blessing man.
3. Sunshine Anderson "Heard it All Before" (2001)
Mike on working with Sunshine:
Mike City: Oh it's just that when we get in the studio it's a lot of fun and everything, and we've known each other since college, actually the year I was graduating was the year she was coming in. Ever since then when we get in the studio, we understand each other in the studio and everything and it's like we really speak the same language. So it's like it's just getting in there and having fun and everything and that's what I told her with this album, I was like you've been away awhile, let's get in the studio and see if our chemistry is…we're both older now, got kids, but I said let's not pay attention to what's on the radio, let's go in there and do what we think each other could.
2. Brandy "Full Moon" (2002)
http://youtu.be/mgZz4L1UmxE
Mike City on "Full Moon":
Mike City: We were just having fun. In the studio, like with me and her, we were like sister and brother, we were arguing, but it was all love though. We would literally argue, but it wouldn't be like no bad blood, it wasn't like that, it's just that I know she's a perfectionist and everything. At the end of the day, I let her do what she needs to do, because I know she knows her instrument, her voice is like an instrument foreal. It was a beautiful experience man.
1. Carl Thomas "I Wish" (2000)
http://youtu.be/rhHIPx6FnVA
Mike City on "I Wish":
Mike City: When I wrote the song it was a true story to the letter, everything about it was exactly true. Honestly it was my record, it was my joint but my man he was like "Yo, my man Carl Thomas need a joint, you should let him get these joints." I'm like you know that's cool and everything, let's see what happens. That was basically like the last song on the album, and I'm like cool let's get on the album and everything. It's just one of those things man, a lot of people don't know, even though I had met Puff before that, the first time I was up in Daddy's House, before we got to know each other, I was basically kicked out of the studio. *Laughs* And this was within two weeks of me cutting "I Wish" for Carl Thomas.