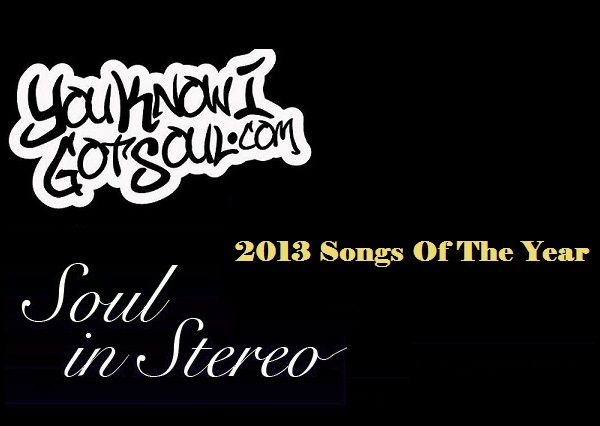 Showing its continued commitment to highlighting all things good in the R&B genre, YouKnowIGotSoul will once again present The Top 100 R&B Songs of the Year with our 2013 list. This year though, we're doing things a little differently, as we've partnered up with our contributing writer Edd Bowser's site SoulInStereo.com to make this a joint project and add more credibility. The list will be officially unveiled with a live UStream broadcast on Sunday Dec. 15 at 6 p.m.(details and link to follow).
The process of selecting the Top 100 Songs was a major undertaking; we literally listened to every major R&B release from December 2012 to November 2013 to make our selections. Between YouKnowIGotSoul partners Tom and Kyle, and SoulInStereo owner Edd, we all made our own individual lists and then held a secret vote to see what would make the cut and where each song would fall in the rankings. Although there were many differences between the lists, this ensured we'd have the most accurate ranking out there.
2013 was one of the better years we've had for R&B music in a long time, so it was definitely a challenge having to pick between what we kept on the list and what got left off. However, this ensured only the best of the best would make the cut, and we debated heavily to make sure that would happen. You'll see we have a wide range of artists featured, including indie artists, major label artists, and everything in between. Below are all of the artists you'll find on the list, some multiple times, and their slots will be officially unveiled during the live broadcast. If you can't listen live, be sure to check our post on the site the next day for the results.
Artists Selected in Our Top 100 List (Songs/Titles to be unveiled 12/15):
Alicia Keys
Amel Larrieux
Ariana Grande
Avant
Bilal
Bradd Marquis
Brian McKnight
Chante Moore
Chris Brown
Chrisette Michele
Ciara
Daft Punk
Daley
Donell Jones
Drake
Elijah Blake
Fantasia
Fantasia
Georgia Reign
Glenn Lewis
J. Holiday
Jade Alston
Jaheim
Janelle Monae
Jennifer Hudson
Joe
John Legend
John Michael
Justin Timberlake
K. Michelle
Kelly Rowland
Keyshia Cole
Krystal Lyndriette
Ledisi
Leigh Bush
Luke James
Lyfe Jennings
Mack Wilds
Mariah Carey
Mario
Marques Houston
Maxine Ashley
Mayer Hawthorne
Melanie Fiona
Omarion
Raheem DeVaughn
RaVaughn
Robert Glasper
Robin Thicke
Sevyn Streeter
Tamar Braxton
TGT
Tiara Thomas
TLC